Small Art Work... Studio Sketches, Pocket Sculpture and key chains.

by Roy Mackey
Here is some of my smaller artwork or "Pocket Sculpture" as it is sometimes called. Often these works are "sketches" so to speak for larger works I want to do. No so much that I am going to enlarge the piece but sketches as far as avenues to play with techniques I will be using for them. Some that are not priced below are either sold or not for sale. The rest are free game. The farther down you go the older they are.

I should point out here that typical studio sketches by a normal artist require only a pencil and napkin or paper scrap. Pretty cheap. I have thousands of dollars worth of metal working equipment here that I use to make this work. No normal person in their right mind would even think of buying this much equipment and then using it to make useless little things like this. It is partially why I myself don't make a lot of them. Also some of the small works here required as much time and effort as my larger sculpture that I have sold for thousands of dollars. Thus needless to say these are going to be a lot rarer than most artist sketches are. These works are the best deals on my site.

Every so often I will be updating this list with older works I have dug out of storage and new ones recently completed.

Note:

I do take both VISA and MASTERCARD if here in person or
I can send you a PayPal invoice

Note: Prices below include shipping to anywhere in Canada and the US.

If you don't feel like scrollin click the video above
Prices below include shipping to anywhere in Canada and

the USA when bought via PayPal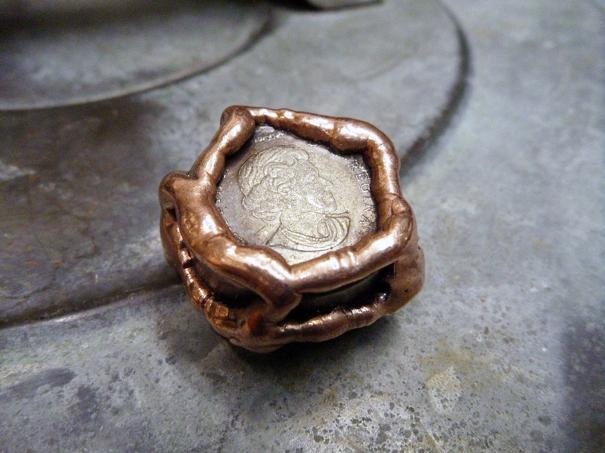 Copper on Queen $97. 2015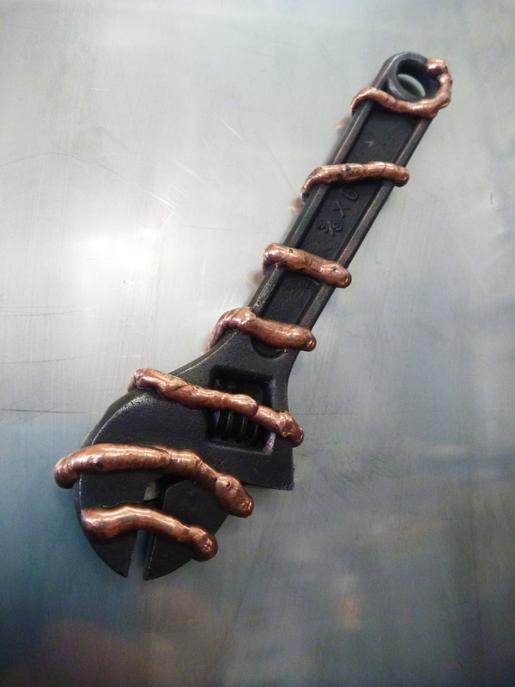 Copper on vintage wrench 6" long $225.
available on eBay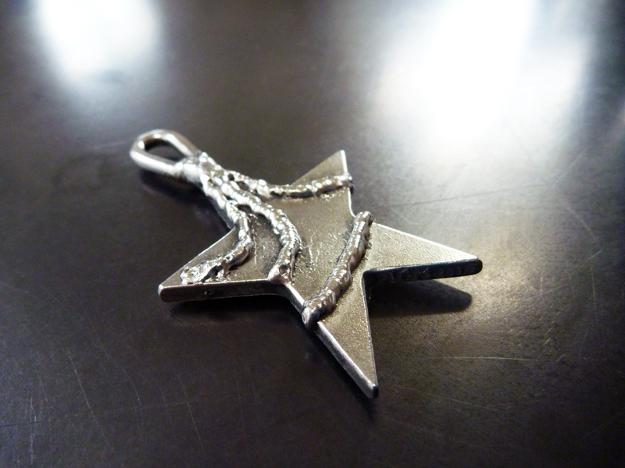 Steel on Steel keychain sold 2.5" long 2015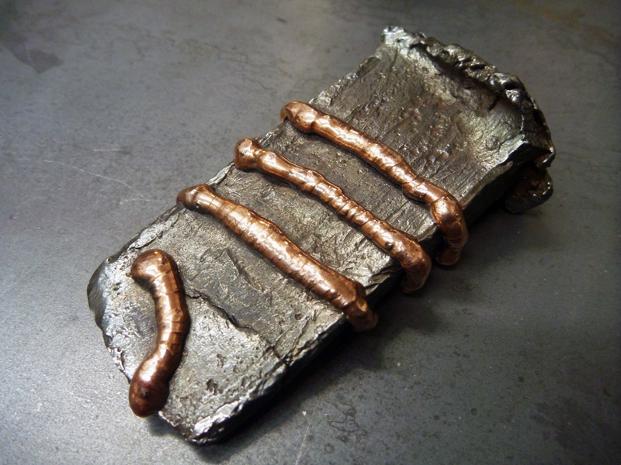 Copper on antique wedge $225. 3.5" 2015
available on eBay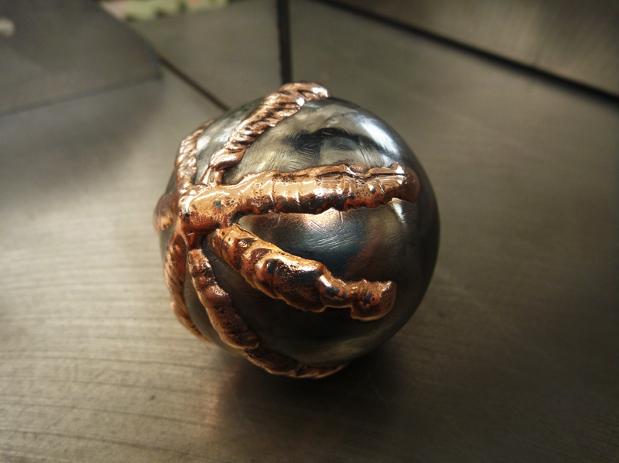 Copper on chime ball sold 2.5" 2013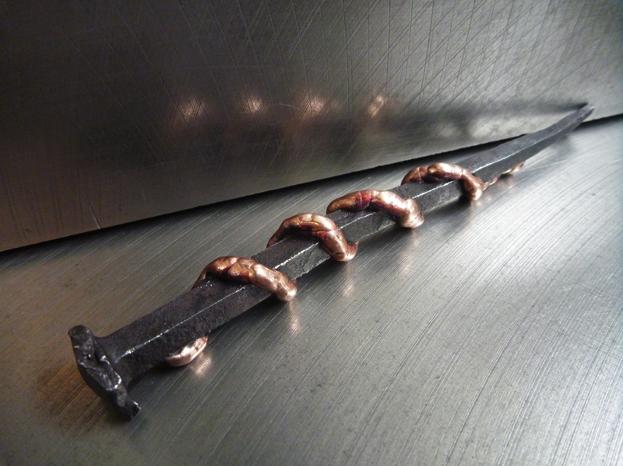 Copper on antique nail sold 5" long 2013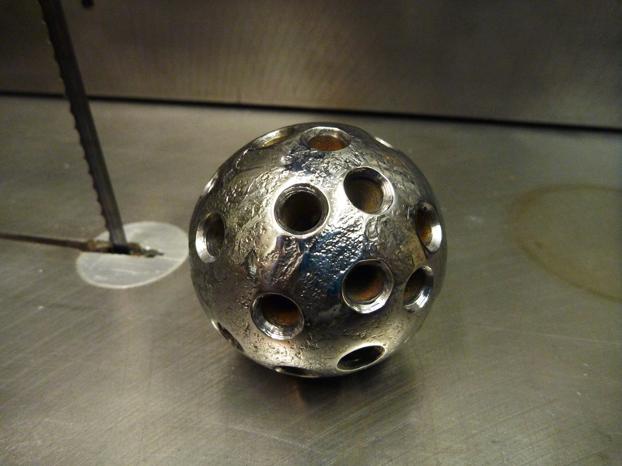 Small Sculpture $95. 2" steel ball with holes 2013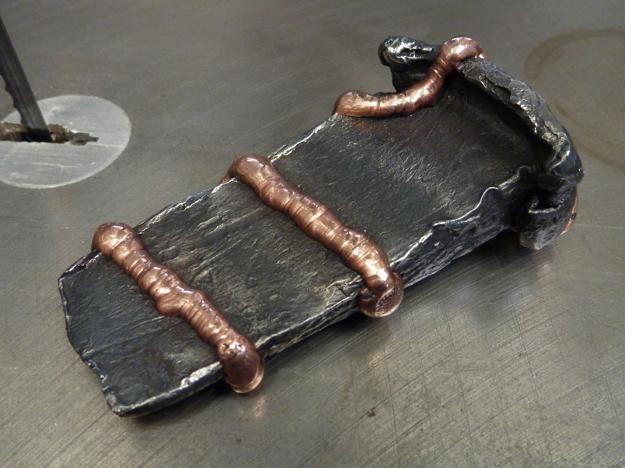 Small sculpture $225. 3 x 2" copper on found object 2013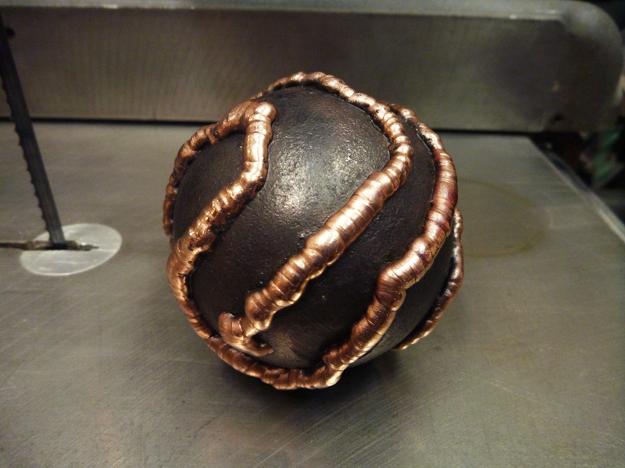 Strange Object $175. steel and copper sculpture 2.5" 2013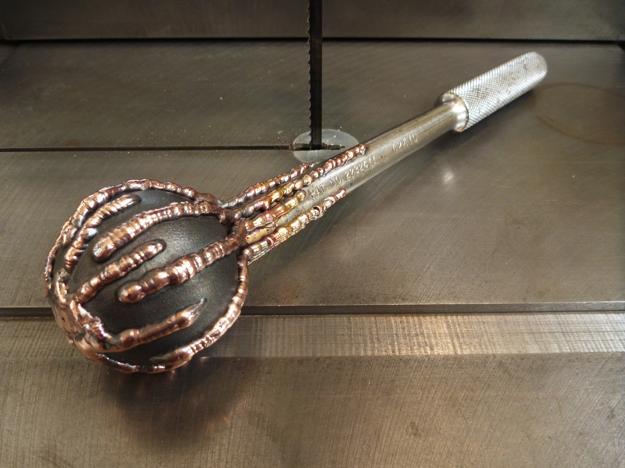 Object 1 $275. Odd steel sculpture 9" long 2013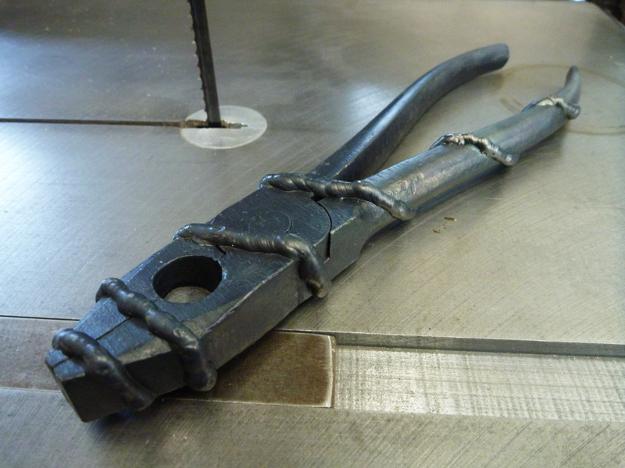 Pliers Sculpture $95. 7" 2013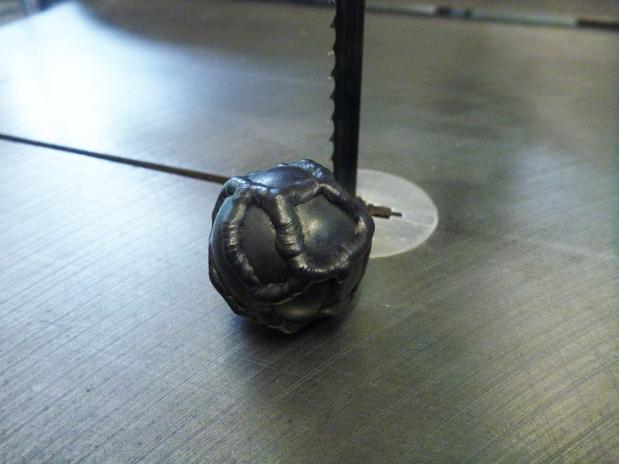 Steel Ball Sculpture $60. .75" 2013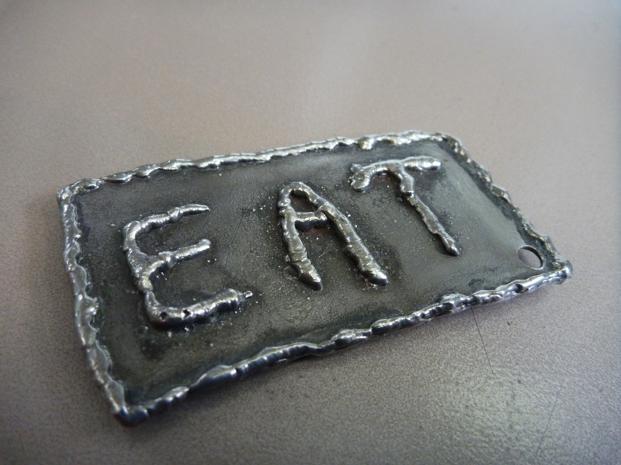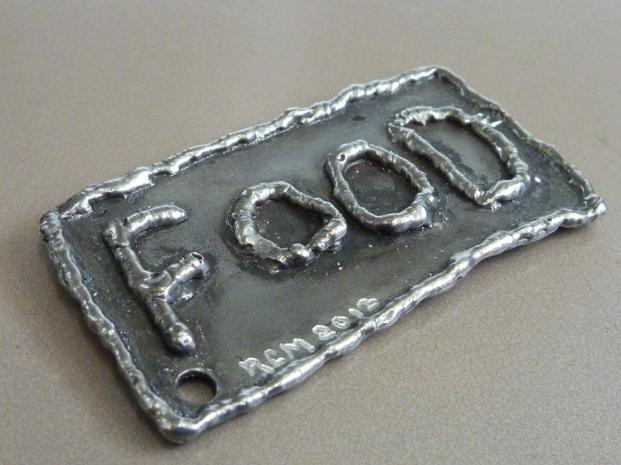 Eat Food key chain $95. 2.5" long 2013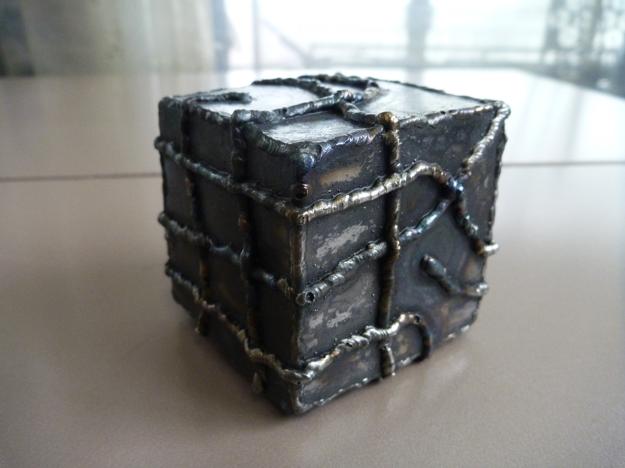 Mystery box $225. 2.25" square 2013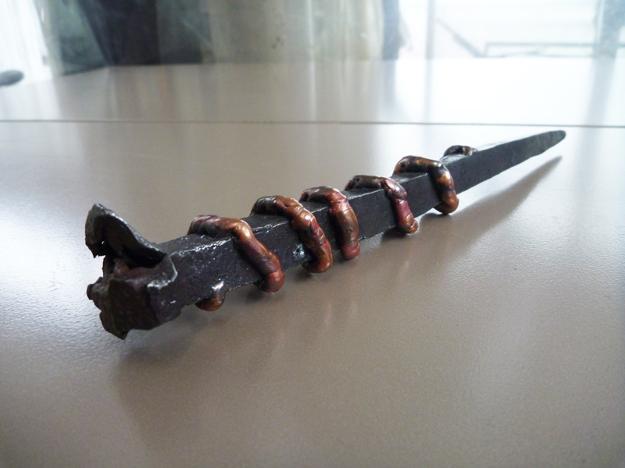 Copper on Vintage steel spike $275. 2013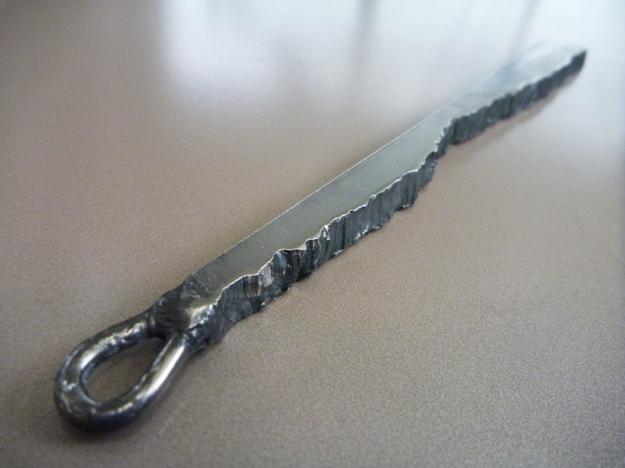 Rough key chain $SOLD 7" long 2013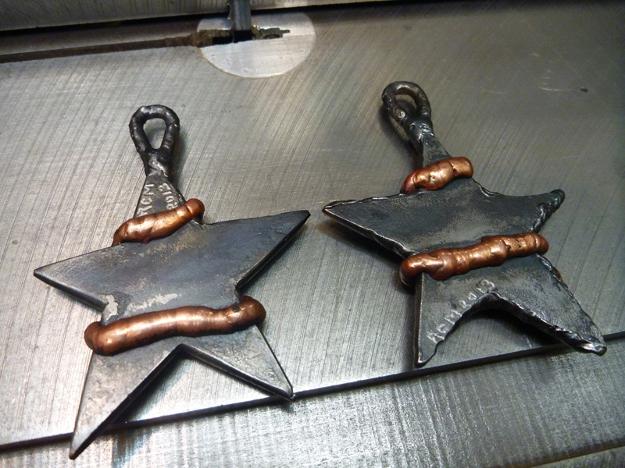 Copper on Hollow steel key chain $.SOLD 2" aprox. 2013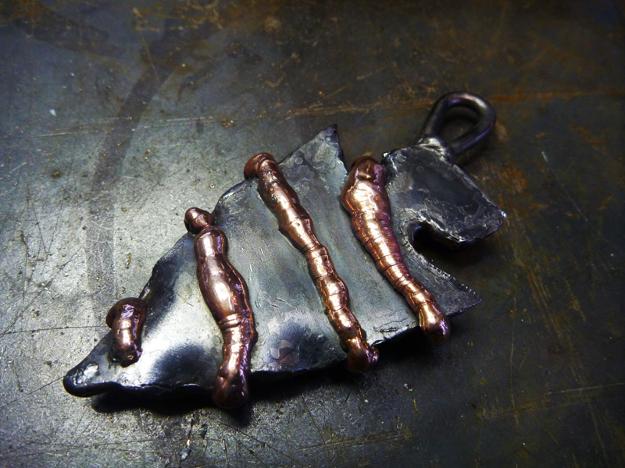 Copper on hollow steel arrow head $SOLD 3.5" 2013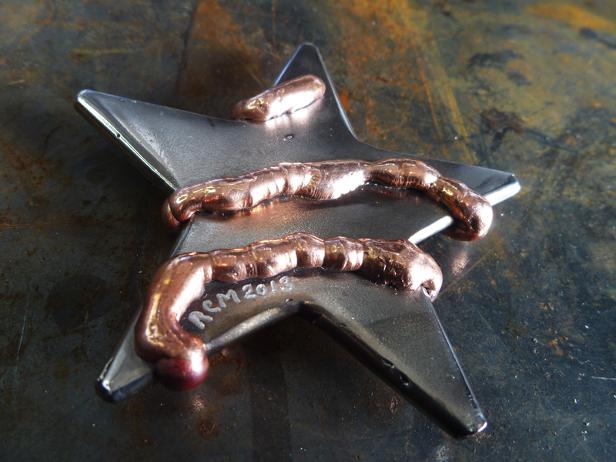 Copper on hollow stainless steel star $195. 2.75" 2013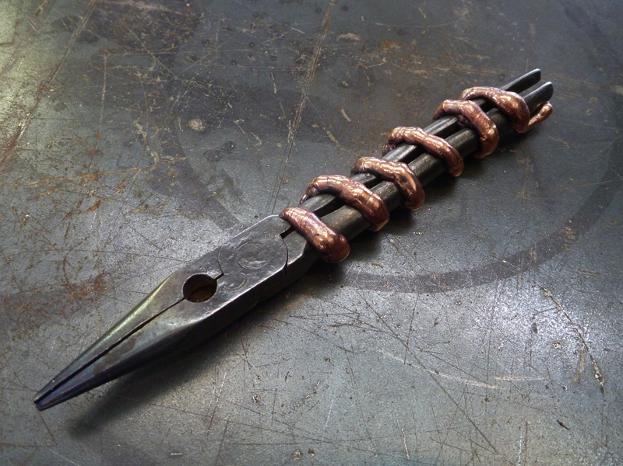 Copper on vintage needle nose $195. 6" long 2013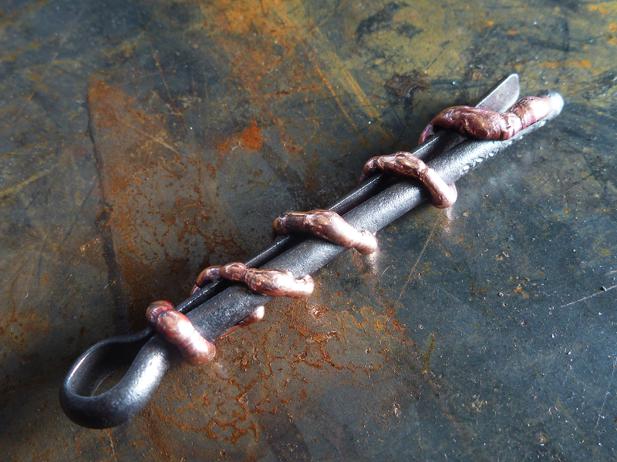 Copper on vintage cotter pin $95. 3.5" 2013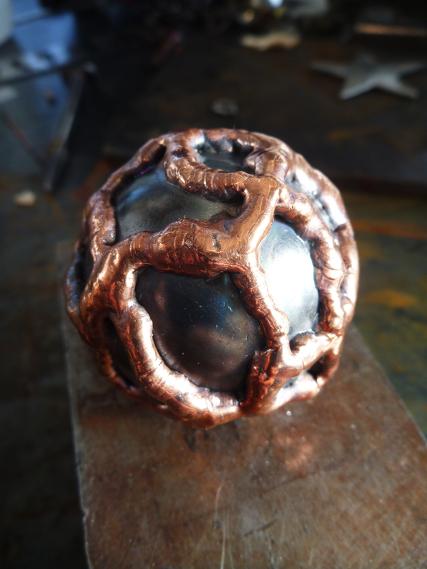 Copper on chime ball $195. 2" 2013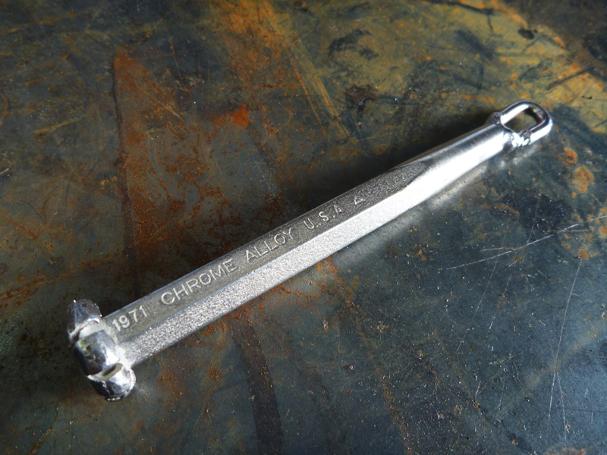 Found object key chain $49. 4.5" long 2013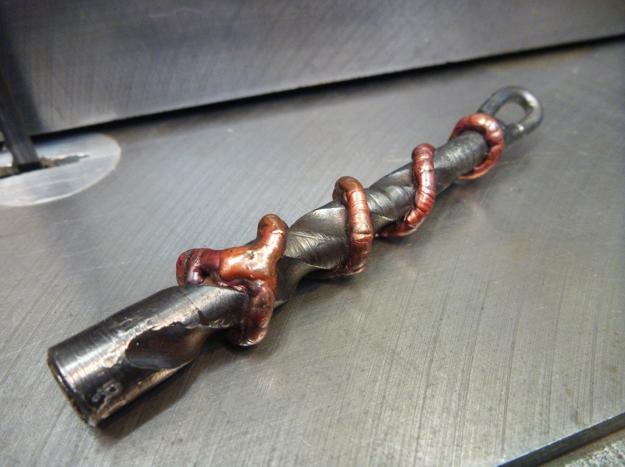 Copper on vintage steel tool key chain $125. 4" long 2013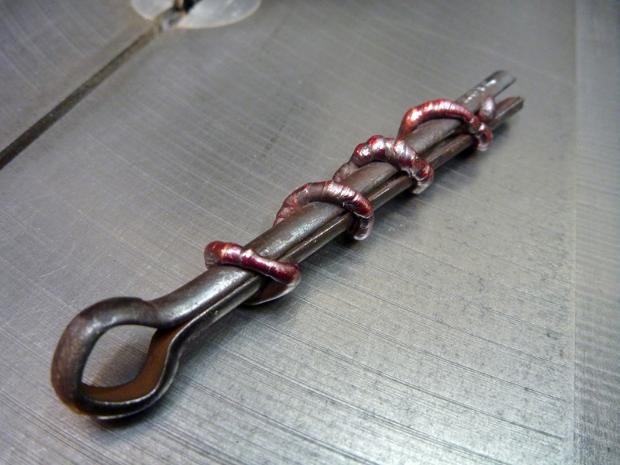 Copper on vintage cotter pin $95. 3.5" long 2012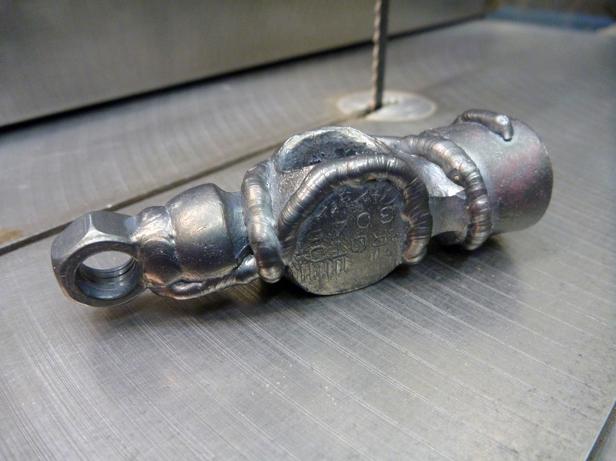 Hammer Key Chain $125. 3" long 2012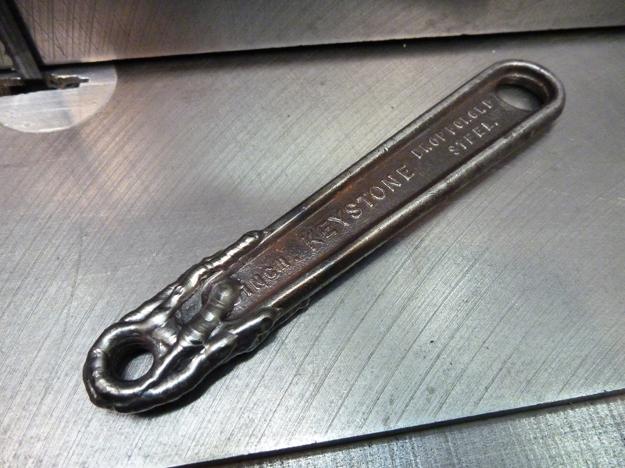 Keystone key chain $95. 4.75" long 2012
This one is free to anyone connected to me on Linkedin

before July 19/2016 includes shipping to anywhere in Canada and the US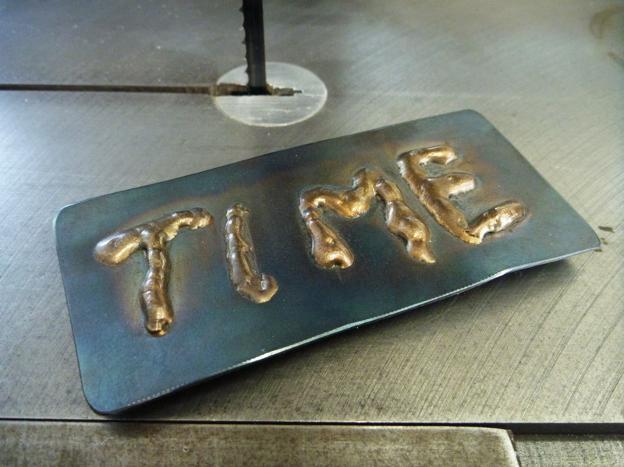 Time $125. 1.75 x 3.75" 2012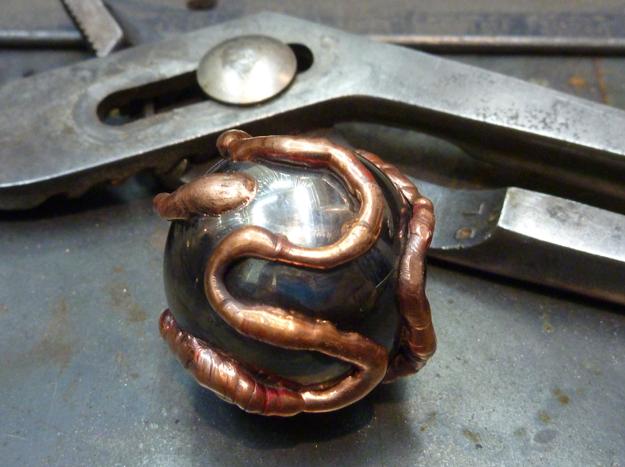 Copper on steel ball $149. 1.375" 2011 sold

Here is another one of my favorite pocket sculptures. This is a 1.25" steel ball wrapped in a bead of copper. These pieces have a delicious feel to them and great if you are limited in space. Because they have a great feel in your hand they are more than something to just look at. Copper is a magic metal. As a young boy I was always carrying around "neat" things that I thought were cool. That is the feel that these have. No particular value to most but bits of magic to you!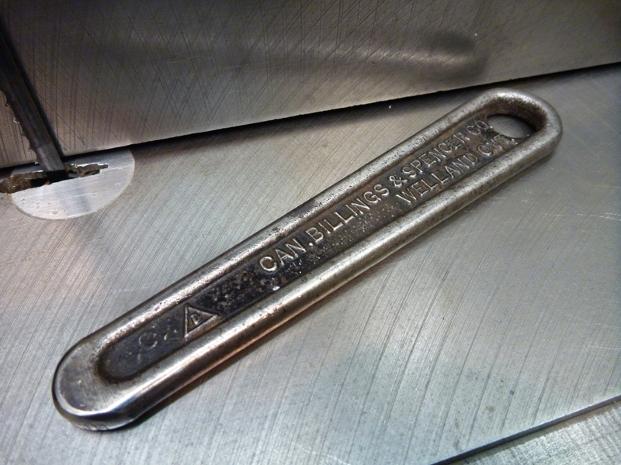 Useless thing $65. 5.5" long 2011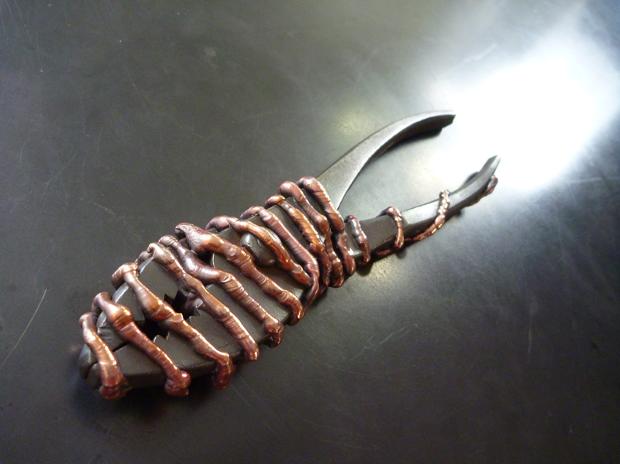 Copper on pliers $SOLD 6" aprox. 2011

Here is a strange little piece I did using a vintage pair of pliers. I am a real fan of small hand holdable sculptures as you can see. It seems you can really get into them a lot more. Larger work is great but there is something about holding unusual art in your hands. Small is the new Big. This one is signed dated and documented but no longer available....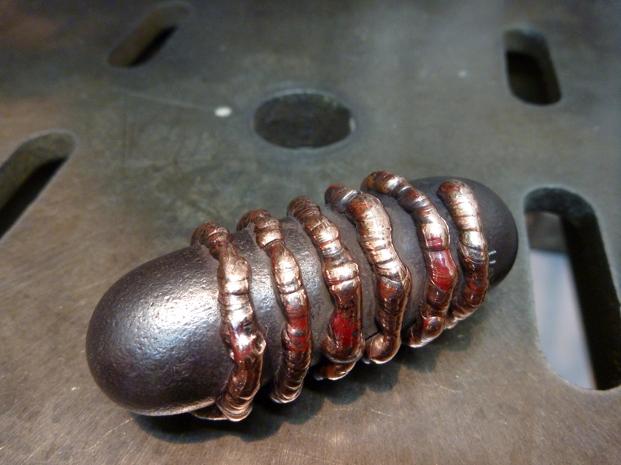 Pocket sculpture $SOLD 3" aprox. 2011

Here is a very unusual piece I recently did. The piece of metal is a found object and like nothing I have seen before. Not sure what the hell it was for. I wrapped it in a bead of copper and polished it. It has a great feel in your hand, partly because of the copper. This piece is only about 2.5" long. Of course is signed, dated and documented.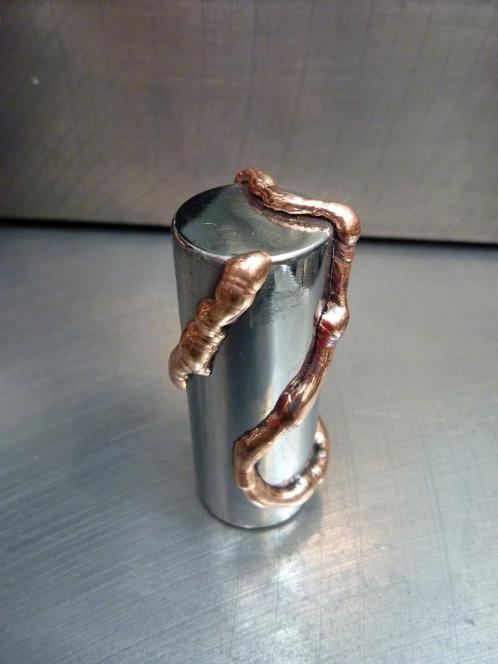 Small copper on polished steel sculpture (rattles) $125. 2 x 1" 2011
I often make a lot of my smaller sculpture hollow so that they can rattle. This one has a heavy weight inside it so it has a more clunky feel when you shake it.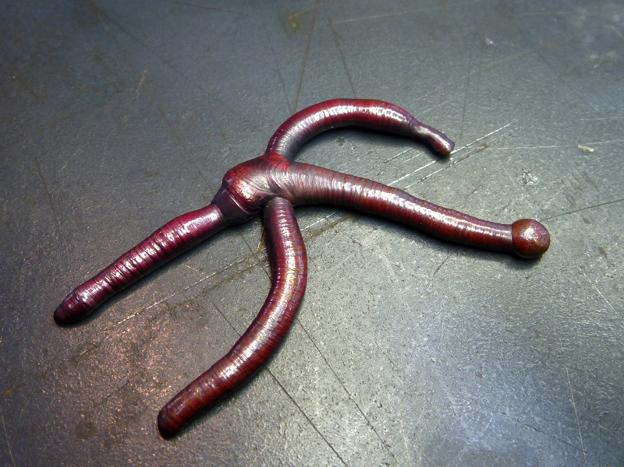 Very small pocket sculpture $45. 1.65" 2011

Here is a strange little copper sculpture that looks like two worms. It is really small... just over an inch and a half long. Solid copper and of course signed dated and documented.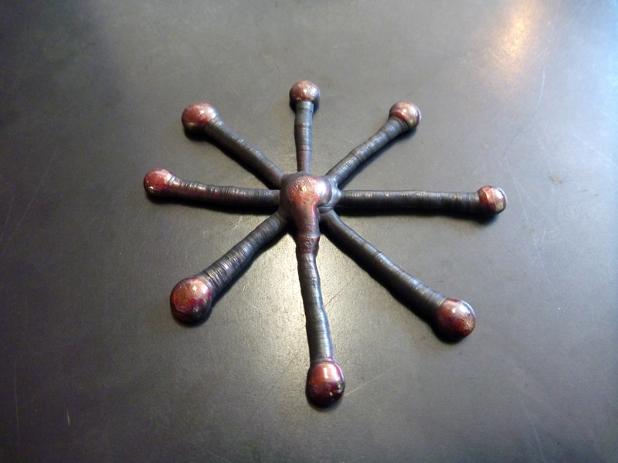 Small shelf sculpture $95. 2.75" 2011

Here is a little copper sunburst. It is only about 2.75" across. Another little studio sketch as I like to call them. Of course signed dated and documented for your collecting pleasure.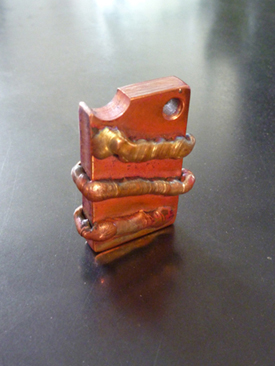 Copper pocket sculpture $195. 1.75 x 1.25 x .5 2011
Here is a small copper sculpture I did using part of a thIck plate of copper I picked up. A neat little pocket sculpture that is about 1.75" high. Like all my work... signed dated and documented.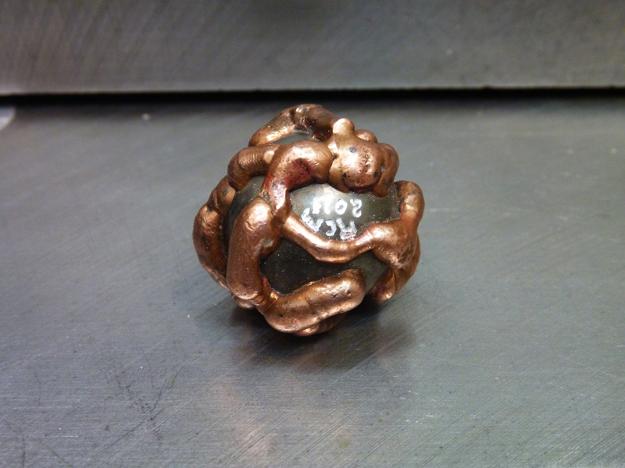 Copper on steel marble $95. 1' 2011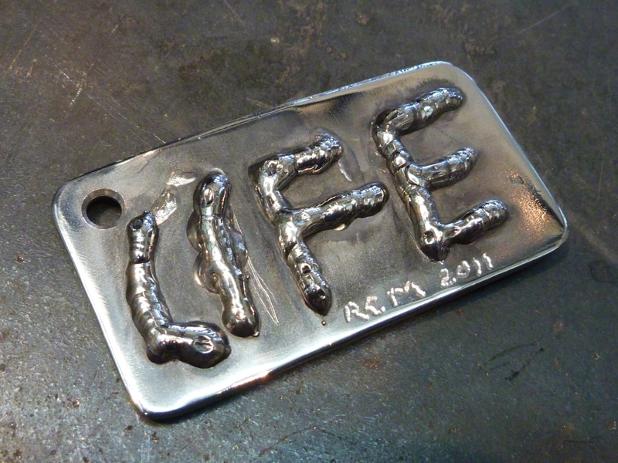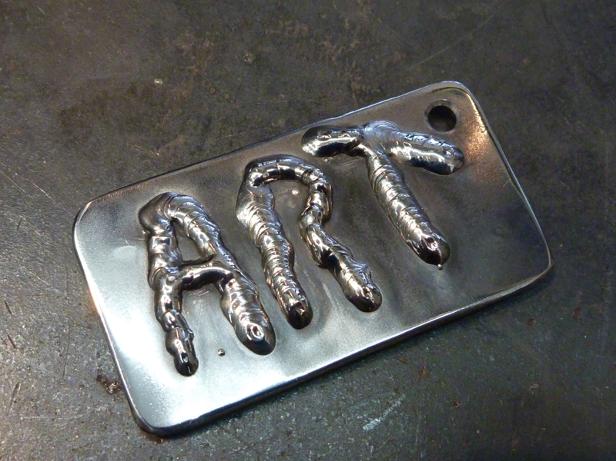 Key Chain $SOLD 2011 stainless steel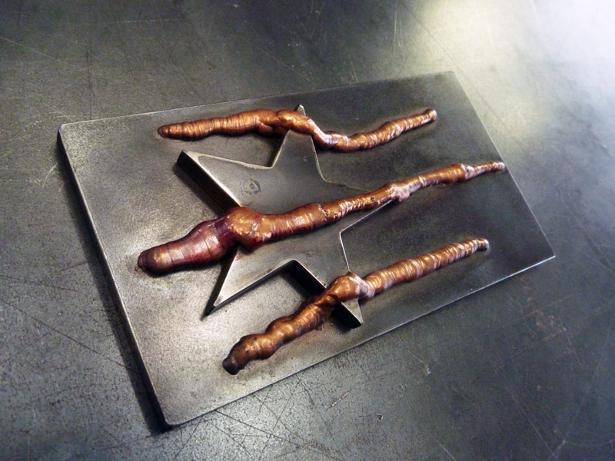 Copper on Star $325. 3 x 5.5" 2011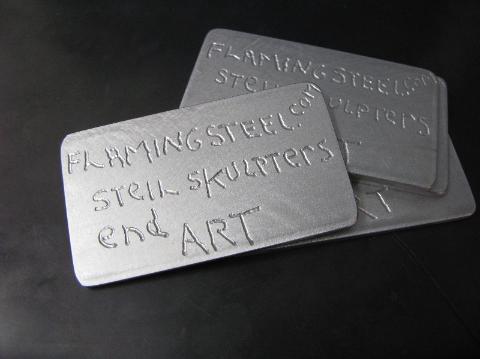 Aluminum business cards $25. 2 x 3.5" 2010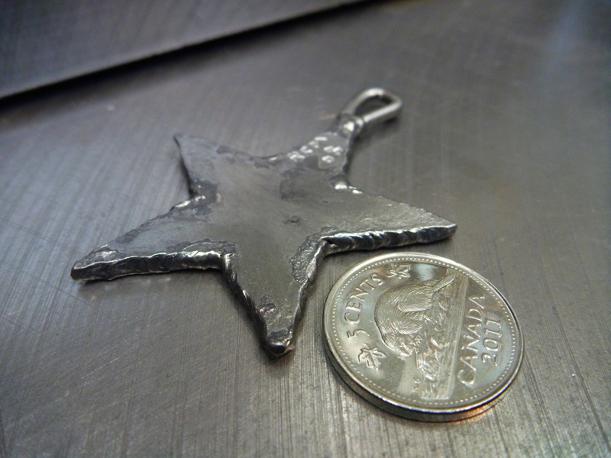 Hollow star key chain $50. 2.5" 2008
This key chain is slightly thicker than the nickle shown and yet is still hollow and rattles when shaken. I started making these back in Nanaimo eons ago. I made a lot of them back and sold quite a few. I am guessing most hit the landfill but not sure. I am thinking I may make some more again. These are all welded using an oxy/acetylene torch.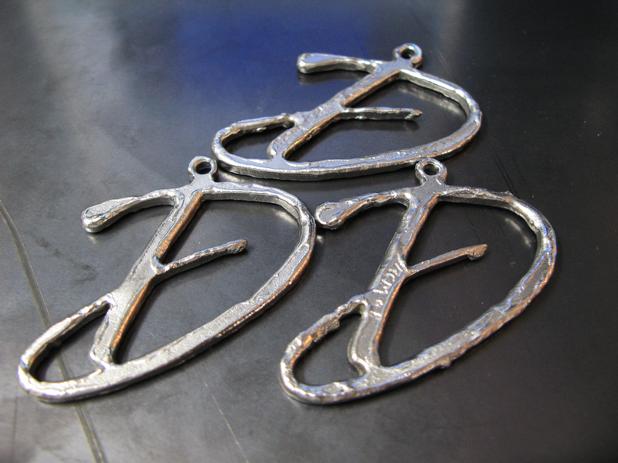 Wendy's key chains $SOLD 3" aprox. 2008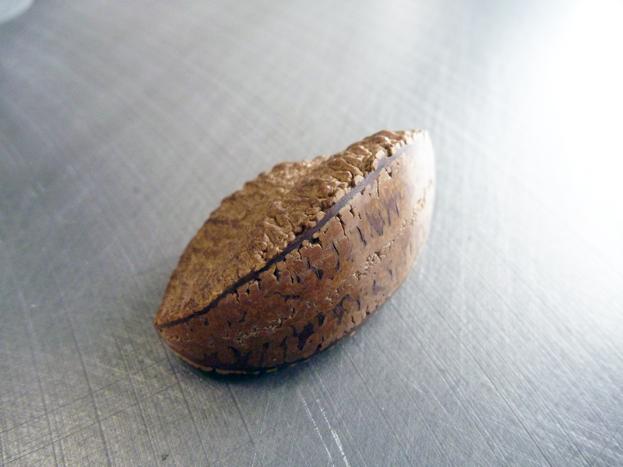 Brazil Nut Sculpture nfs 2008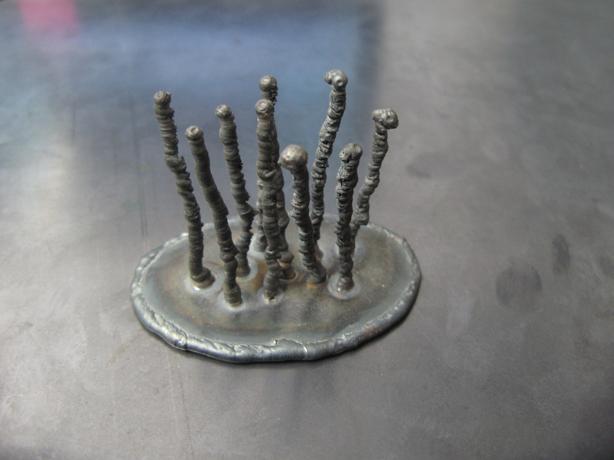 Strange Steel Sculpture $SOLD aprox 2" x 2.5" 2008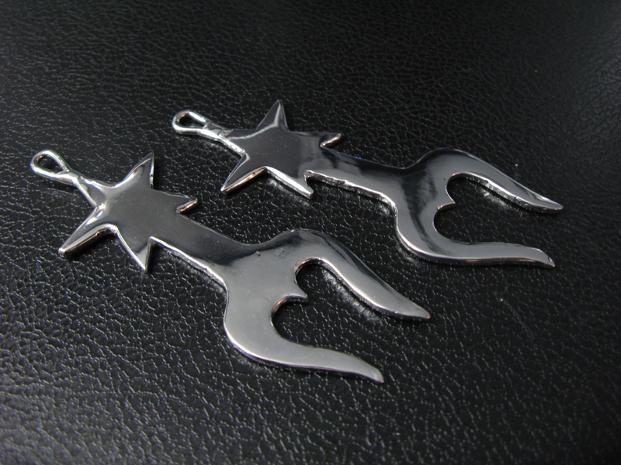 Hollow Flaming Key Chains sold 2008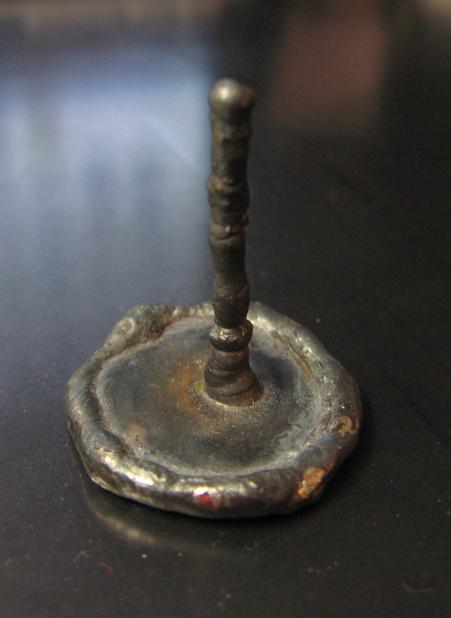 Small Sculpture $10. local pick up only 2 x 1" 2008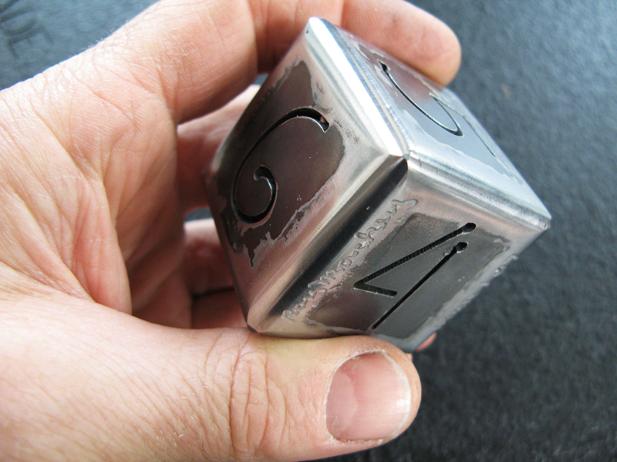 Steel Dice $149. 1.75" square 2007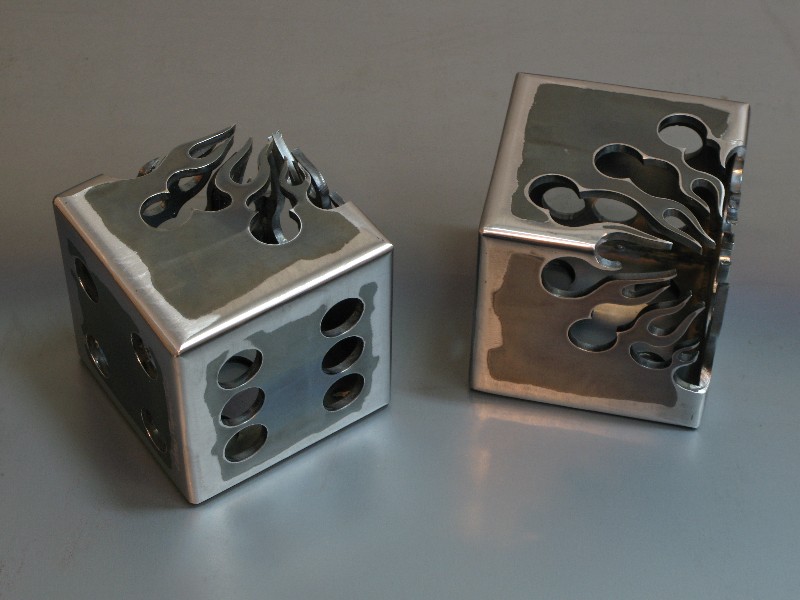 Pair of Dice $ 4" square aprox 2007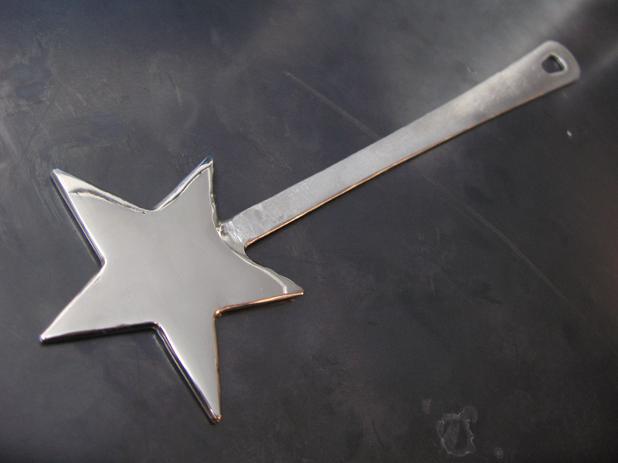 Stainless Steel Wand $149. Polished stainless steel. Hollow inside, rattles 2007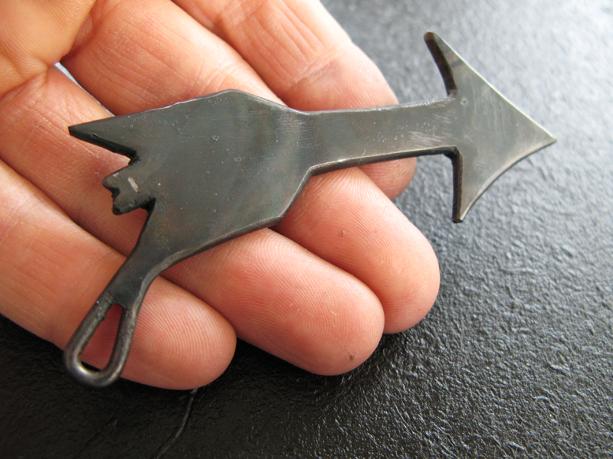 Ricky's replacement key chain $SOLD 3" aprox. 2007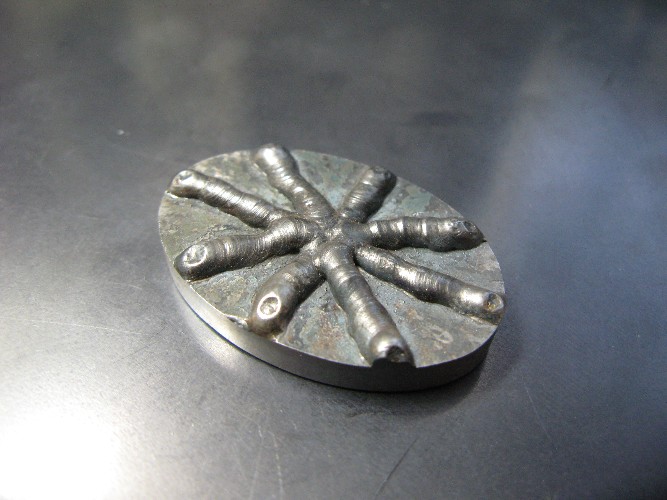 Pocket sculpture $35. 2 x 1.25 x 3/16" 2007

Here is another one of my pocket sculptures. It was done using 1/4″ cnc cut plate steel and tig welding. Just under 2″ long.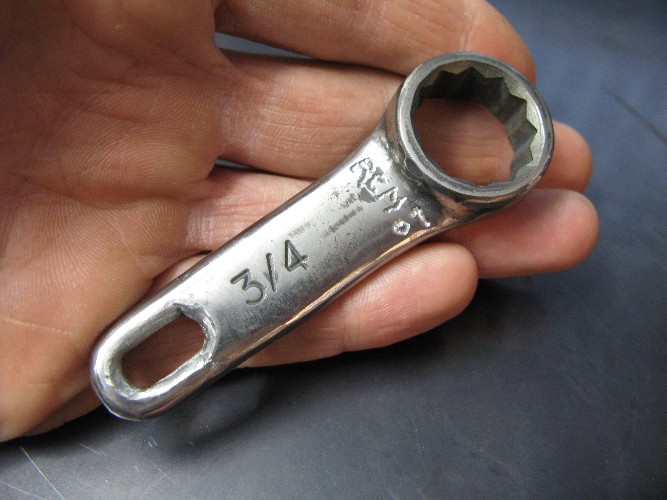 Pocket Sculpture Key Chain $45. 3" long approx. 2007

Here is what is left of a perfectly good, brand new 3/4″ wrench, turned into a keychain, pocket sculpture and handy dandy wrench. Multi-use for multi-tasking.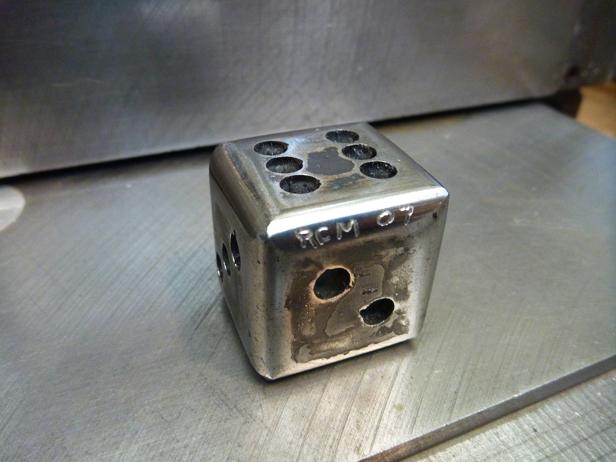 Small cnc dice $145. 1.25 square 2007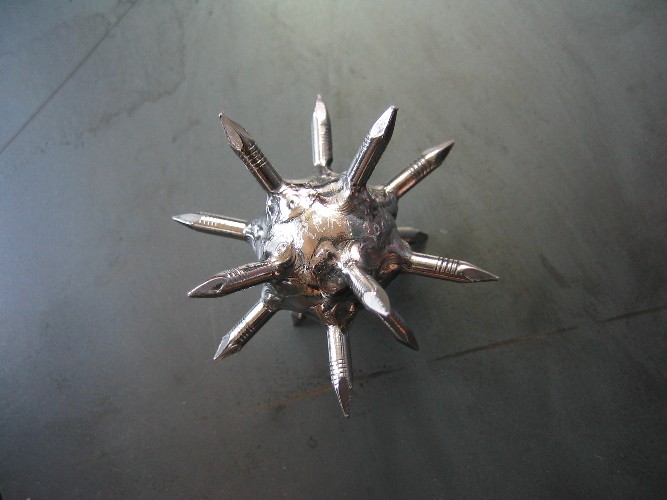 Spikeball $SOLD 1.5 aprox. 2006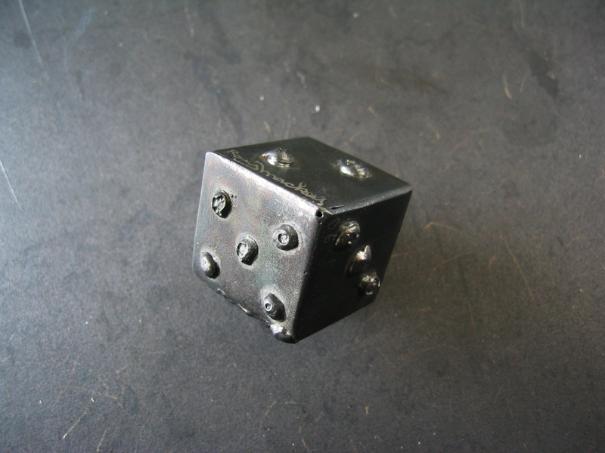 Gas welded hollow steel dice $SOLD 1" square aprox. 2006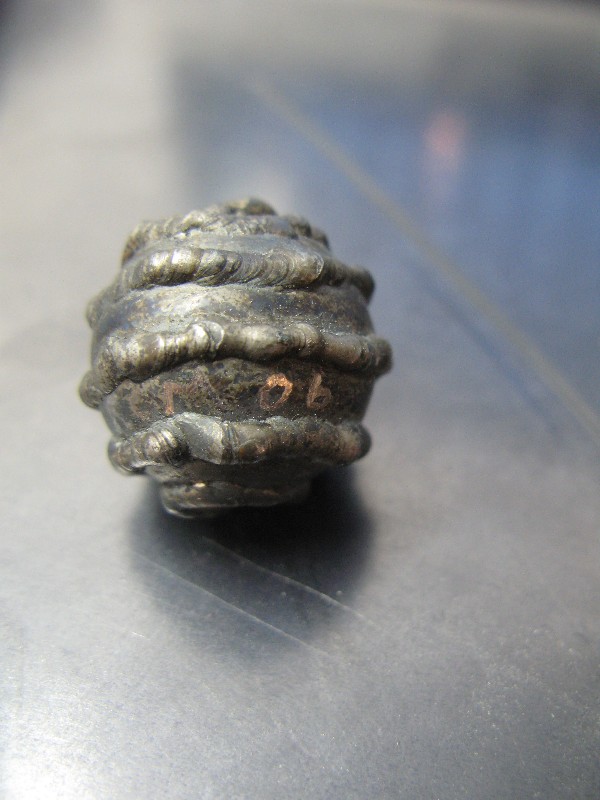 Small sculpture $SOLD 1"ish 2006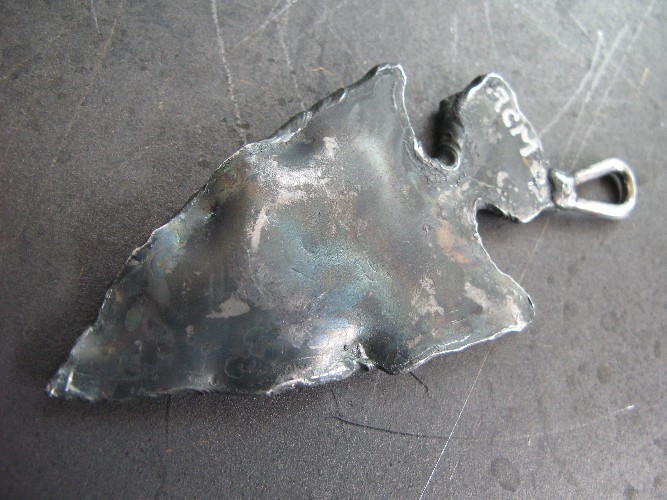 For this one here I used one of my arrow heads I use to make my arrows with. The arrow head is also hollow and will rattle when shaken. So far I only made one of these and it now belongs to the famous painter Jordon Roberts. By shear miracle we were able to score a couple of his amazing paintings. I may do some more of these in the future but not sure.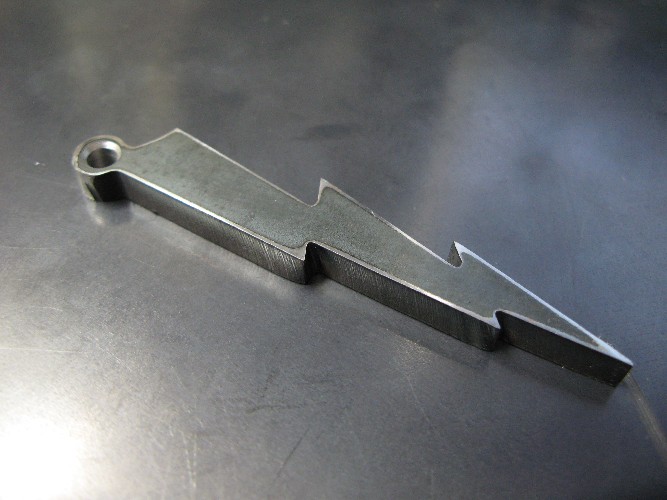 CNC cut from .25″ plate steel 3.75″ long.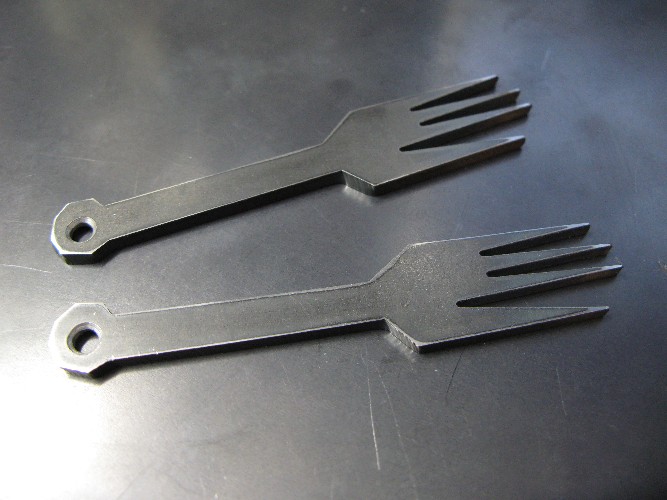 These fork ones are cnc cut out of 10 gauge plate steel. The CNC cut ones do not rattle of course. They are 4″ long.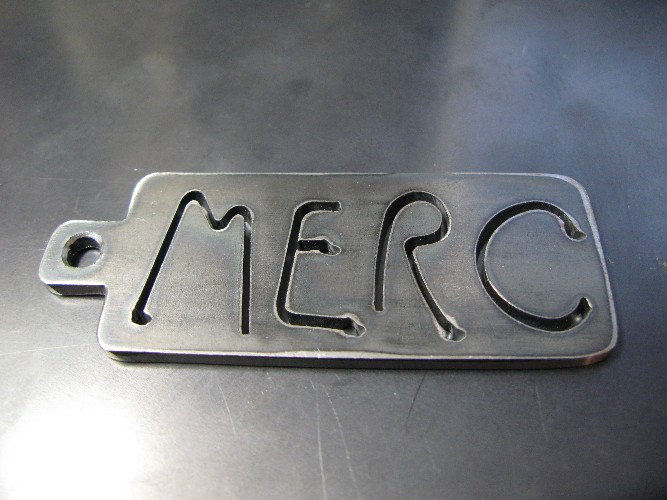 I only did a few of these ones. Did not really like them… more of a dodge hemi guy. Just under 3.75″ long.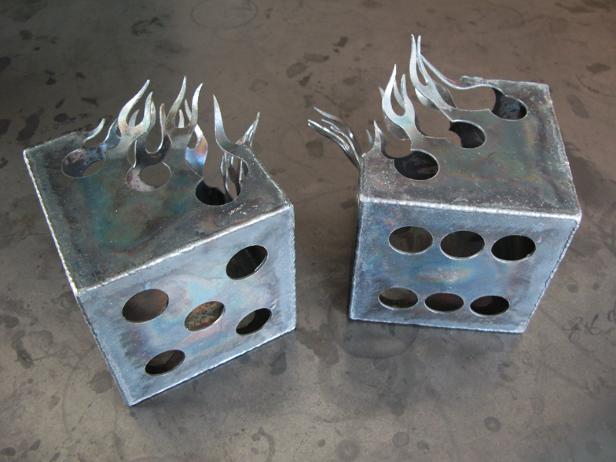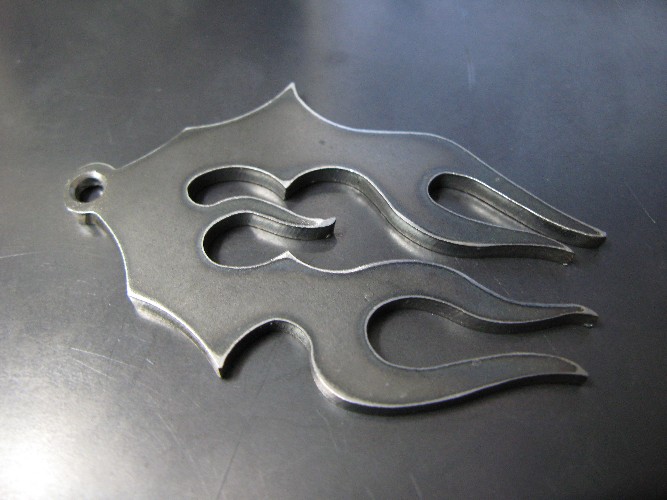 Here is a variation of the first one. These ones are also around 3.5″ long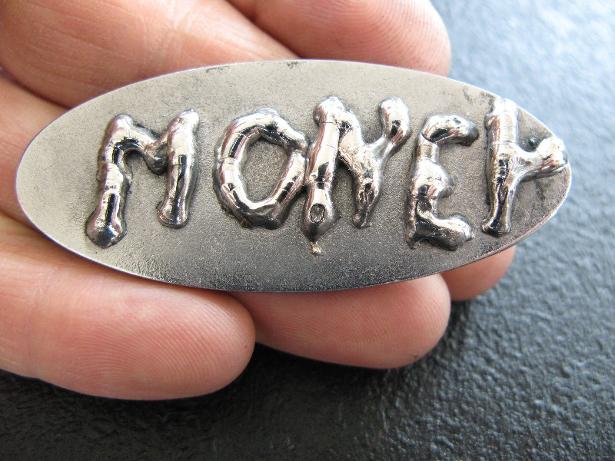 Small sculpture stainless steel on steel $SOLD 2.5 x .25" 2007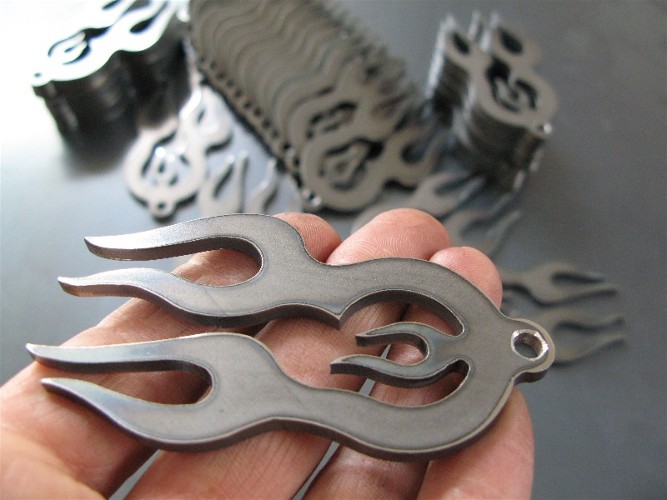 These are some of my most recent ones. They are cnc cut using my new PlasmaCam machine out of 10 gauge plate steel and are about 3.5″ long. They are signed and dated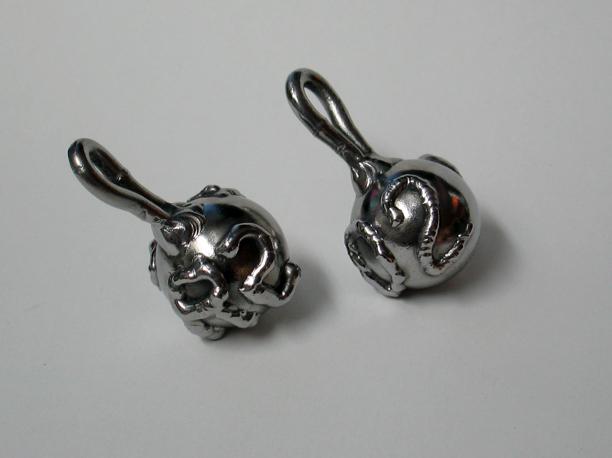 R2 D2's key chains $SOLD 1.5" aprox. 2006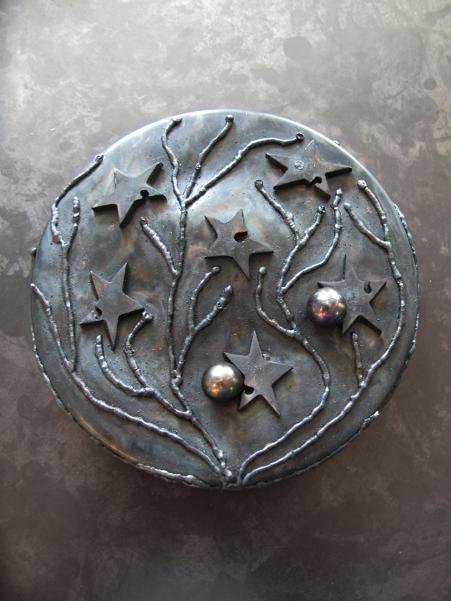 Small Sculpture $149. aprox. 5" x 3/4" 2005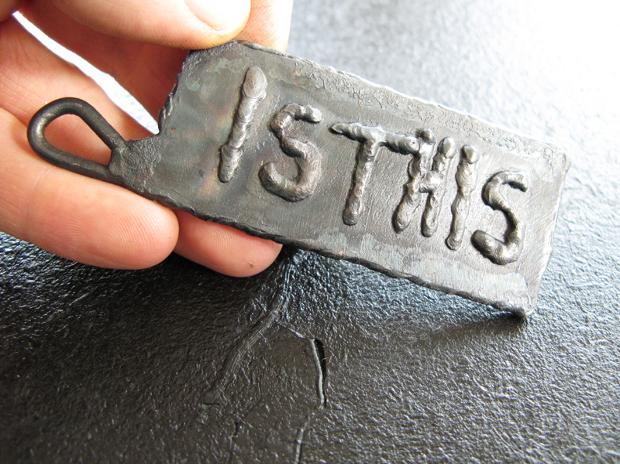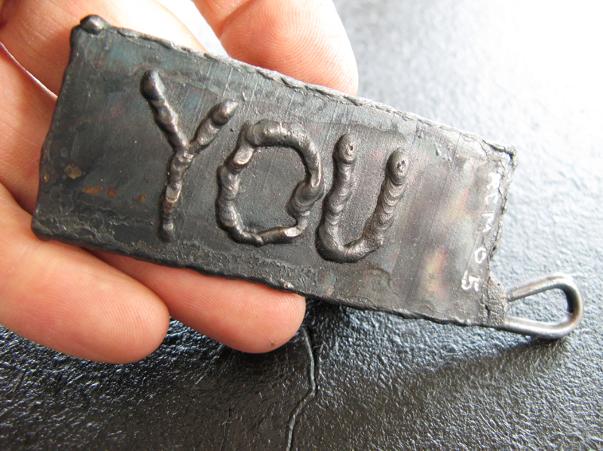 Is This You thin hollow key chain $149. 3 x 1 x .25" 2005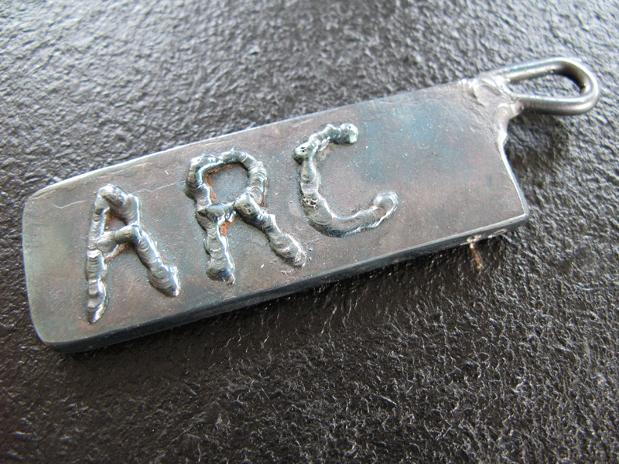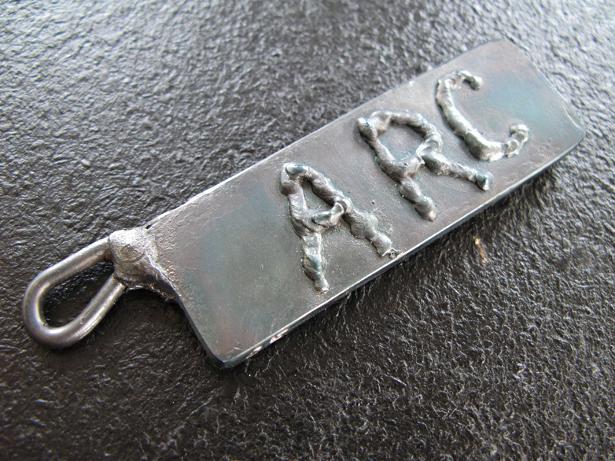 ARC key chain $145. 3.25 x 1 x .25" aprox. 2005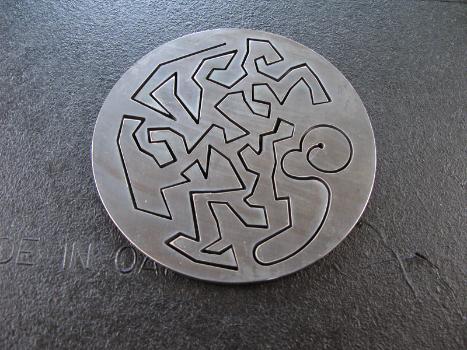 Small cnc sculpture $40. aprox. 5" across 2005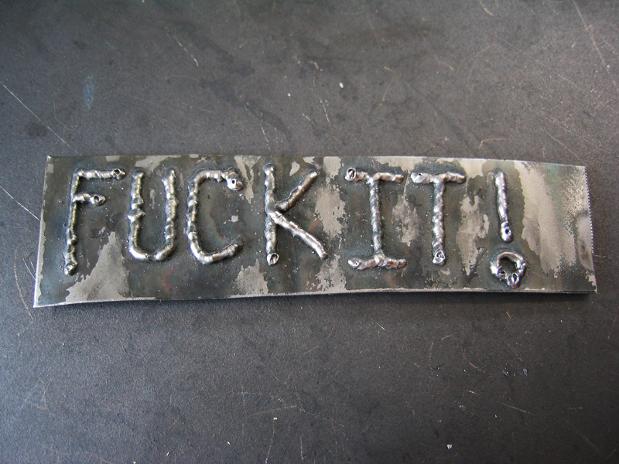 FUCKIT! $SOLD 1.5 x 4" aprox. 2005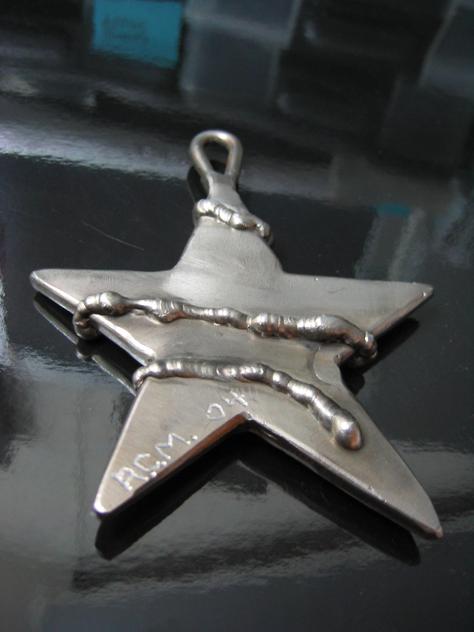 Berman's key chain $SOLD 3" aprox. 2004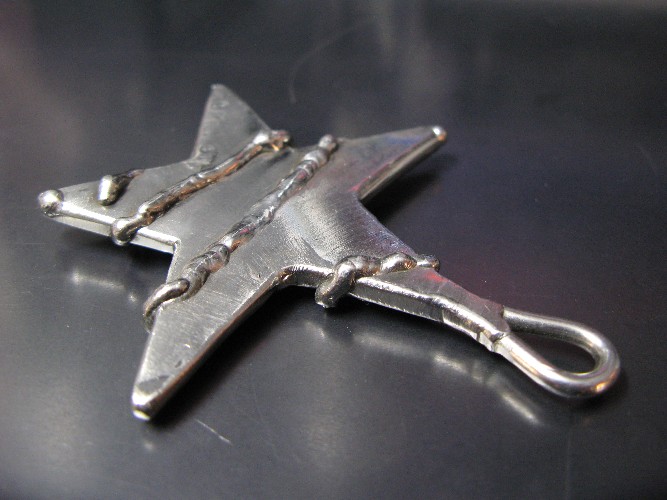 After I got to Vancouver and scored a tig welder I started doing some in stainless steel. I have not done a lot of these since they take a couple of days to make one…. too much work and I am lazy. This is also hollow and will rattle when shaken. This is one I made for myself. My older key chains had too thin an eyelet so now I have made the eyelets on them thicker.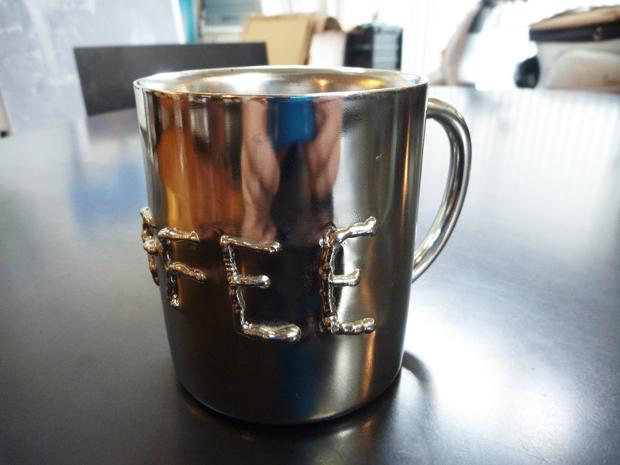 Modified Stainless Mug $SOLD 2004

A new stainless steel double lined cup with the word coffee welded to the side of it and polished.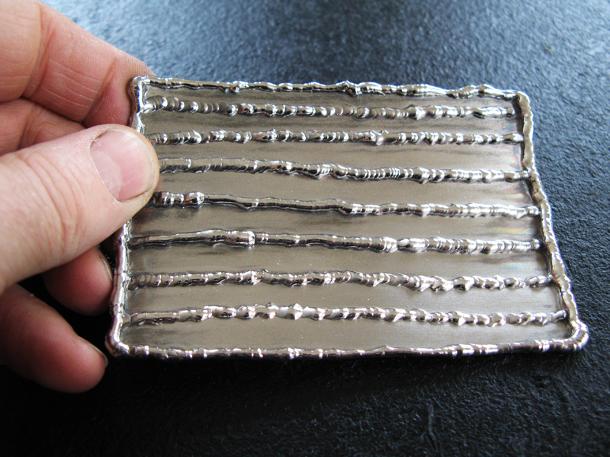 Small stainless lined sculpture $225. 2.75 x 4 x 1/2" 2004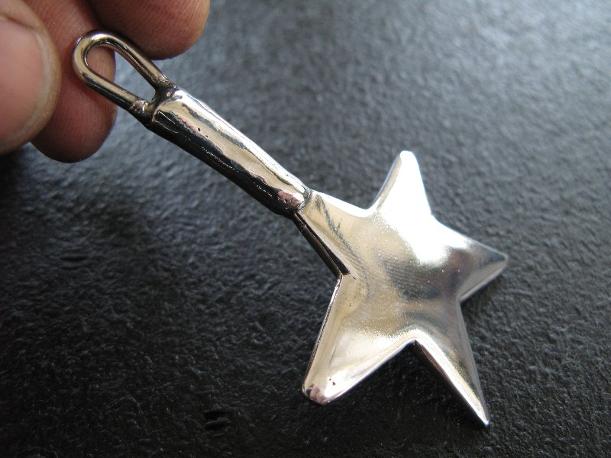 Hollow stainless steel star $SOLD 2.5" long 2004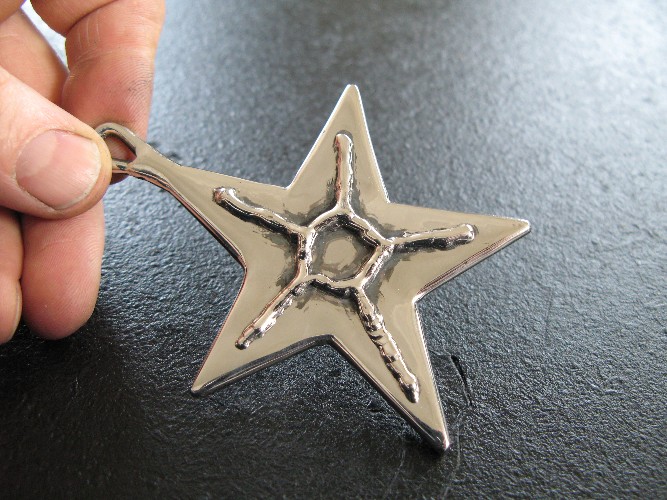 Stainless hollow key chain $175. 3.75" 2004

This is one of my newer hollow key chains done in stainless steel and polished. This one is about 3.5″ long. Unfortunately these are too much work for me to make many of them. I really do like the clean feel of the stainless for a change. Stainless is also a very tough steel.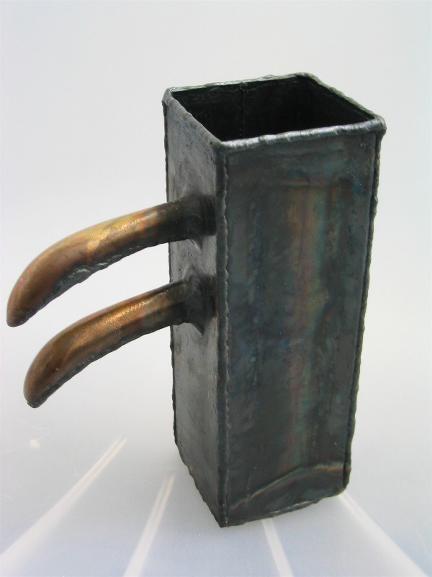 Odd pen holder $195. aprox 6" high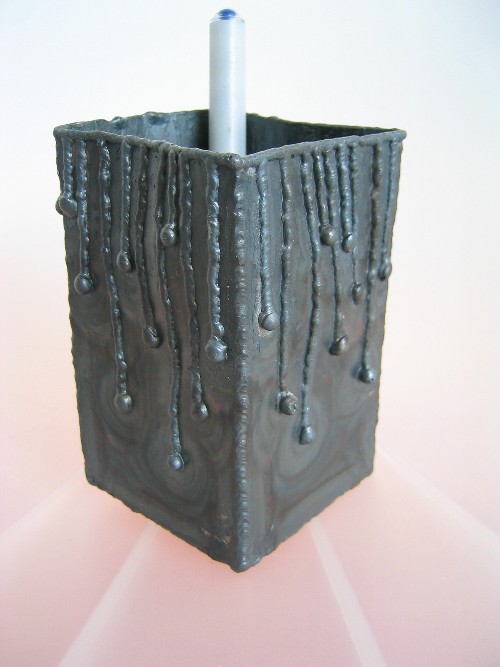 Pen holder $195. 4 x 2 x 2" aprox. 2004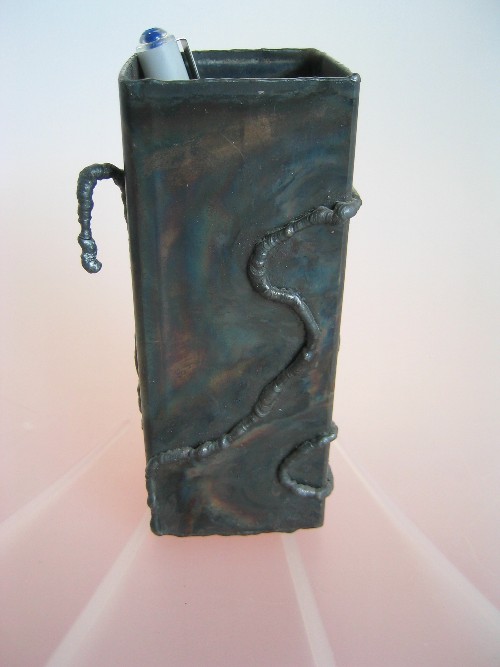 Pen holder $195. gas welded steel 4 x 2 x 2" aprox. 2004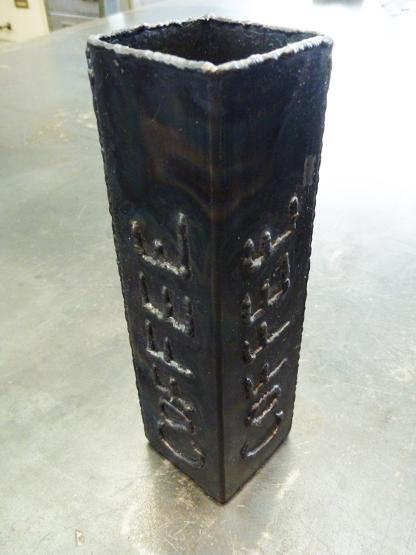 Coffee $75. 7.25 x 2 x 2" 2004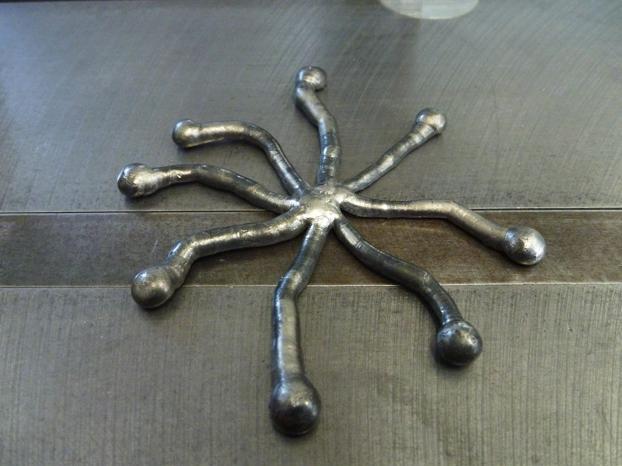 Pocket Sculpture $65. 3.75" 2004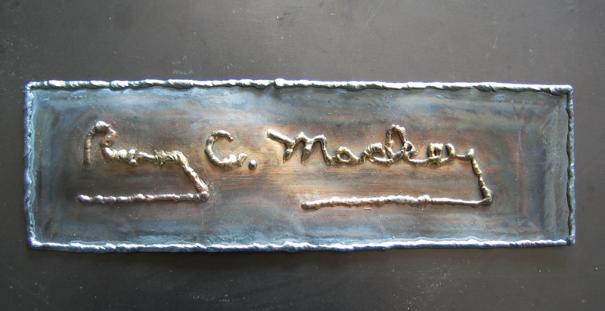 Signature piece $ 8" aprox. 2001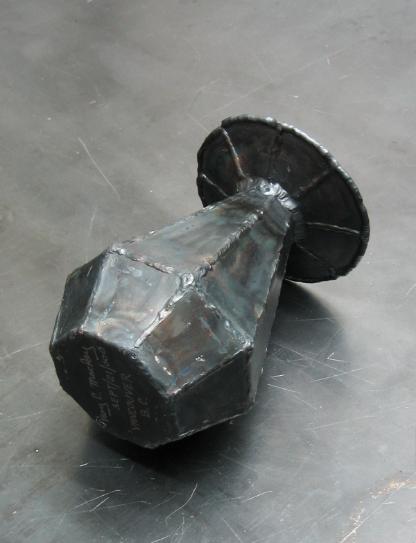 Early Vancouver candle holder $195. 5" high aprox. 2000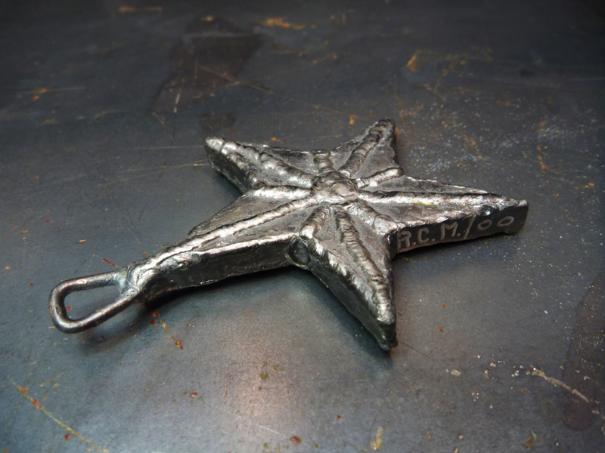 Steel key chain $NFS 3.5" gas welded steel 2000
There is a chance you may have one of these if you were one of my supporters when I first moved to Vancouver. I am not sure how many I made but I believe around thirty give or take. There were all similar in appearance but were all individually welded and signed. Given only to very special people!

Vintage works from back in Nanaimo
About ninety six years ago or so while living in Nanaimo I started making key chains in my spare time. They were usually just small stars welded out of sheet steel. The one unusual thing about them was the fact that they were all hollow and would rattle when shaken. Anytime someone bought a large piece of my artwork I would custom make them a key chain that reflected some aspect of who they were. I never made a lot since I never sold much artwork but just the same they got interesting. The pic below is of a few key chains belt buckles and small bottles I had welded up. This shot was taken back in 1995. I finally got out of Nanaimo and just in time. I always wanted to make up a t-shirt after I left that said: "I lived in Nanaimo because I was too spineless to shoot myself" Now that I look back just moving was easier.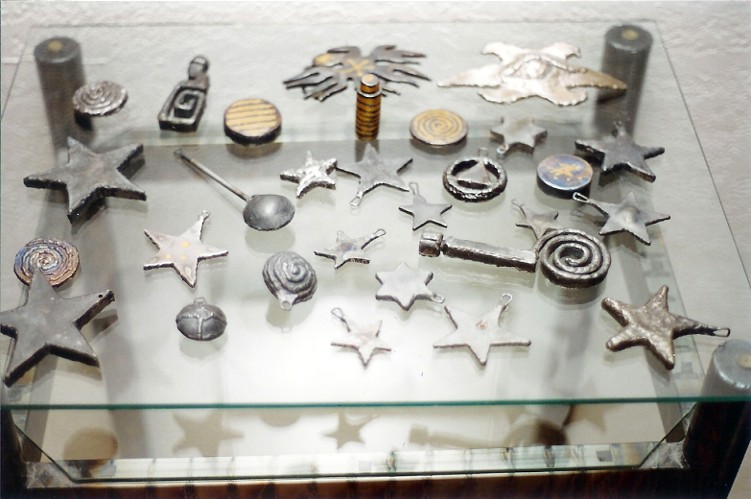 The most common were the plain small stars. I must have made hundreds of them but they are all long gone now except a few I may have stashed away. I had set up at a BC Place gift show one year and sold a pile to different gift stores around BC. In fact years later when I moved to Vancouver there was a gift store in gas town that still had a couple in their store. I guess no one really wanted the dam things. Eventually I guess they gave them away or threw them out maybe.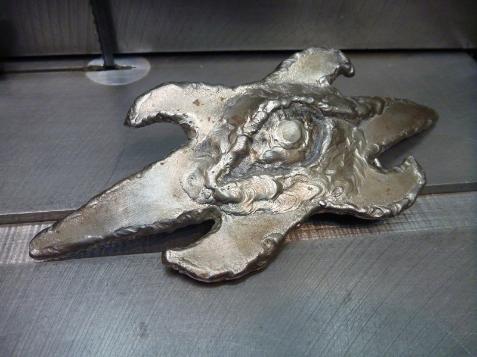 Eye belt buckle $ 6.5" wide gas welded sheet steel, hollow/rattles 1997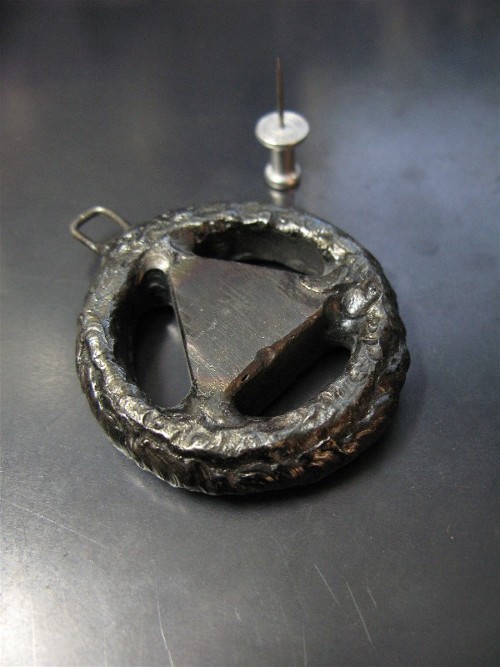 Odd key chain made for an art buyer $SOLD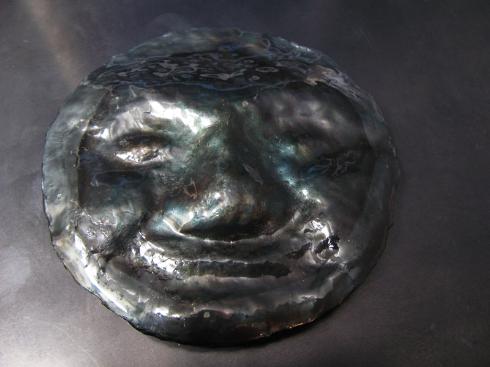 Steel moon $ 5" aprox. 1996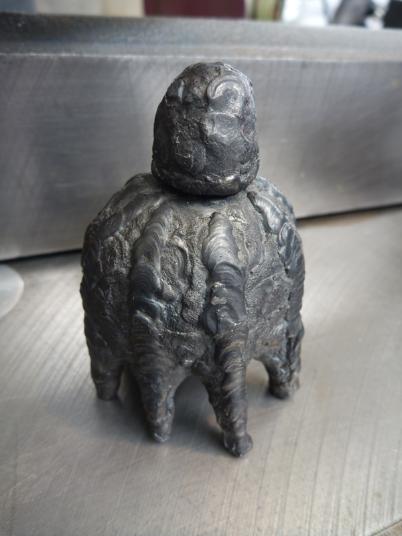 Weird steel bottle $ 2.75 x 2" gas welded steel 1996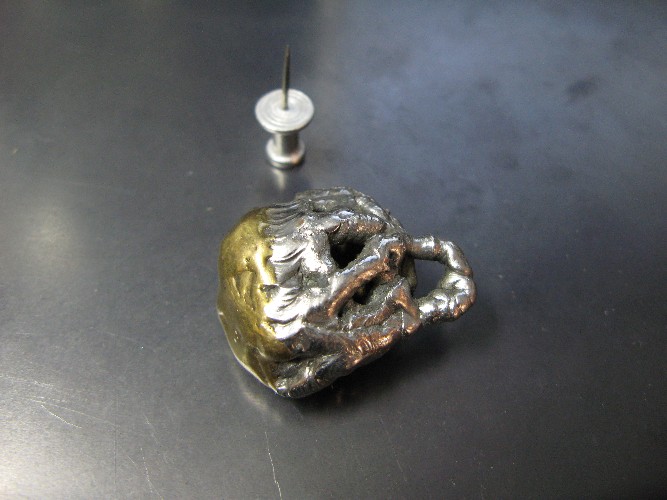 Odd key chain $ 1" steel and brass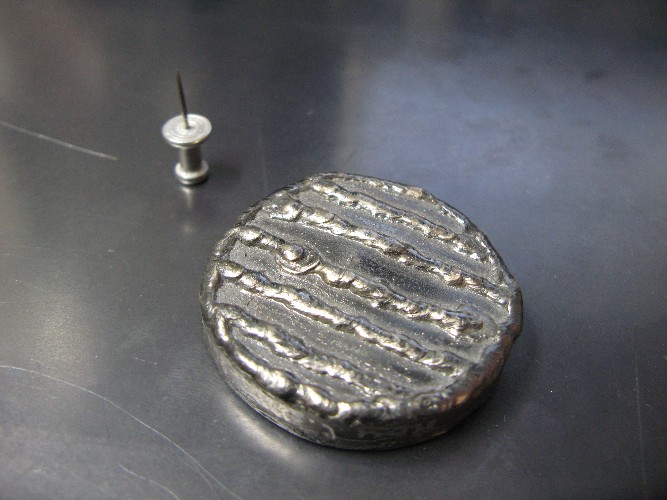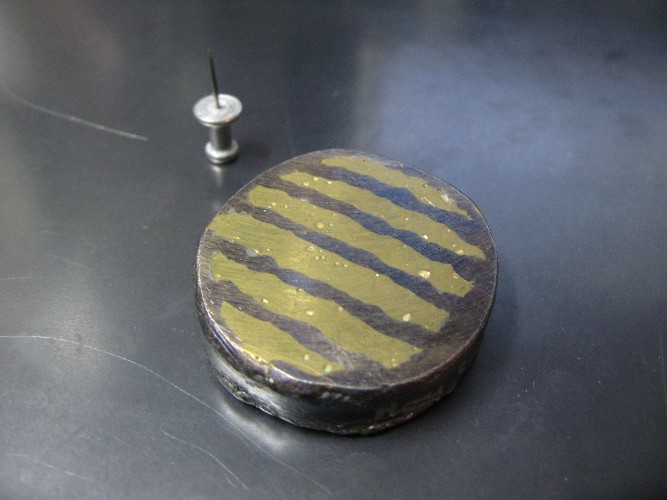 Hollow pocket sculpture $ 2 x 1/2" 1996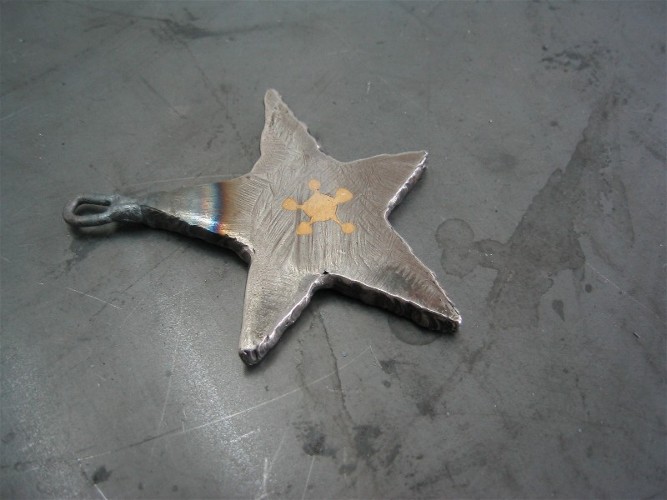 This one here I did back in about 94 or 95 also. It had inlaid brass in the center. It of course was also hollow and would rattle when shaken. I used this one myself for years before finally wearing out the eyelet part. This pic was taken after I had just fixed the eyelet part. All the key chains I did in Nanaimo had thinner eyelets. Back then I could not afford the thicker rod I guess.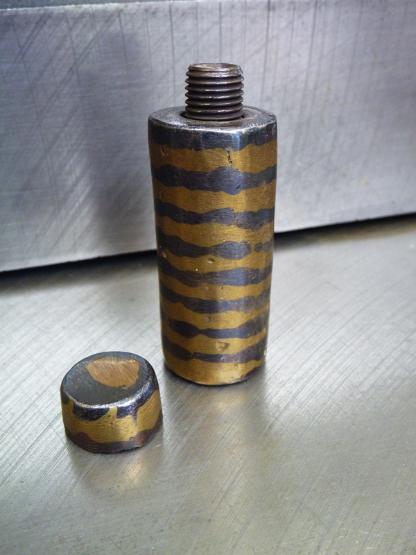 Small brass inlaid bottle $ 2.25 x .75 1996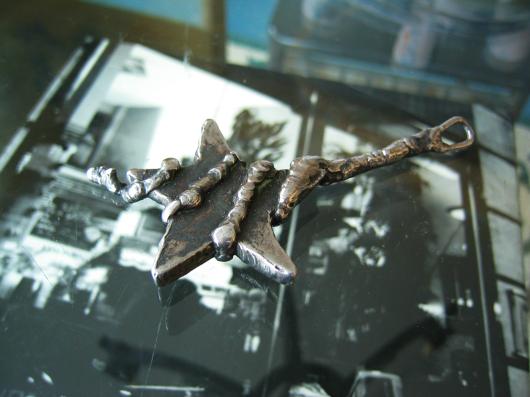 Special key chain $SOLD 3" aprox.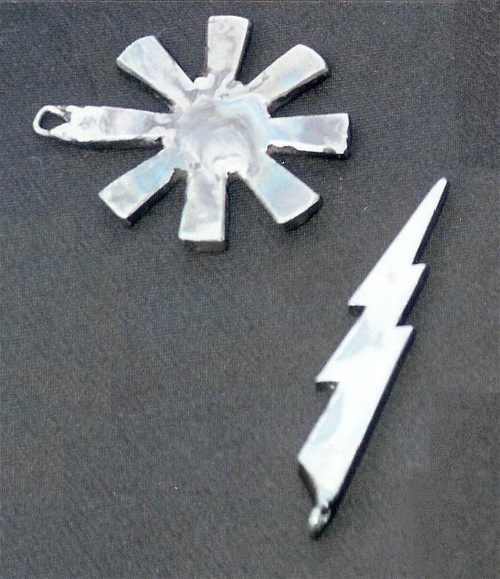 The top one in this pic was a custom one for collector of my work and the lightning bolt was bought by a friend of mine who gave it to her famous musician friend as a gift. These were done about 1993 or so.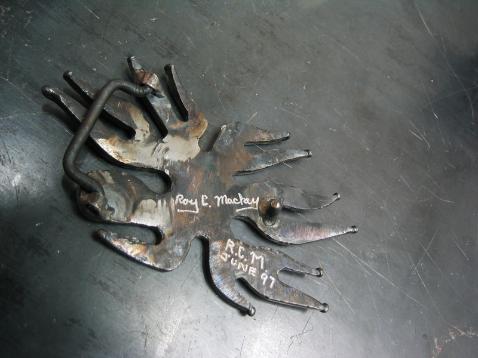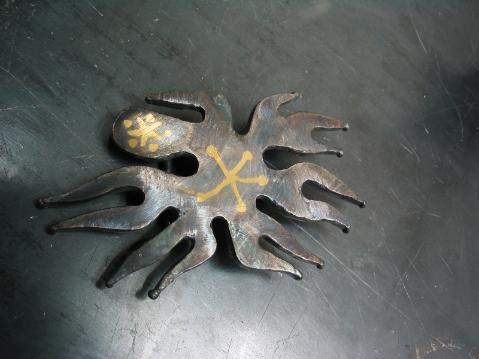 Flaming steel belt buckle, hollow $ 5" x 4" aprox 1997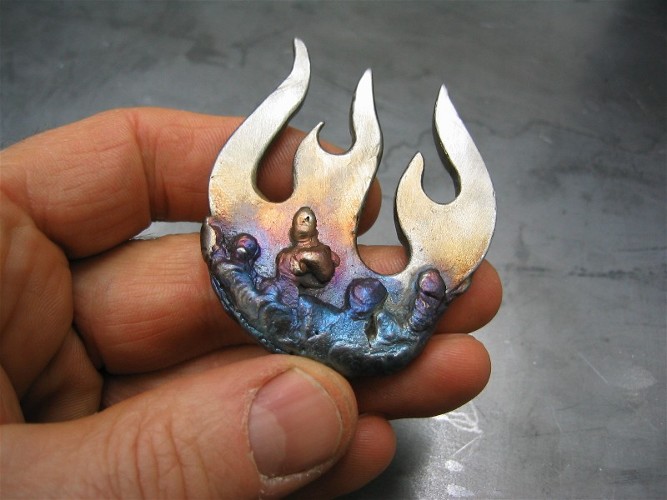 This is another one I did for myself. Of course it is also hollow and rattles. I converted this one over from a key chain to a pocket sculpture when I moved to Vancouver.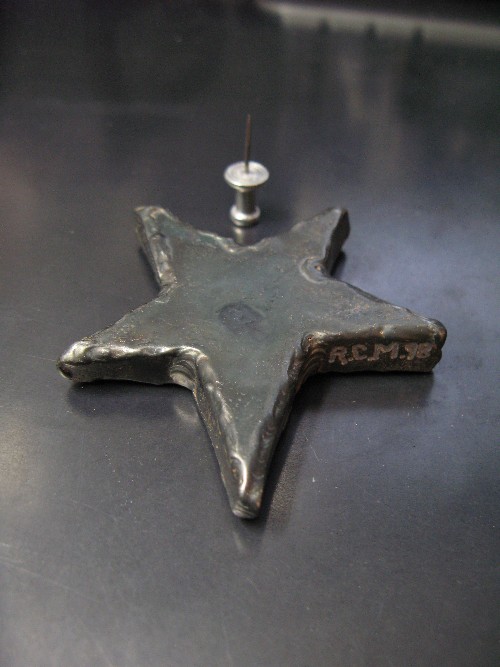 Pocket Sculpture $ 2" 1998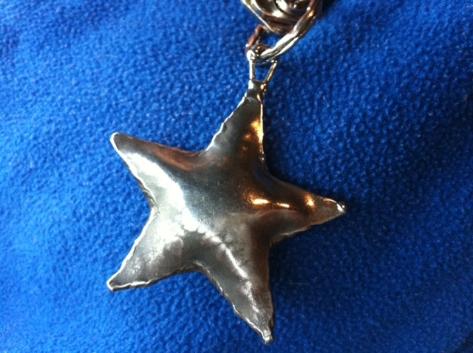 I made a lot of hollow small stars but only one like this one. Most were flat this was a one of a kind hammered out to be more three dimensional.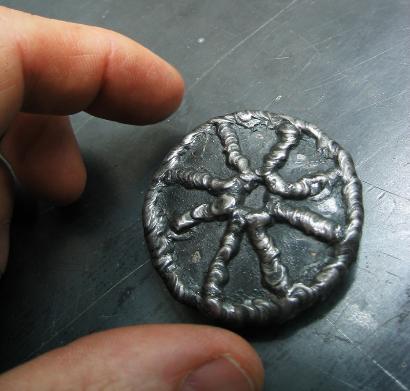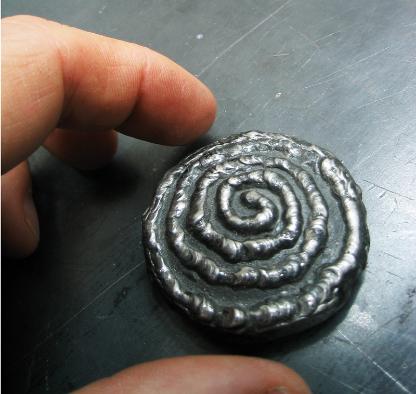 Pocket sculpture, hollow 2" 1/2" ish

This is one of the first pocket sculptures I did back in Nanaimo around 1993 or so. I thought they were great since you could easily carry some art with you. Plus they gave non smokers a chance to keep their hands busy while talking to people. I was going to invent one that would stink the more you handled it, sorta like cigarettes, but did not think it would go over well even though it did sucker in a lot of smokers for a long time. I just figured I did not have the marketing money, time and smarts to convince people it was cool.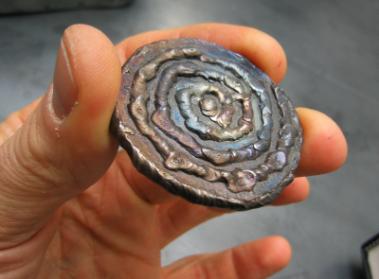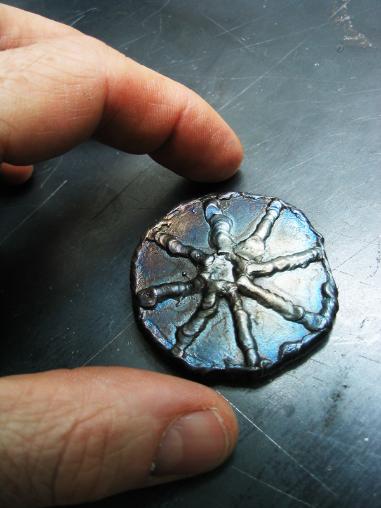 Pocket sculpture $ 2" aprox.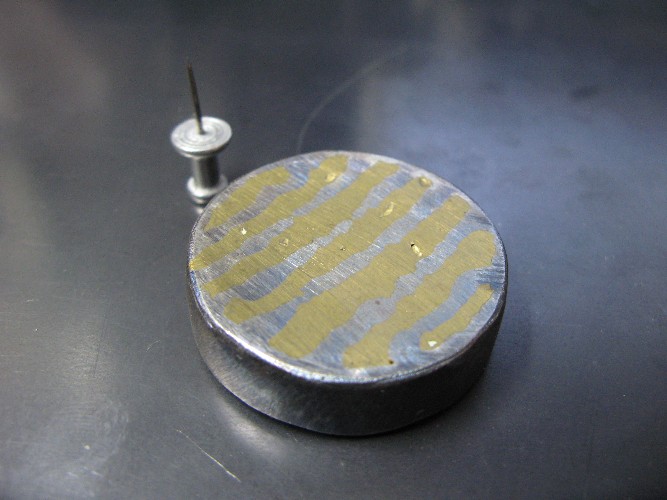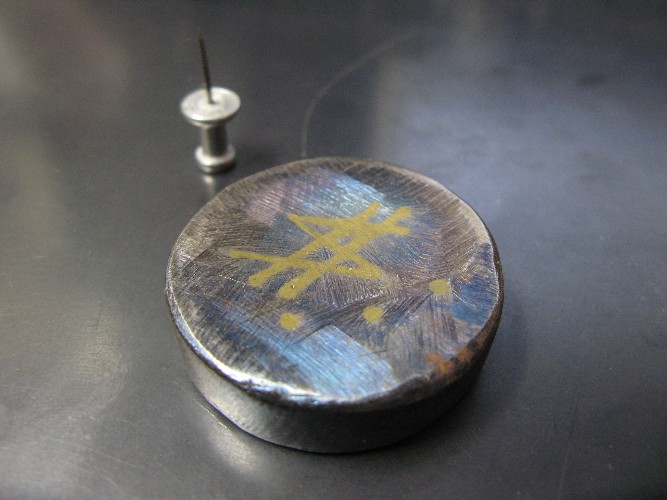 Here is another pocket sculpture with inlaid brass. The back side had inlaid brass also. This piece was done in 1996.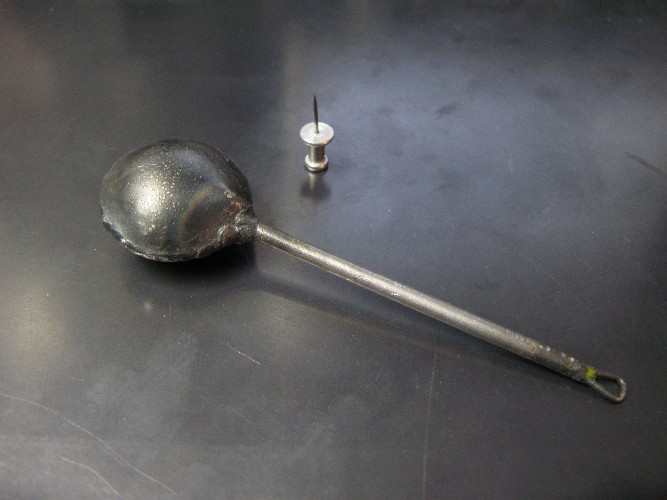 This one was made to look like an old time popsicle. Of course it rattles also.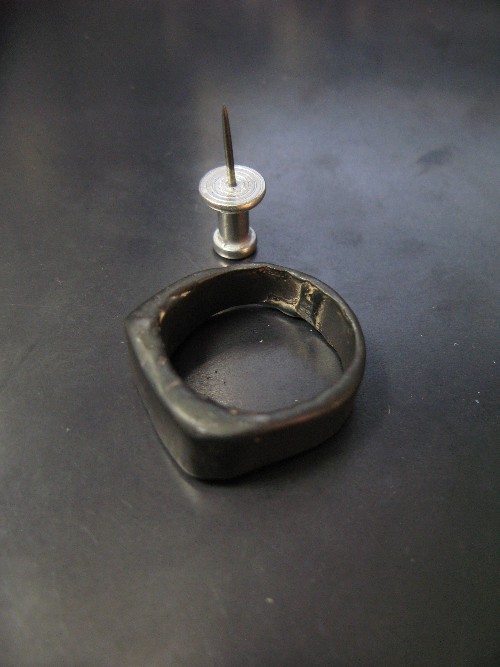 Here is another steel ring I did that is also hollow inside and rattles.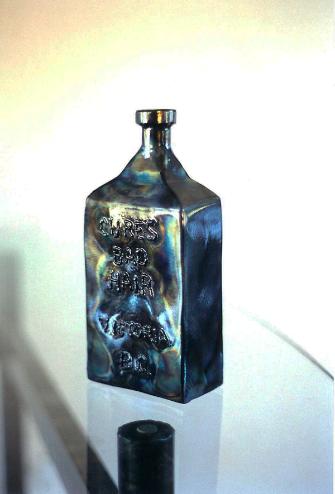 Cures Bad Hair steel bottle $sold 7" high aprox 1997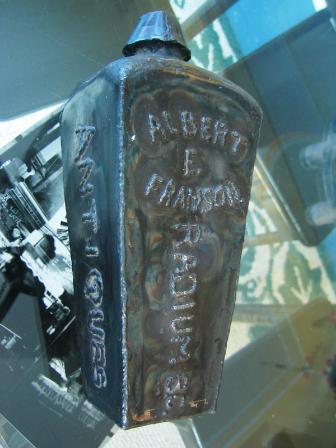 Antique bottle I did for my Uncle $SOLD 8" high aprox.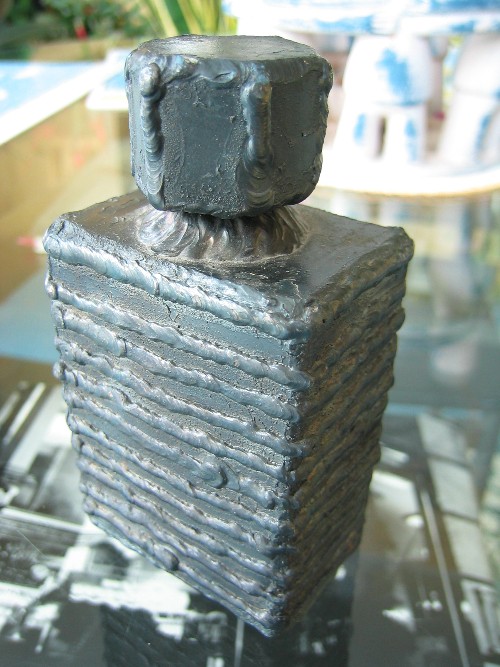 Steel bottle, $SOLD 5" high aprox. 1996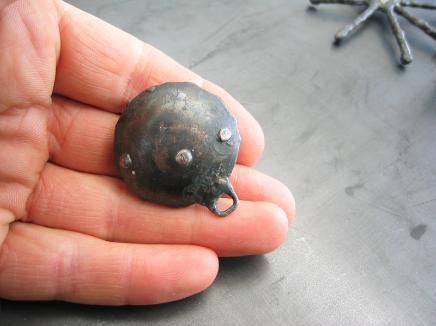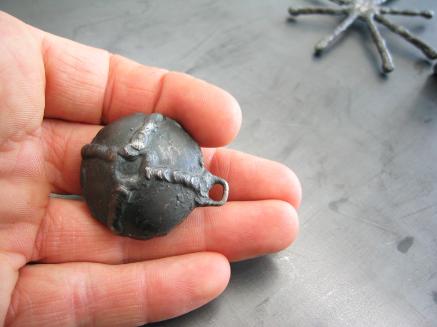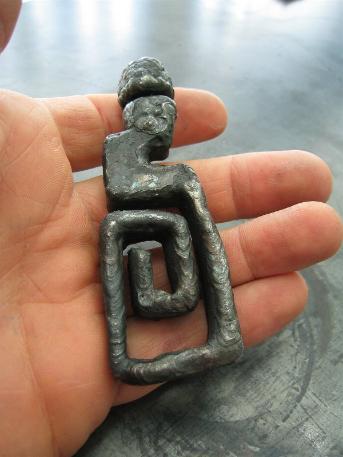 Steel bottle $ 4" high aprox.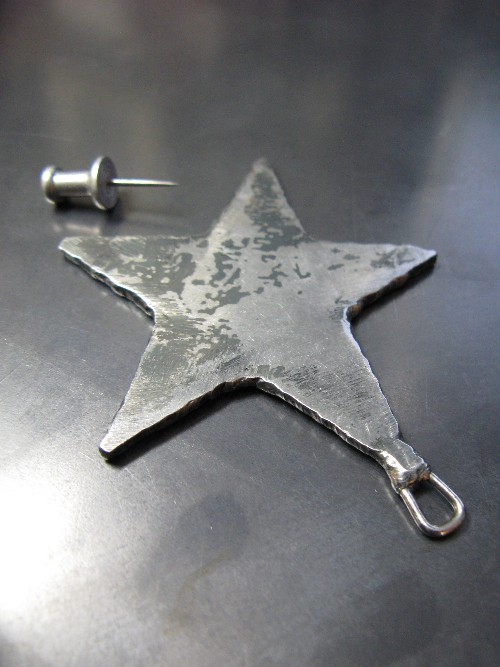 This is one of the thinner ones I did back then which also rattled. All the above ones here were hand welded using a gas welding torch and 20 gauge sheet steel.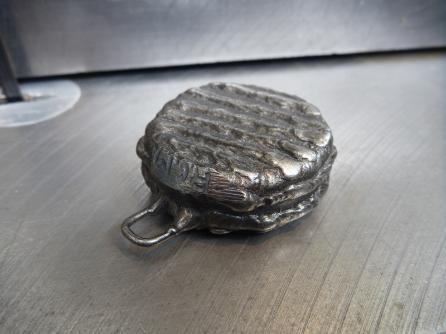 Steel key chain, hollow rattles $ gas welded steel 2 x 5/8"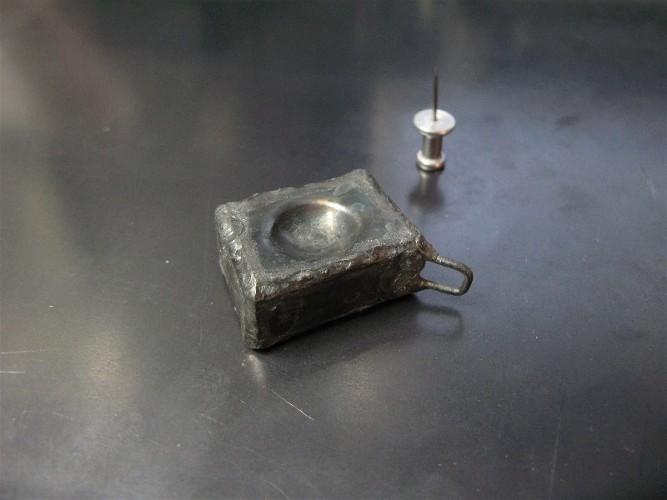 You can see on this one the eyelet which was too thin. I guess it was all the steel wire I had back then since money was tight in Nanaimo. This one fit your finger tips perfectly. There used to be two of them. I would meditate with one in each hand between my finger tips. It gave you a very strange zen like feel. People would laugh until they tried it themselves.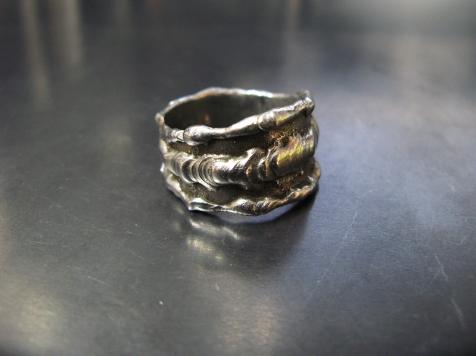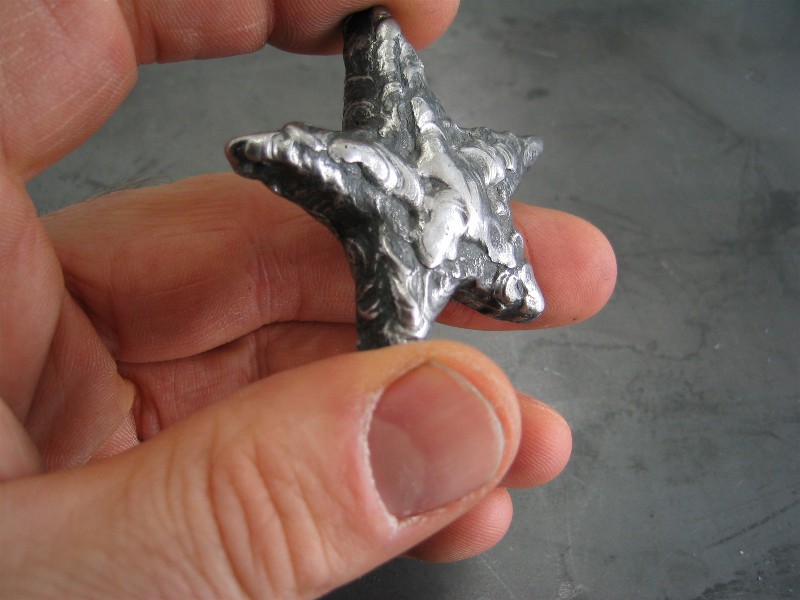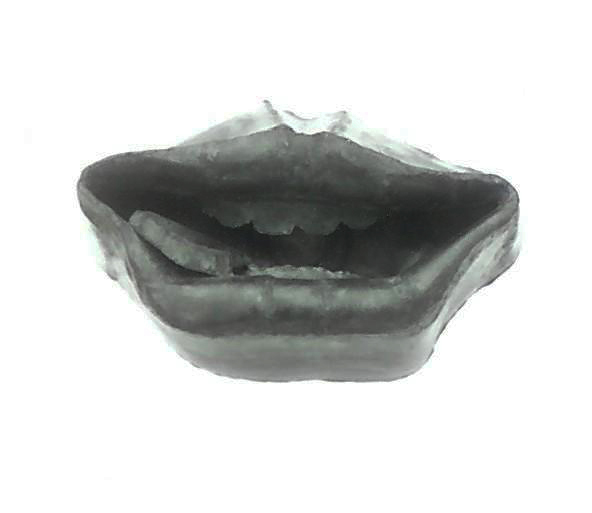 Lips ashtray $SOLD 5" wide aprox.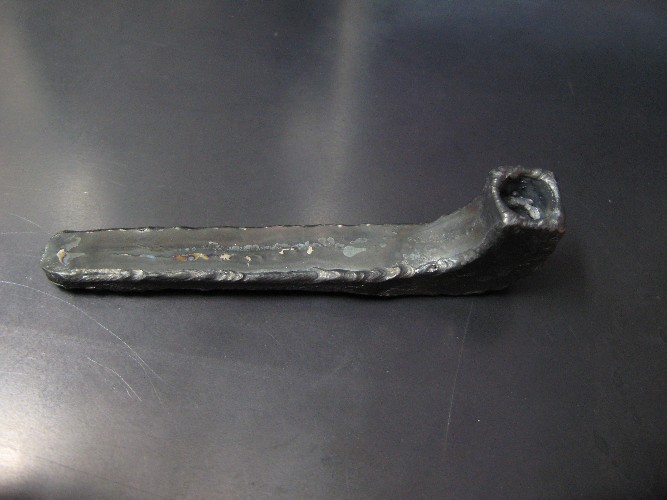 This is the one and only pipe I ever made. I had lots of ideas to make more but still have not gotten around to it. I no longer smoke myself but will still probably make more at some point. I was always nervous about them since it has been my goal/dream to move to the States. Of course since it is now an almost a military type police state down there which strictly bans smoking anything other than government taxed brands I have avoided making pipes. I just did not want to take the risk of ruining my chances of moving down there.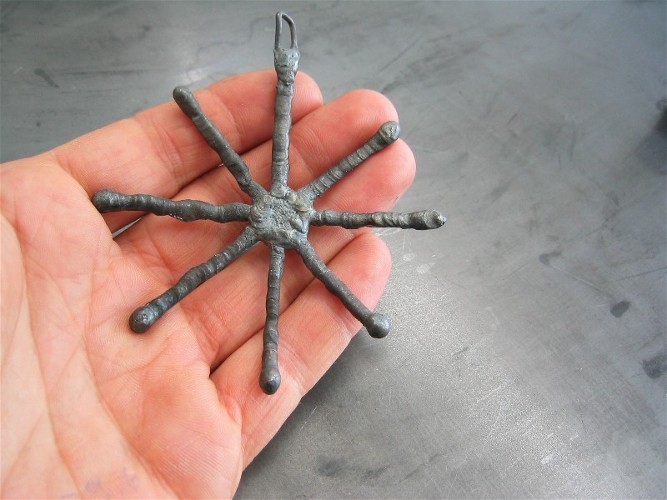 Here is one I did back in 95 or so that was not hollow.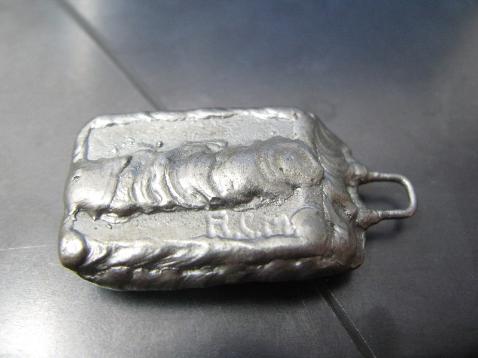 Odd shaped key chain $ 1.5" long or so Nanaimo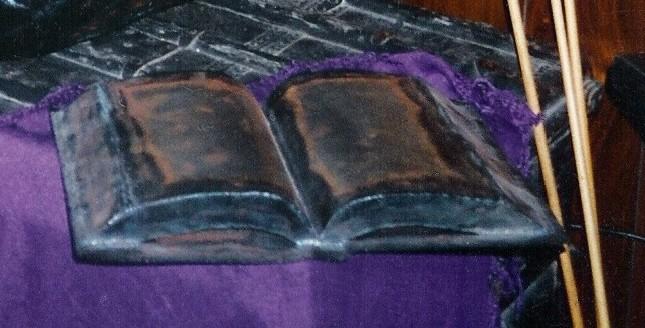 Book of Life $sold 10 x 20" aprox. 1989

If You get on my contact list you can get updates every so often on new work and shows etc that I have coming up. These are titled LIVE ART NEWS IN AMERICA and go out every month or so. Keep up to date on new work, latest books and other funny stuff. Just to note I never sell or give out emails to anyone for any reason.
604-269-3500