Bio and Other Lies by Roy Mackey
What went wrong...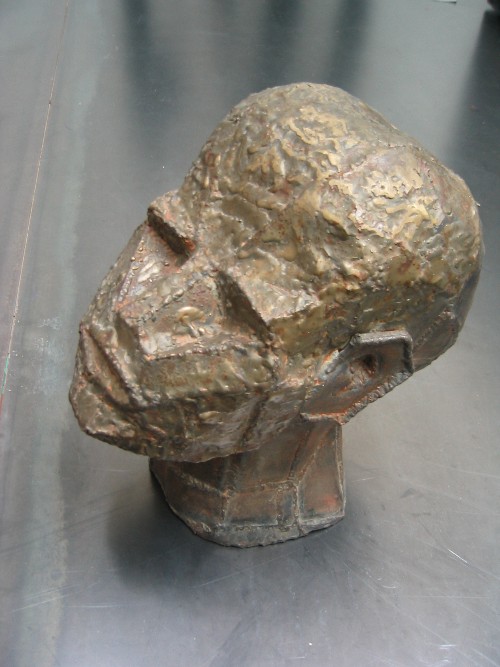 Roy Mackey, a brief bio and other lies
I originally started doing this type of steel work in 1984. At the time I had been doing a lot of portraits in pencil and though enjoyed it did not feel satisfied with the medium. My desire was to do something large and three dimensional. Back then the majority of my time was spent customizing and painting old and classic cars. I had taught my self to do this and discovered I had a real knack for it. It was not long before my shop was very busy. One day I started to reflect on using small pieces of sheet steel to weld a head. Since I was well versed in welding steel already in the body shop the project came together quite easily. After this first piece I was obsessed even though no one at the time seemed that impressed. Since that time I have not been able to stop. This photo above is that first piece.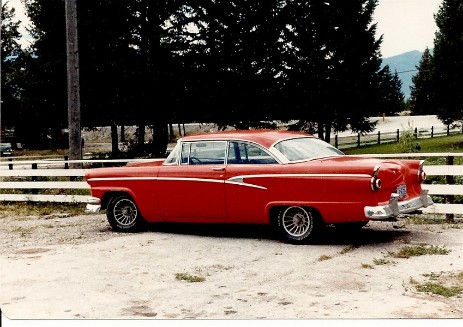 My 1956 Ford Customline
This was the second car I ever painted. The first one I painted using a proper paint gun and compressed air! 56 Ford Customline 292, with a three speed overdirve. The sweetest sounding car I ever owned.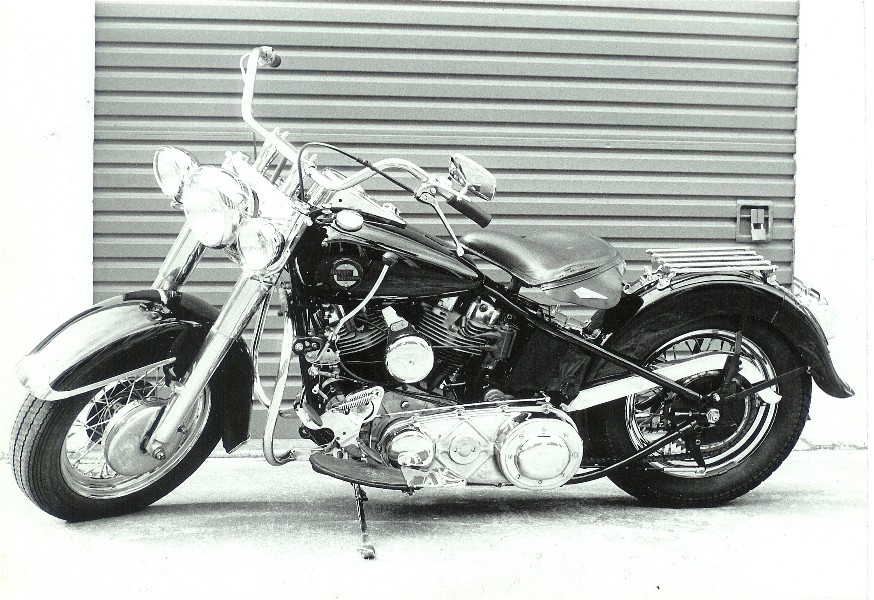 My 1951 Harley I restored
After getting tired of the auto-body shop I ended up then buying an antique and second hand shop. I ran it for six years, welding sculpture in any spare time I could find. Then in 1990 I hit a deer while riding the 1951 Harley I had restored. After almost dying in the hospital I realized this must be a sign. Especially since it was my third near death out of body experience. It was then I made the decision to do my art full time. Three months later after getting back on my feet physically and my Harley back to restored condition I moved to Vancouver Island along with my girlfriend at the time. There I eventually got set up and worked obsessivly and endlessly on my art.
After seven years there I decided it was time to quit doing my art and get a real job for a change. My intention was to be like my big brother Bob! : ) So like a fool I sold virtually everything I had including all my tools, packed my art and moved to Vancouver. Of course three months later just before going totally crazy I realized that I could not quit doing my art. Nor was I man enough to get a real job in the first place. At that point I decided to return to doing my art. After all I had already thrown away a big chunk of my life doing it why not continue...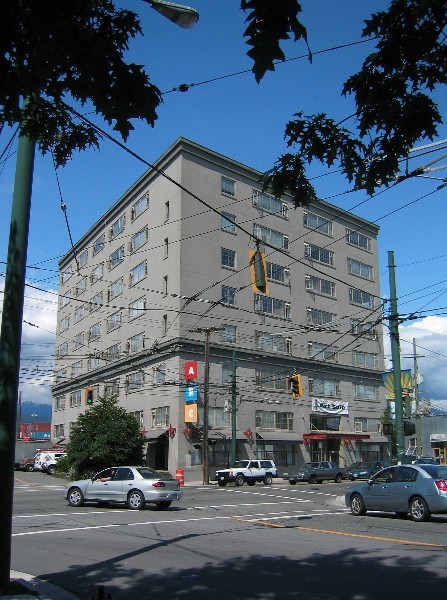 The amazing ARC building before getting painted an ugly red color
I moved into my new studio at Vancouver's ARC, Artist Resource Centre in 1999. Then after living here a year had a chance to manage the building which I grabbed. The first reason was to eat better the second was to try and revitalize this very cool artist building which was sadly falling apart due to bad management and a lot of tenants who were not artists. Though it took a lot longer than expected the building now has great energy and vibrant sense of artistic community. It is a remarkable place to live as far as real live/work studios go.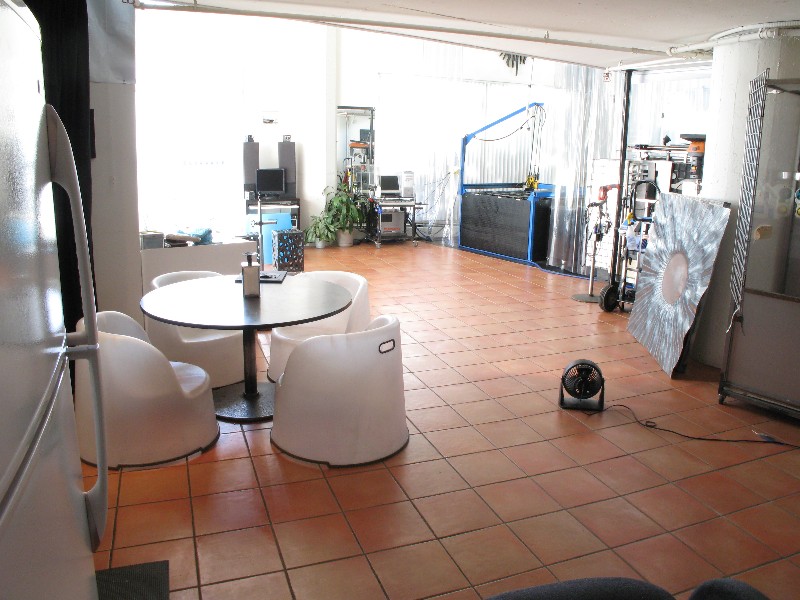 The ground floor of our larger studio
Eventually I moved into a larger unit. I now have the space set up so that it is not only very liveable but very productive as far as doing my sculpture and writing. This studio is fifteen hundred square feet, and has sixteen foot ceilings with a loft for bedroom and bathroom. It also has floor to ceiling windows on two walls
After six years of fun the building management it got boring so against threats of a huge pay increase I resigned. I was just not getting enough time to do my artwork. I had spent over $25,000. setting up a robotic cnc machine which I rarely had time to even look at. Also the building had come so far that a lot of the challenge was gone. It was time to move on.
Since then I have pretty well spent most of my time working on my artwork. I have written two books. "A Fly in the Microwave... fun on the farm when no one's around and then a follow up volume two. I did the second one simply because of the surprising number of sales and feedback of the first one. Then after nine tedious years I was asked if I would take back managing the building again.... I checked the fridge and the decision was made! I now have an absolute ball working on my artwork, managing the building, refining my vintage tool collection and writing more books.

You can check out my two Fly Books at: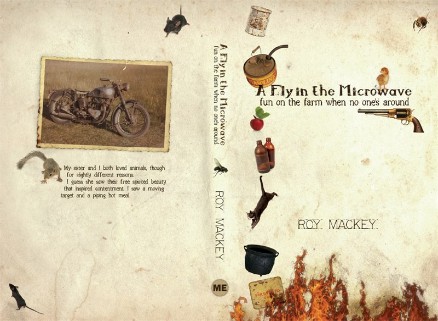 Volume one of A Fly in the Microwave... fun on the farm when no ones around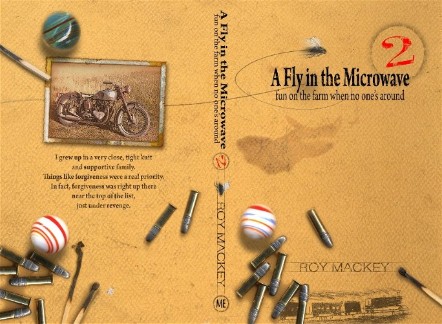 During my nine years away from management I was able to get a lot of writing and steel sculpture done but found being stuck in the cave all the time got boring. I am still stuck in the cave but its a lot more fun. Partly because of the steady paycheck and partly because of all the cool tenants that now live here. If things keep going as they have I will qualify for the highly coveted "Feet Firster" award. (those that leave the ARC feet first)

Though I am not looking for any gallery representation I am often open for your ideas and proposals.
I guess I would honestly have to say that my biggest inspiration in life at least lately anyway and of course next to all my near death out of body experiences would have to be Mr. Bigweld. Herez the link: http://www.imdb.com/title/tt0358082/ I figured if he could, with the help of some dumb kid make a turn around his state of mind then so could I. In fact I have turned my life around so many times I now just spin in circles.
Other than the above I would have to say that another one of my greatest inspirations in life was Wile E. Coyote. I was always amazed at the things he would rig up but often never worked. Every time he got another package from Acme Mail Order Co. I would be beaming with envy. I am sure they ran adds in the old popular mechanics magazines that my Dad had. In fact I remember thinking that's where he likely found the Acme supply place. I used to love those old magazines with a passion.
What I liked about Wile is against all odds he never gave up. He failed at his goal every single time but still kept trying. You rarely see that kind of determination these days. People try something once and unless they are absolutely sure their idea is going to make them rich over night then they quit. I notice it a lot with artists. They come up with some new pretty technique and a year later they are off selling Amway or some other thing just because it did not sell right away and the gallery would not give them a show. It is not about the passion for the art as much as it is about the passion for the money that should come from doing the art. The fact that they give up is proof that there was no real passion in the doing of it. How could there have been? Otherwise they would have never quit. It is not easy walking away from something or someone you are passionate about.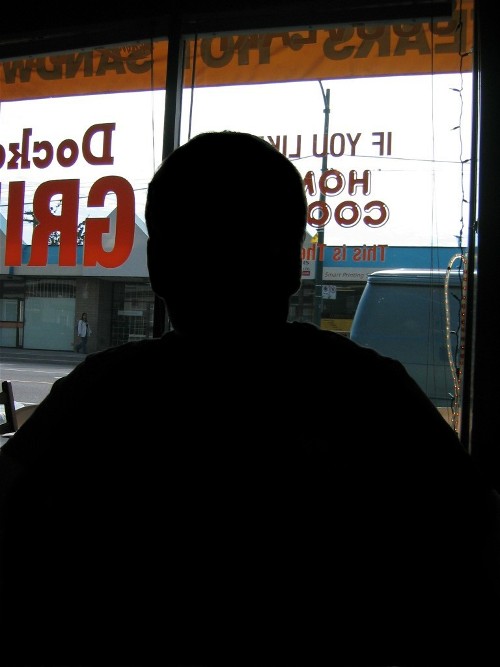 Finally I got a shot of me I like...
And then of course one I don't like...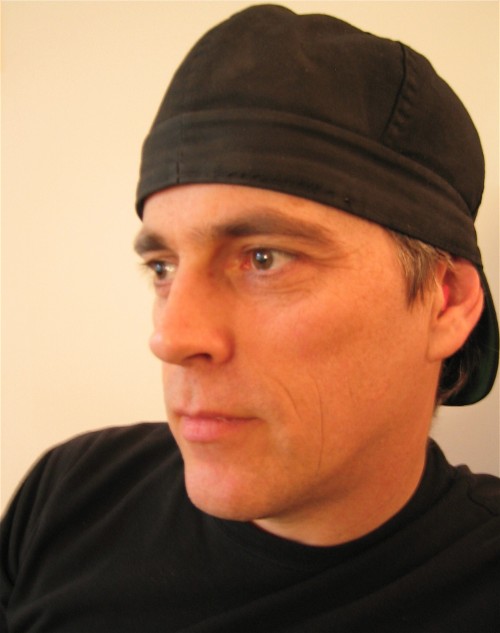 Education:
School of Hard Knocks with a degree in wrong turns. Self taught in "Missed Opportunities" and "Day Late and a Dollar Short" philosophy. Took night courses to refine my endless regrets and "shoulda, woulda, coulda" philosophy. Have also mastered "Ideas over Action and the art of no goal setting" A big fan of going no where and getting there fast. Eternally optimistic and always happy.
Over the years I have figured out that I had figured out a lot less than I figured I had figured out. Thus I figure I got a lot more figuring to to do in order to figure things out. When I do figure it all out I figure I will be quick to tell you that I had figured it out. Go figure...