Life at the ARC...
by Roy Mackey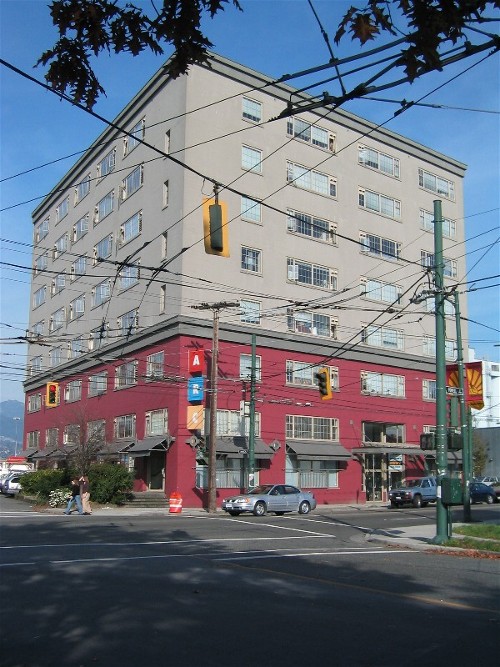 Artist live/work studios are relatively new as far as legal goes. Sure artists have been living in their studios probably since the beginnings of time. In fact the first artist live work studios were caves. Not having companies like Opus Art Supplies and Loomis they had to resort to painting on their walls. Back then it was a bit of a trend and scientists have now discovered that there is some part of our brain that is wired to do that. This of course explains why children often write on their bedroom walls. It is a territorial thing, kind of like animals that mark their spot with urine. We want to feel safe while here so that we can relax and enjoy the experience of life.
Modern society at least here in Vancouver first started accepting live/work studios back around 1993 give or take a few years. Artists up until that time often had no choice but to live in old fire trap run down warehouses. A lot of artists thought it was pretty cool but yes it had its element of danger. Eventually due to pressure and moral obligation the city decided that it was time to come up with safe places for artist to live and work. A place where they would be all under one roof thus making it easier to keep an eye on them. So the live/work studio was born or shall I say "born again!" It was a win win situation. Artist's finally got safe places to work and the powers that be got them all under one roof for easier surveillance. The feds were happy, the city was happy and the artists were happy. Eventually though a lot of the citizens were jealous and for good reason which I will talk about later.
To shorten the story a group of artists, city inspectors and local contractors and property owners were shoved into a small room to fight it out for a week or so. The city wanted large windows for better visuals, the property owners wanted access to cheap industrial land, the contractors wanted raw unfinished interiors and the artists wanted sound proofing. After a lot of coarse language a plan was hammered out, definitions were set and the building began.
One of the buildings and in my opinion the best is the ARC or Artist Resource Centre. It was finished in around 1995 or so. Originally the building used to be an old warehouse storing fax records, government surveillance records of citizens, citizen's surveillance records of government and a lot of unsold Anne Murray albums.
Reliance Holdings whom owned the building were very excited about making this building finally generate a little more revenue. It was a big project but they did an excellent job and in the end created one of Vancouver's best real artist live work buildings. I say real mostly because the ARC is a real live/work building designed for real artists. Most live work buildings that evolved afterwards were nothing more than trendy live spaces for the suppressed working class that had a sense of adventure. The ARC though was different.
The ARC is a seventy nine unit building. It has seven floors and around ten to twelve units per floor. It is mostly cement and very well built. The interior walls were all done using steel studs fiberglass insulation and two layers of 5/8th inch gyproc. Thus the building is very soundproof. Rarely does anyone hear their neighbor unless they are cranking the bass on their stereos. For artists this is great as it allows them to do any kind of noisy process they desire.
When doing the building they also installed five to ten sprinklers in every studio. Along with this they installed working smoke detectors. The ceilings were already solid cement along with the floors so the fireproofing was extremely good. They then installed two huge blowers on the roof to force fresh air into the hallways. This was done to pressurize the hallways so that any smoke and fumes etc would stay in each studio. After that they installed some very sensitive smoke detectors in the hallways. The new stairwells they added to each end of the building were all cement and steel for guaranteed and easy escape. Emergency lighting was also installed that met or exceeded the requirements of the time. The alarm system was also very elaborate and effective. There was also no question that you would miss it when it went off.
Having the building extremely fire proof was a real bonus for everyone. Reliance did not have to worry about losing their investment to some freak playing with matches while stoned. The artists could get a good night's sleep knowing all was well. Then of course the city knew it was not going to be having the headache of some building burning down and all the associated costs that brings.
The strange part about it here is when the fire alarm goes there is rarely ever a panic unlike most buildings. When a fire breaks out in a normal building you want to get out and get out fast! Here there is nothing to burn! It is amazing the feeling of comfort that gives you knowing this. I weld steel right next to my kitchen table and worry less here than when staying at my parents back on the farm. Their all wood house would go up like gun powder if given the chance. Strangely they have had a few close calls over the years yet by the grace of the god's goddesses or whoever it still stands.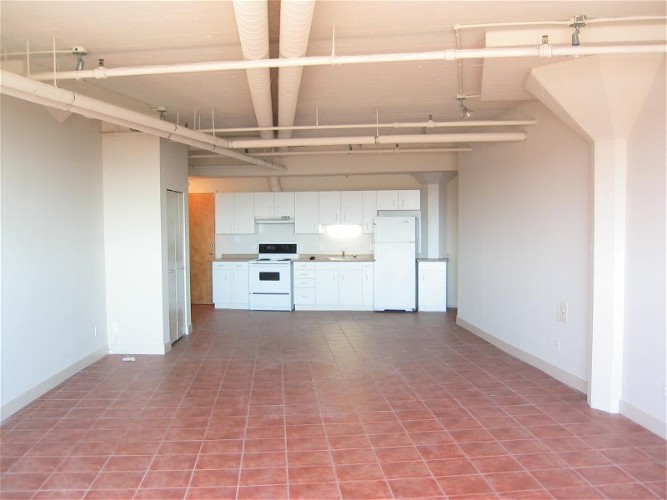 You can tell when they built the studios they put a lot of thinking into these places. One of the best was leaving the freight elevator in place. This works extremely well for those artists needing to move large stuff up to their studios. It is a little old and rickety but sure works great. The Deric and the gang at Impact Elevators keep it in fine order. Another bonus they did was mad the hallways far wider than normal. This has been very bonus for moving large art in and out. Of course they never stopped there either. The doorways into the studios are 42" wide which is very cool also.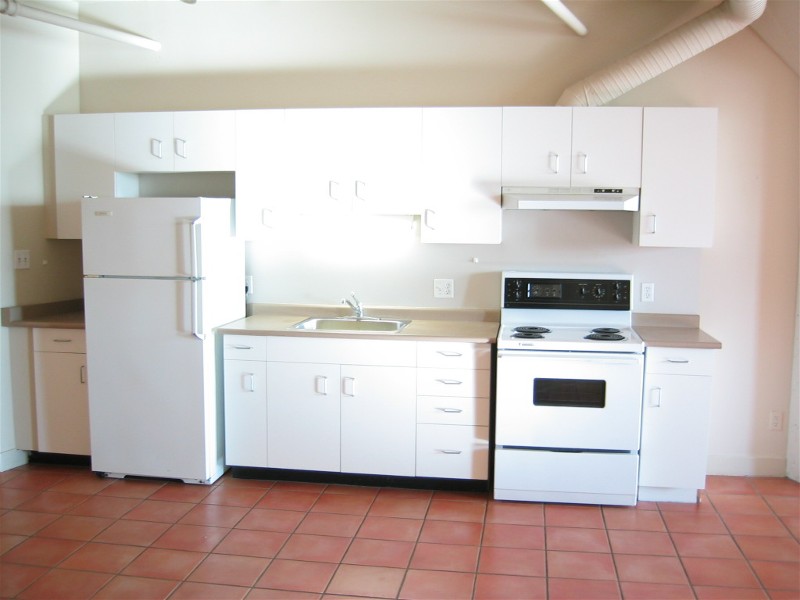 Inside the studios they installed a bottom of the line but functional set of kitchen cupboards, sink, and a large fridge and of course stove. It is minimal but the beauty is the whole kitchen does not take up a lot of space thus leaving more for the work part. After all the rating here is 70% work and 30% live. Occasionally a lot of artists living here tend to forget this ratio when they are complaining.
The floor to ceiling height is just less than ten feet which is also very nice. Of course the ground floor where we have our studio is 16ft. There are large windows at the end of the studio, most with great views. The floors were done in bullet proof red terra cotta tile. They are very easy to clean and look good even when dirty.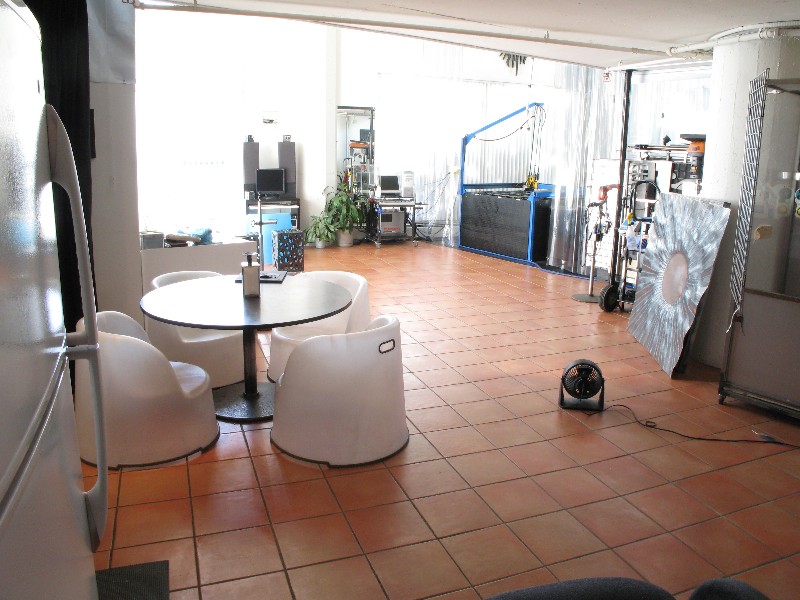 Here is my studio with my CNC machine in the background
The ARC Wood/metal shop
All of this is actually secondary though to the real perks of the building. The amenity rooms are what really make this place great. These are in the basement and start with the wood and metal shop, then the kiln room, followed by the darkroom, the common or dance room, the gym and finally the music practice rooms.
The wood metal shop, my favorite though I never use it as I have all my own tools set up in my studio, is the best deal of all. To use this room you have to be a tenant of the building and pay the fifty bucks a month dues. All the dues collected go maintenance and buying more tools. Though for the first five years the state of the shops declined radically when I took over they turned around and are still getting better almost monthly.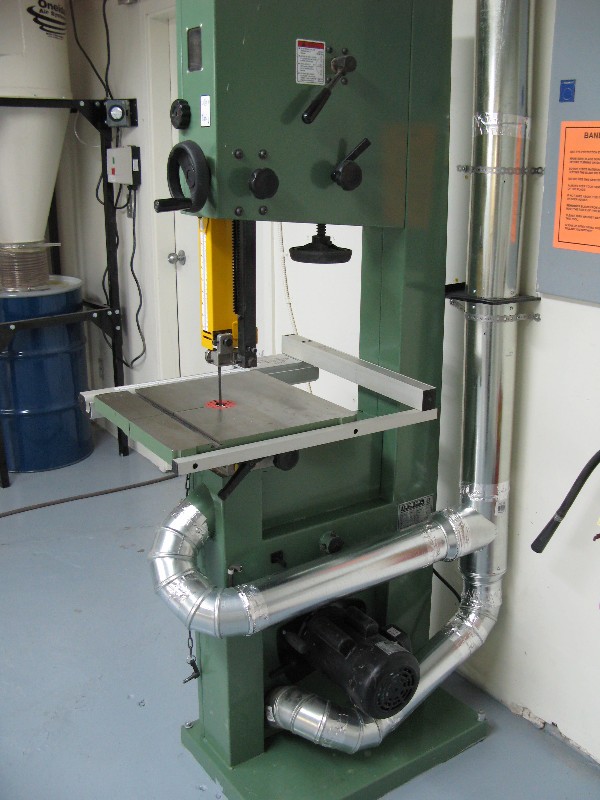 In the shop right now there is a 17" General band saw, top of the line Oneida dust system, 15" General planer, 10" Makita compound miter saw, top notch General wood lathe, 10" Delta table saw, Dewalt Scroll saw, Delta router table, 6" General jointer, 48" King belt disc sander, 36" General drum sander, 2 Delta drill presses, a high dust area, 36" break/shear roller combo, 12" metal disc sander, 8" Delta bench grinder, sandblast cabinet, 40 ton metal press, 5 hp Ingersoll Rand air compressor, Air Liquide ac/dc arc welder, Miller plasma cutter, Miller MIG wire feed welder, metal chop saw, metal band saw, Makita dry cut chop saw, not to mention all sorts of other smaller tools. There is also a finishing room for applying finishes that is very well ventilated. The music system works very well also.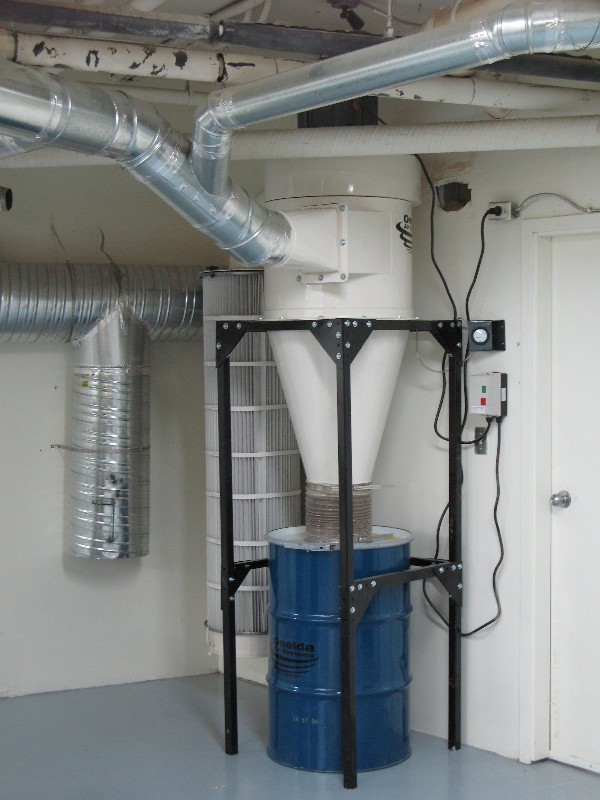 Herez the dust system.
One of the nicest things about the shops is that you can use them 24/7 and make all the noise you want. This is great for those late night inspirations.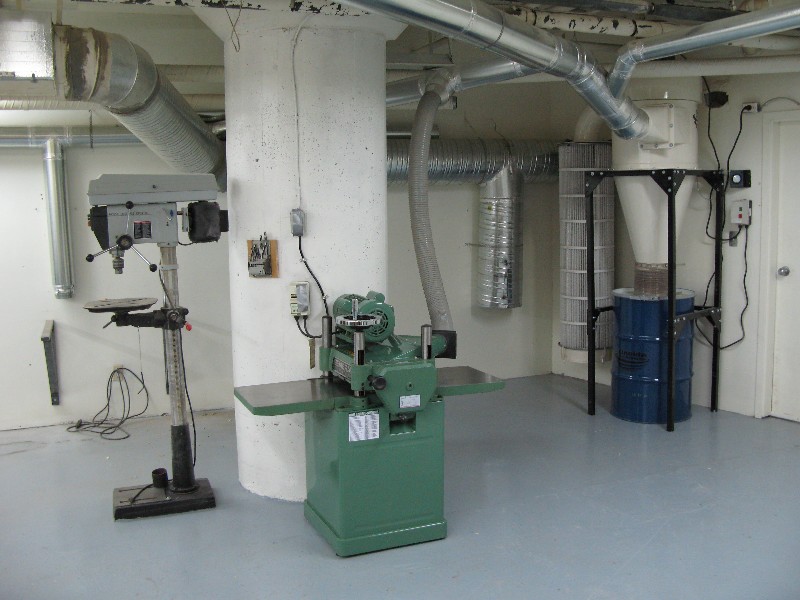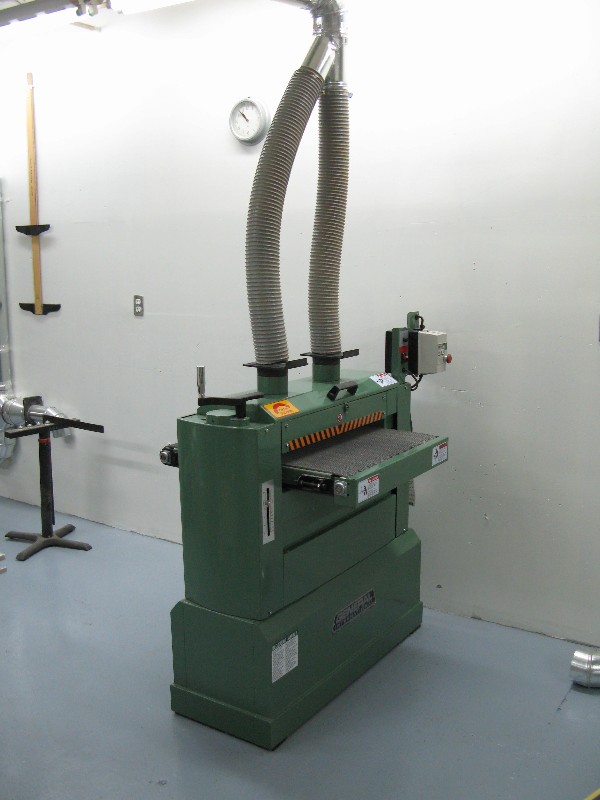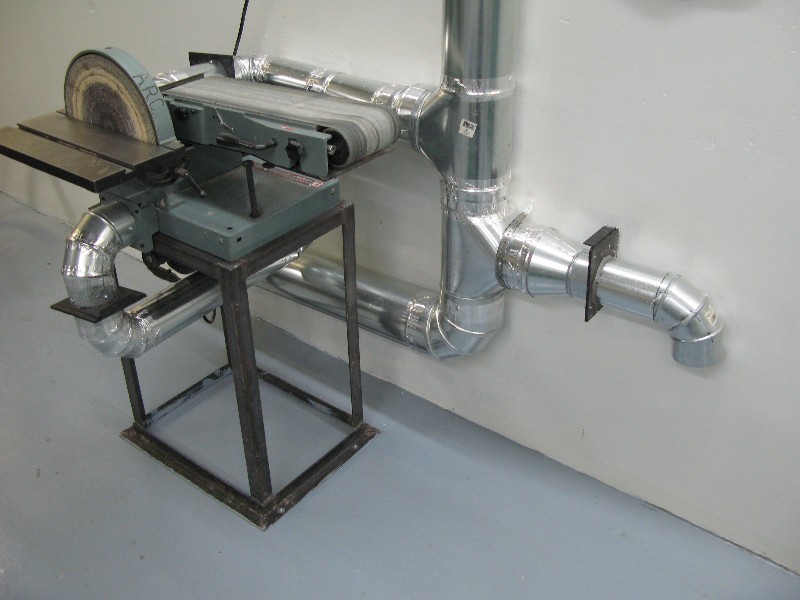 King 48 inch belt disc sander
Below is a glimpse of the metal shop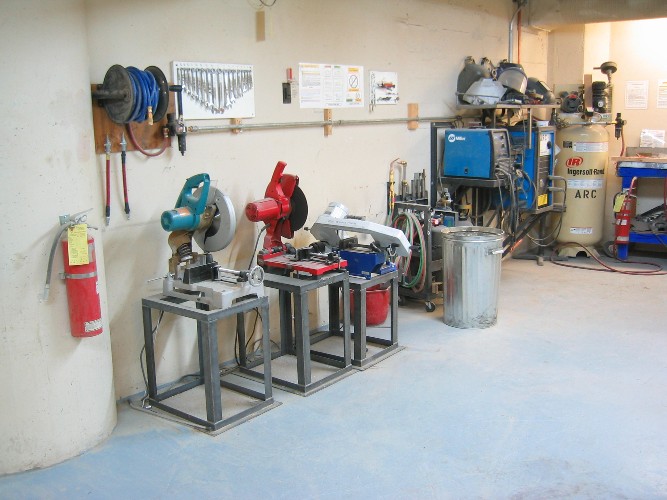 Next there is the kiln room. It has two kilns a regular one for clay work and another one for slumping glass. There is ventilation in these rooms along with a smaller room set up with ventilation for applying glazes. To use the kiln room it there is an annual $100, fee per person.
Down the hall a little farther there is the Darkroom. It is set up with almost everything you would need from enlargers to whatever. There is no fee to use this room though you provide all your own chemicals etc.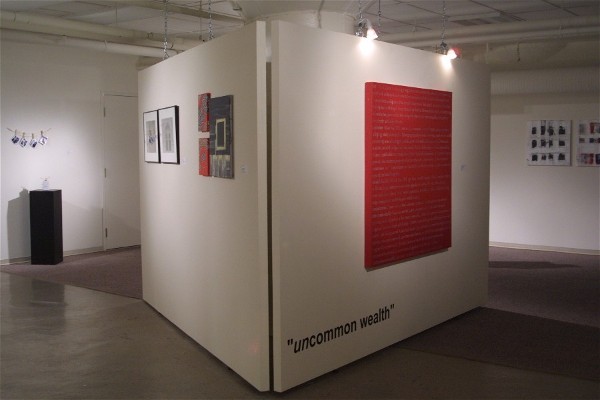 The Common Room
The common room down farther is open for anyone to use whenever. It is quite large and has one wall mirrored for dance practice etc. There is heavy bag in there for martial arts practice and hanging moveable walls to increase wall space. It often gets used to have group shows which are a lot of fun, ARC parties, auditions, practice etc etc. People wanting to make sure they have it on certain nights have to put a note on the door that they have it booked.
Even farther down the hall is the gym. This is not a pro gym but is pretty dang good it you want to get into shape. There is a weight machine, tons of free weights, an elliptical trainer, treadmill, rowing machine, bicycle, recumberant bicycle, etc etc. There is even a TV with 57 channels!! This is on a first come first serve basis.
Right next to the gym is the music practice rooms. There are two of them, one smaller one and then the main one. If two bands had to practice at the same time they could, not very well but it would work. Or if only one band is there they can open the two sets of double doors between them and make it feel like one larger room. Generally you can practice down there 24/7. This is great for bands living in the building since you only have to carry your gear down the hall into the freight elevator and then down to the basement and down to the other end of the hall. You do though have to be a tenant to use these rooms. The only exception is with a band. As long as one of the band members lives here the rest of the band can come to practice. Every so often in the past some self obsessed tenant will try and push these boundaries and cheat but they usually don't go too far. The ARC has a fairly tight community here and everyone tries to play fair. Not like most typical apartment buildings where most have little or no respect for the neighbors.
Then of course near last but definitely not least is the NOHA Café. It is one of the finer points of the building. Great food and coffee right here. It is quite bonus mostly because of the ARC being tucked somewhat out of the way. Joe who runs the place serves a great variety of food at very reasonable prices. Ahhem not to mention he has some great art on display.
Now as if all this was not enough there is more! Since 70 percent of the space is zoned commercial that means as an artist you can write off 70% of your rent at tax time! So even though the rents are climbing upward it is still a great deal to live here, especially if you are a serious artist pursuing your art career. Just a note to all you daydreamers out there that in order to move here it is required that you be an artist of some sort. IE: painter, sculptor, actor, musician, performer, etc. This is a real bummer for some but great for artists since they don't have to compete with high paid trendies for a space. There is lots of networking that goes on between artists which is also a bonus. Another cool thing is the building is part of the annual Eastside Culture Crawl. This is a three day event where hundreds of artists in the eastside area open their studios to the public. Literally thousands of people attend this amazing event so it is a huge change to get an amazing amount of exposure for a very minimal entry fee. You can see more about this event at:
http://www.eastsideculturecrawl.com/
Other perks are if you have a motorcycle you can bring it in the back door of the building and take it right to your studio via the freight elevator. This saves you parking and is far more secure. The fifth floor has a huge collection of videos both vhs and DVD along with a collection of fine art books. These you can borrow at any time and return when you are done. This collection thanks to donations from tenants is growing rapidly. Makes it nice on nights you don't feel like going to your local video store in the rain. There is even a pool table on the third floor though rarely gets used much anymore.
How do you get in? First off go to www.livework.ca and fill out the online application. After you have read all the material you will receive online then phone the manager to book in an appointment for a tour. The material sent to you will answer almost everything you could ask. As manager here for six years I found that if you want to get on my bad side then phone before applying online to ask questions. The new manager feels the same way! Managing here is an extremely intense job and even though you are self proclaimed as one of Canada's most important artists so was everyone else. Hundreds of people are always enquiring about the place which is why the online application was set up. There just isn't enough time to answer everyone's simple questions in person. The online application basically gives him your email which he replies to with the package of answers to every question.
Just to note that if you check the building out and can't afford it that is the first sign you need it more than most! No artist can afford to live here but if you are serious about your artwork you can't afford not to live here! That you learn after you move in. If you are an artist with no studio then good chance you are going nowhere. Studios here may eat up some of your beer money but big deal.
One of the perks about being in a live work building like this is you can be very productive. You are around your art 24/7. If you get inspired in the middle of the night then you can get up and go for it. Because you are paying more than you would for that tacky basement suite you are able to go for it!
Well as you can see this is a pretty cool place to live and like I said over the years more and more normal people got jealous. The popular thing was to have a loft so contractors started building "livework' lofts more for the average consumer. They were great since they did not need a lot of finishing work, sound proofing was not so important, were a quick sell, and you did not have to be an artist to move there. Sure they are tacky but artists in real livework studios never say anything to them. Better to keep them happy. These have gone over very well and in fact so much so that lofts have gone out the ceiling. I have now heard though a lot of artists are moving out to Surrey to rent townhomes with brass and glass dinning room tables, shag rug and fluffy overstuffed couches. If you investors out there want an obvious tip nows the time to get in on the ground floor and start scooping them up before the artists take them all! Of course this will start another trend which will attract trendies with money and up will go the prices!!
Myself though not being that smart plan to stay here for as long as possible in pusuit of the perfect art piece….
If You get on my contact list you can get updates every so often on new work and shows etc that I have coming up. These are titled LIVE ART NEWS IN AMERICA and go out every month or so. Keep up to date on new work, latest books and other funny stuff. Just to note I never sell or give out emails to anyone for any reason.
ph. 604-269-3500