My Bad Ads Collection...
by Roy Mackey
FREE!!!
Bad Ads e-book
scroll down...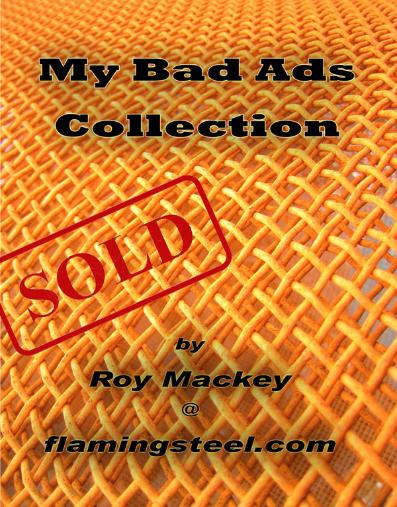 In case you did not know I am a real fan of selling junk on Craigslist. Mostly because I have bought too much over the last couple of years. I got into buying up all my old vintage tools and in the frenzy of doing that got a little carried away. Now I am getting rid of the excess stuff. Actually have been for the last couple of years. I have done a pile of ads on Craigslist and have had a huge response to them. Mostly because they are kind of crazy I guess. After getting so many comments on them I decided to make them available here all in one neat package for your summer reading pleasure.
Over 130 pages of weird ads that I actually ran on Craigslist
attempting to sell or give away junk I had hoarded up.
These were NOT ads just made up for this book.

For
FREE !!!!!
you can instantly download
the collection to your electronic device.
Then just sit back in the summer sun and read away.

Just click on the
"My Bad Ads Collection"
next to the funny white button

Note: In the rare event that you actually enjoy this book and feel like buying me a coffee then just click on the PayPal button below!!

Any donation over one dollar greatly appreciated, over ten and I will write saying thanks!! over $25. and I will send you a hard copy of my greatest selling book "A Fly in the Microwave... fun on the farm when no one's around" your choice of volume one or two!

| | |
| --- | --- |
| Thanks in advance!!. just click here on the yellow button! | |
Here are a couple of samples below....
Antique Maid Hag clothes washer works great! - $20 (Vancouver)

Date: 2010-08-28, 1:39AM PDT

Here is a genuine Maid Hag clothes washer in not bad condition for its age. $20.
I bought it for my last girlfriend to save on our hydro bill and she moved out!!
This thing is a genuine piece of North American history. Brass ones like this are a lot more rare than the typical glass ones.

The mothership told me that in the next two years when China becomes the new world leader North American antiques are going to go through the roof price wise. If so it would be a good investment as prices are at an all time low right now.

604-269-3500

or if you are really bored...

www.flamingsteel.com

... most say worth the trip.... : )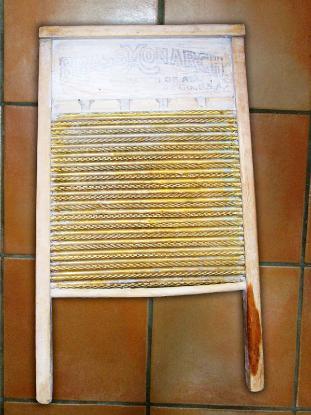 Creepy old antique doll. - $20 (Vancouver)

Date: 2011-07-29, 3:48PM PDT

Creepy old antique doll. $20. I was going to take up voodoo as a hobby again but just don't have the time. Besides this thing is too hard to take pins. It appears that this thing is made from some kind of pressed wood fiber or something. Not sure why the guy I got it from had it... likely some kind of weirdo or something. I need to finish cleaning the last of our locker so it has to go. Please save this abused doll and give her a home where the buffalo roam... or whatever.

604-269-3500

www.flamingsteel.com

... for strange steel sculpture and other useless junk...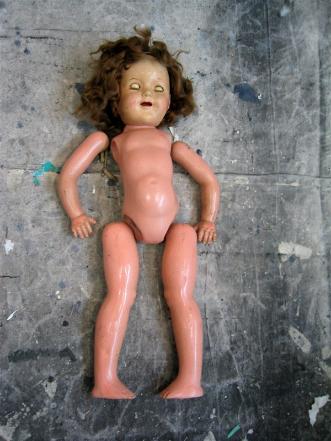 Like I said above In case you did not know I am a real fan of online selling like Craigslist, Kijji or whatever the hell it's called, eBay and other such places. These places are great since they allow the smooth running of our life through the exchange of cool and often obsolete junk that accountants and big companies would rather see tossed in the land fill. The reason being it slows down increased sales of the newer, more likely to break down sooner, deluxe model they make. In fact it is partly why the government has a team set up specifically to figure out ways on how to convince people to stop re-using of older stuff. I met a guy once who claimed to have worked on that team. One of their main goals was to come up with believable ways to make people afraid of older things by calling them carcinogenic, dangerous, containing lead or whatever else they can come up with.

You see thirty years ago my parents finally threw out the vintage toaster that they had had for sixty years even though it still worked. They kept it around to fill in every time the latest new one hopped off to the landfill. If they would have kept it and just went back to using it full time that would have been around thirty less toasters sold. All because of that one toaster not dying!! This is bad for business and thus bad for taxes. Not to mention the fact that we can make things so fast now that if they did not break we would have nothing to do. We humans need something to do which is why wars and cheap stuff are so great. More stuff to make keeping us busy. Otherwise we would all go crazy just sitting around doing nothing. It's partly why we are always creating so much drama in our lives and then pretending we don't want it.
Anyway I have sold a pile of old useless and dangerous junk online and have had a ball with it. After awhile though I noticed that most people were taking the selling of stuff far too seriously. Thus I got into spicing up my ads a little. Well the amount of feedback I got on them ads was incredible. Thus I opted to put all the ads together in one place for your reading pleasure.

When you buy a copy of this you are helping feed a starving artist. You not only get to enjoy it you get to experience the advantages of good Karma... though as usual not until after you die apparently...at least that's what I seem to have found. Either that or all the good karma I have racked up is just lessening the effects of all the bad karma I have launched. To me it seems like the donut theory. Quit donuts for a whole year and lose five pounds. Eat two at the end of the year and put the five pounds back on the next day!!
Ok maybe the karma part ain't much of a sales pitch but the good easy reading might be. You decide.