My Bad Ads Collection... An E-book

by Roy Mackey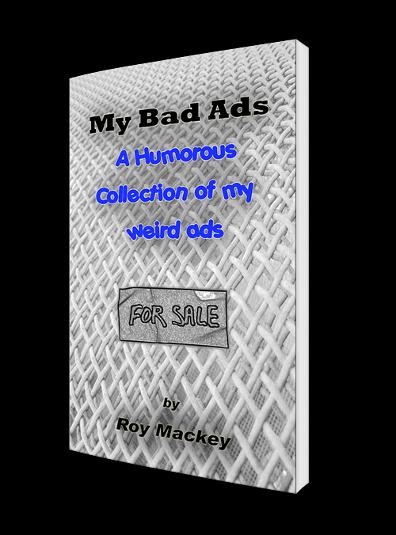 Score it Now By just


Clicking on the Link below

or the photo above




Up Until Now It Has Only been

$2. measly bucks!


Now it is not even $1.00


Not even .50


Nope not even 25.



After millions of sales at $2.


Today only it is


FREE!



A nice easy to read e-book

in pdf format you can

download instantly

I know... what a deal!!! You can't even buy a bottle nytol for that. This book will put you to sleep a lot faster and with no side effects! Short of maybe some bad dreams...
THESE ARE REAL ADS I HAVE POSTED

Over 120 in total!


A refreshing break from most of the anal ads out there. Light easy reading that you can enjoy for a few good laughs. Might even give you some ideas and motivation to clean out some of the crap you have accumulated in your basement, shed and garage! Score a little beer money or maybe a few extra bucks so you can start drinking espressos again at lunch hour and piss off all your accountant friends. The best part is you only have to give up one lunch hour coffee for this deal.

Save it on your ipad under ibooks and

get some enjoyable reading done while

at work!

or

read it on your computer.

Here are a couple of samples below....