Life In My Studio...
by Roy Mackey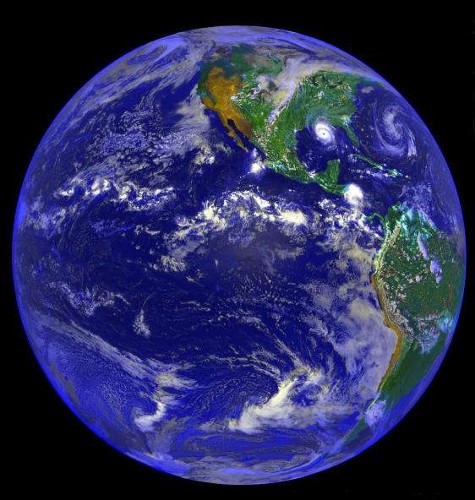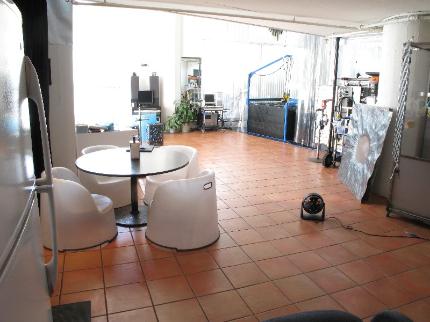 Studio shot from my door

Here are some images of my live work studio and some ideas on how I made it work. Actually real live/work studios should be called work/live studios for a couple of reasons. First and most obvious is I work here more than I actually "live" here. Then there is the zoning. Seventy percent of the studio is zoned commercial for working and only thirty percent of the studio is zone residential for living. Since I don't have much of a life it seems to work fine for me.
The studio is rated at around fifteen hundred square feet give or take but that includes some of the buildings hallways and amenity rooms. Thus the part I claim as my own private space each month... after I have paid for it of course is about thirteen hundred hundred square feet. That footage is divided into a loft and bathroom at about two hundred and fifty feet, and about nine hundred and fifty feet on the ground floor. 280 feet of that is my welding area. Then I have a big chunk where I hang and display my work. Then of course I have a basic but nice kitchen near the entrance.
Needless to say the most congested area is my welding area of 280 ft. Below is a list of all I have in that area.
A robotic cnc plasmacam table with room to put a 4 x 8 ft sheet of steel on it.
A two foot by four foot steel bolts storage bin.
Computer and Powermax plasma cutter for cnc table
A horizontal metal band saw mounted on it's own metal stand with wheels
20 some 4 x 8 ft sheets of plate steel of varying thickness
A 1955 Wells horizontal metal band saw

A 1938 Walker Turner scroll saw on mobile stand

A twelve inch Atlas band saw and disc sander combo
A 1947 Walker Turner 8" drill press on mobile storage cabinet
A 72 x 36 x 20" two door steel storage cabinet full of toxic and radioactive chemicals etc.
A 36 x 20 x 72" two door steel storage cabinet for my computer and printer etc.
A set of Oxygen/acetylene bottles hooked up to five different torches
A 1947 Delta Milwaukee 24" scroll saw on original base with wheels

A 1955 Dewalt Radial Arm Saw set up on a steel storage unit
A 1948 sixty gallon horizontal tanked Brunner air compressor
A wall mounted Easy-flo central vacuum cleaner
A 12" x 28" x 60" steel storage cabinet with 12 drawers
A Miller 180 Syncrowave tig welder set up on mobile stand that hold bottle also
A 1942 Atlas bench top drill press
A steel work bench 36" x 72"
A multi-drawer steel storage cabinet 48" x 28" x 60" weighing 1600lbs or more

A homemade tool storage tower
Five bench grinders all mounted on their own stands
A bench top sandblast cabinet
A two drawer lateral file cabinet for small steel bit storage.
A sixties 6 x 48" belt disc sander mounted on it own original stand
A 1955 Beaver 15" band saw mounted on its own original base
A vise, tubing notcher and metal shear set up on its own stand
A vintage steel fire proof garbage can with step lid
Two antique steel welding stools
Water filled cooling bucket
anyway more pics etc to come... stay tuned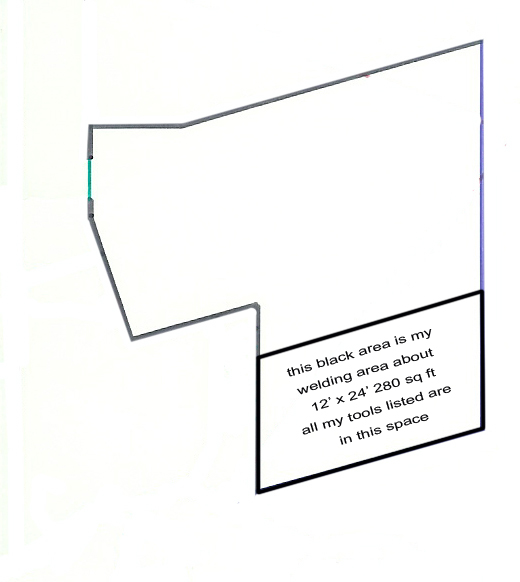 Here is the floor plan of my studio here.
The green line on the top left corner is our entrance door.