Antiques....
by Roy Mackey
Here is some pics of unusual junk I have collected. Some of it I have sold already some of it I am keeping and some I may be willing to sell if you wanted to make me an offer. Most I have marked on it whether I have sold it or not. Either way some of it is interesting to check out.

Three frames that held works from Group of Seven

painter J.E.H. MacDonald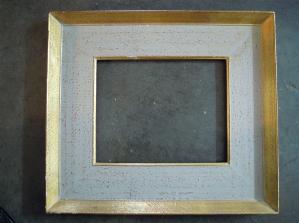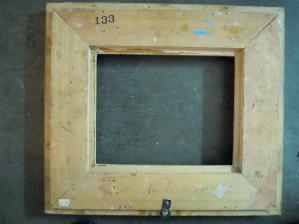 Here is a example of the weird stuff we seem to come up with. We have three frames from 1965 that once housed paintings from group of seven painter J.E.H. MacDonald. These were a really strange find. No paintings unfortunately but still a cool find.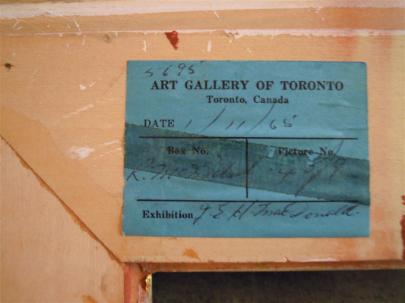 Not sure what we are going to do with these but they are cool just the same. Apparently frames get changed from time to time and likely the case here.

We have talked to the McMichael Canadian Collection in regards to these. They did confirm that they were likely changed over to something more modern and that these did house his paintings for awhile as the number coding matches.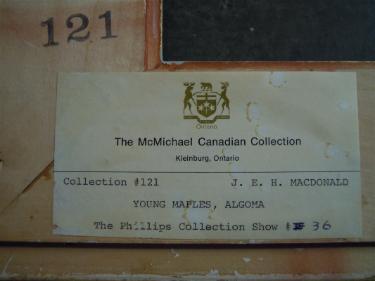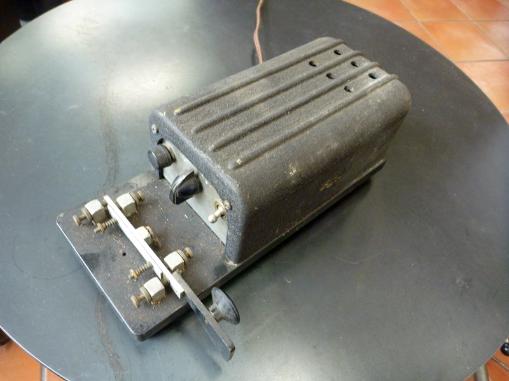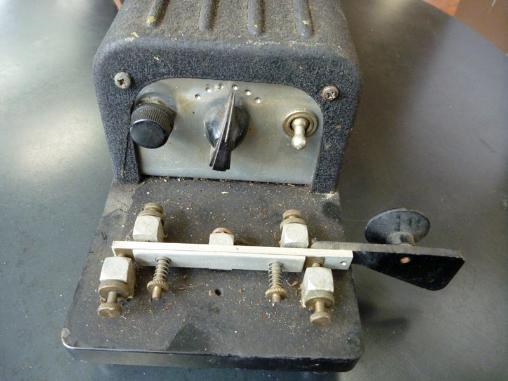 Here is one of those handy dandy rigs everyone should have. Actually I tried to give this away on craigslist awhile back but no luck. One enthusiastic caller never did show up so I pulled it. I might still consider selling it I guess as I am not sure what I would use it for. I have seen them listed on the beast priced between a hundred and two fifty. Apparently these can give you a nasty shock which could be handy for something. Especially if someone brings kids by the studio. Could be great for a little hair raising fun. Kids are great for stuff like that. Mostly because they don't know about lawyers yet. Apparently a good stiff shock can kill off your parasites if you got them... and of course if you are human you do. Doctors just don't want you to know that.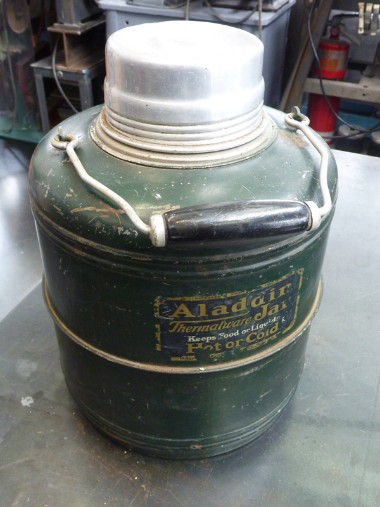 Here is a cool very old thermous I picked up awhile back. This sucker is so old it even has a pottery lining!! Not sure how far back that dates it but it is old. Considering the age and what it was used for it is a real score. A classic bit of history. I had never seen one like this before. Some wise shopper grabbed this one as I had it listed on craigslist. Apparently the next wave of high antique prices is hitting us. Now it is stuff from the 20's to the 60's that is starting to sky rocket in price.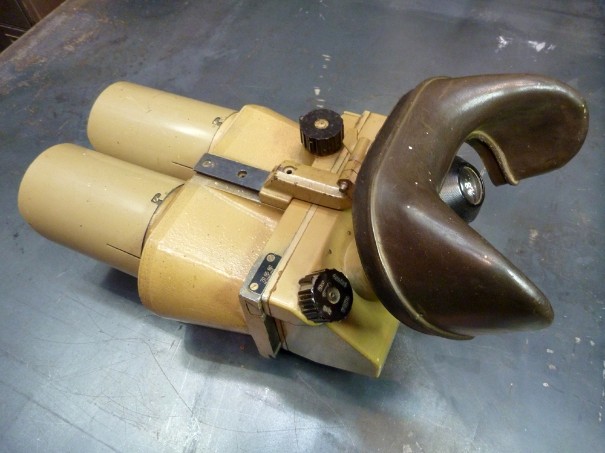 Here is a set of WW2 German Flak binoculars I just sold. I picked these up somewhere along the line when buying old tools. Apparently they are quite hard to find? These seem to be in quite good shape especially the face pad piece.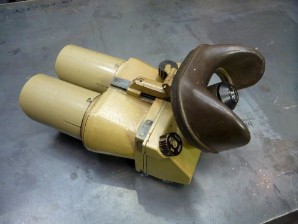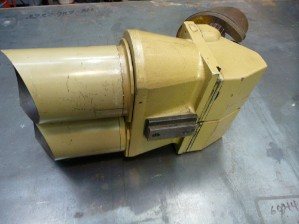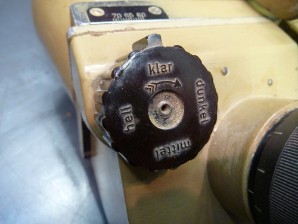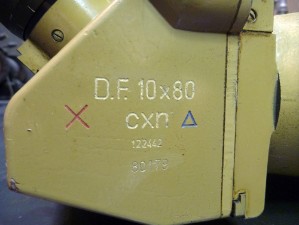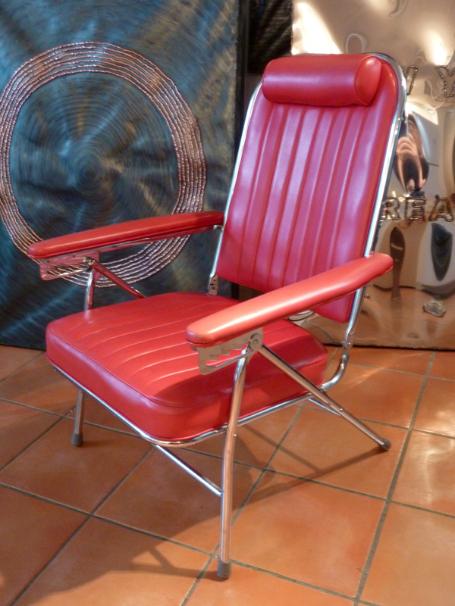 Here is a cool vintage chrome folding chair I picked up awhile back. At first it looked like just every other chair. After getting it home though we realized it was a lot cooler than I first thought. As you can see it folds up which is very cool. It is also in mint shape short of some slight fading on the armrests. What got me most about this chair is the detailing that went into the metal work. (being a metal worker and all) All the welds have been smoothed out before the chrome plating went on. The chrome plating is also high quality made apparent by the "wet" feel the chrome has. Very smooth. I am convinced that these details are what make this chair special.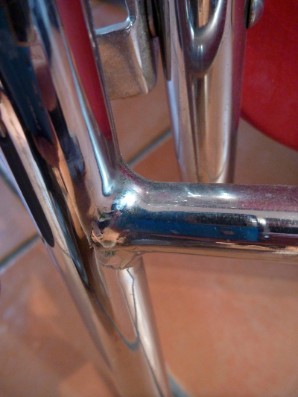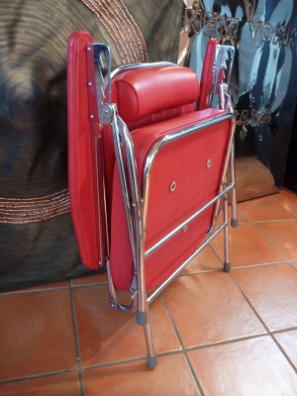 Not sure at this point what we are going to do with this one but would like to find more out about it. There are no tags or names on it anywhere.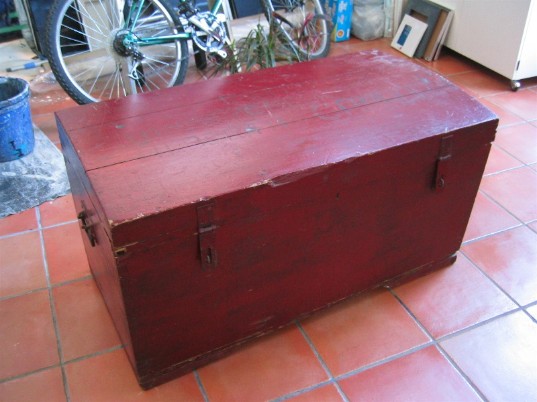 Here is a cool antique red pine trunk we picked up. One of our favorite gems. The top has a slight curve to it.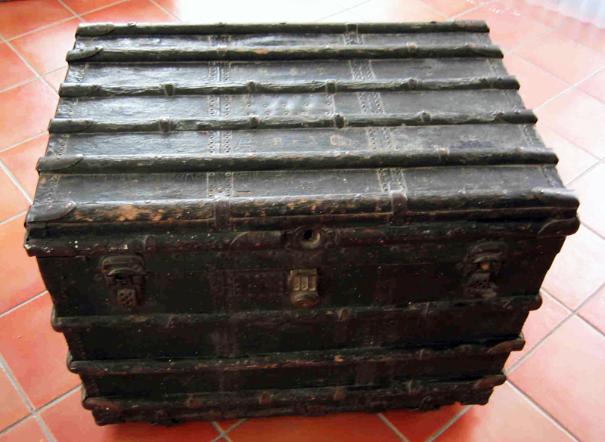 At a quick glance just another neat old trunk. I have had this one for years and have never came across another like it. This one is old.... I mean realllllyyy old.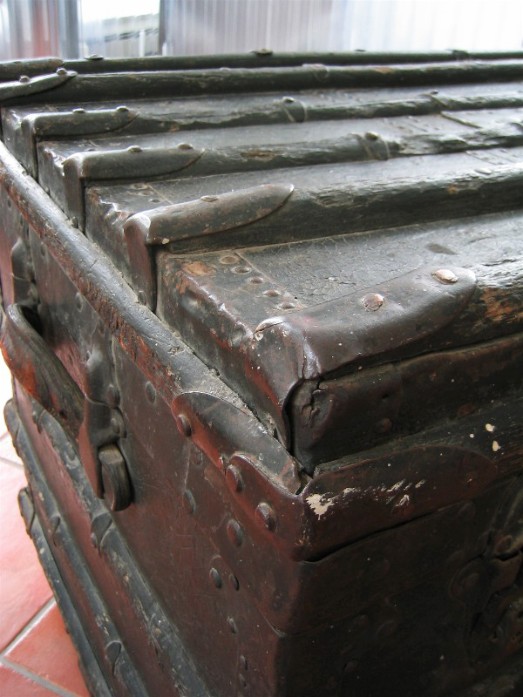 Now the reason that I say this one is old is because of the hand forged hardware on the thing. If you look closely you can see that all the hardware except for latches (which are cast iron) are hand forged metal. This means heated up and beat with a hammer to get into shape. Just after cave man days almost... ok not quite but way older than your run of the mill camel back trunk. This is one gem that I have had for about 25 years and could never sell it. That is until the motheship gets here. I can faintly make out Montreal on it somewhere... I think that is a country just east of Canada if I am not mistaken.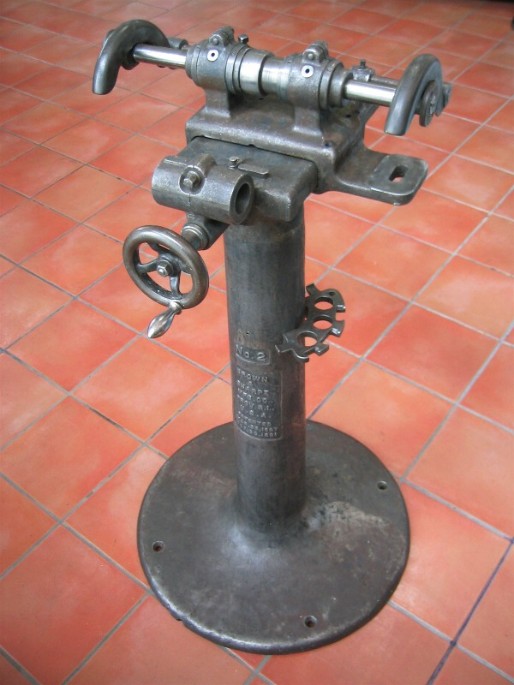 Here is a cool find I picked up awhile back. The patent date is 1887. Not something you want to drop on your toe. One beautiful pedestal for sure. I have some other parts for it also but are not shown in these pictures.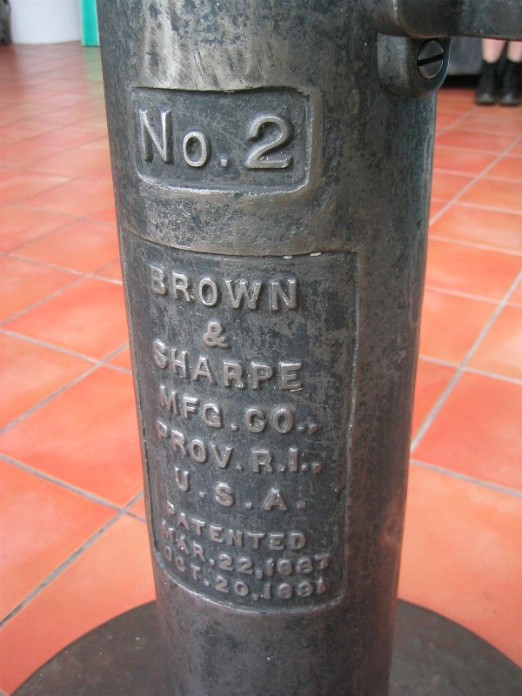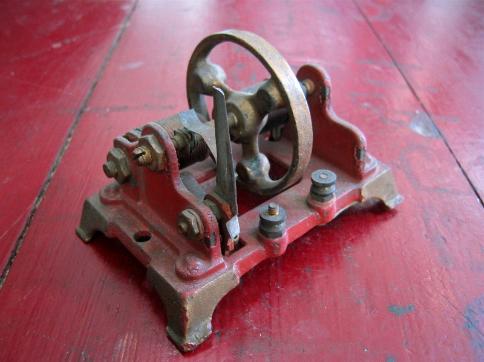 Here is a cool piece. An antique cast iron toy motor. These are almost unheard of in Canada. I had to buy this one from the US Via eBay. Paid just under three hundred dollars for it but what a beauty. I am not sure if this one works as I have no power source to try it that is the right voltage. I actually have a couple of different ones now. For some reason there is something magical about them. Takes me back to when I was a kid and always amazed with motors and other old junk.... actually sorta like I am now???
Herez a link if you want to see it running... See this motor running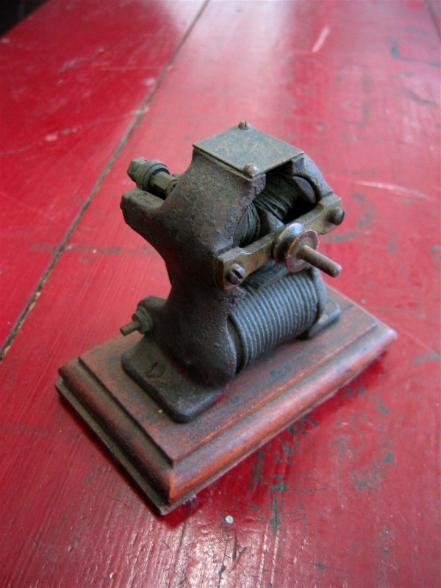 Here is another gem I picked up on eBay. I actually picked these up for inspiration relating to an art project and now have all the pics I need. I may be willing to let them go if you were so inclined. I think I paid just over a hundred for this one.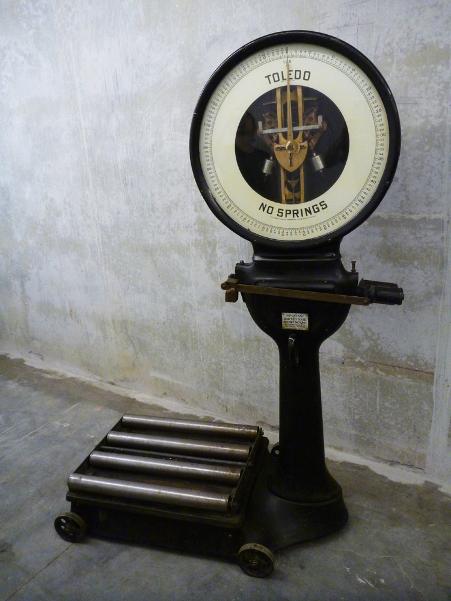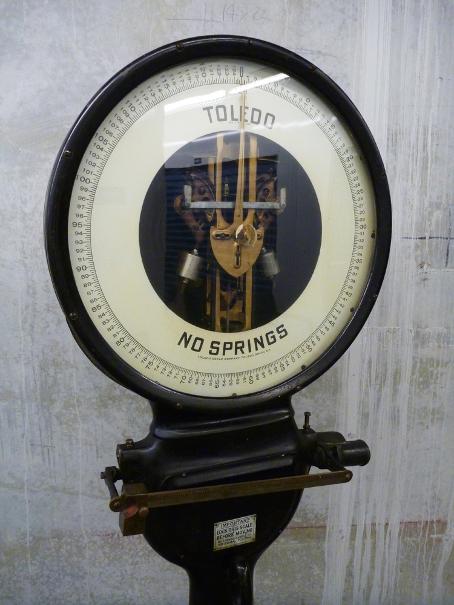 This is one of my favorite gems we scored in the last while. It takes up a ton of space but what a beauty. They just don't makem like this any more. The last patent date I believe is 1917 and yet still works like a dang. Yes no springs attached !!!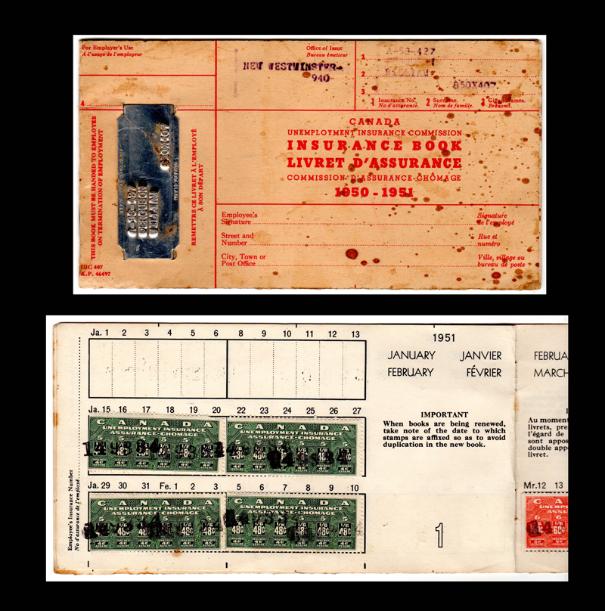 Here is an old 1951 UI log book... not sure how the hell these worked but an interesting piece of printed history. I would imagine these would be very hard to find since most people with common sense throw everything out all the time.