My 1955 Dodge Royal
by Roy Mackey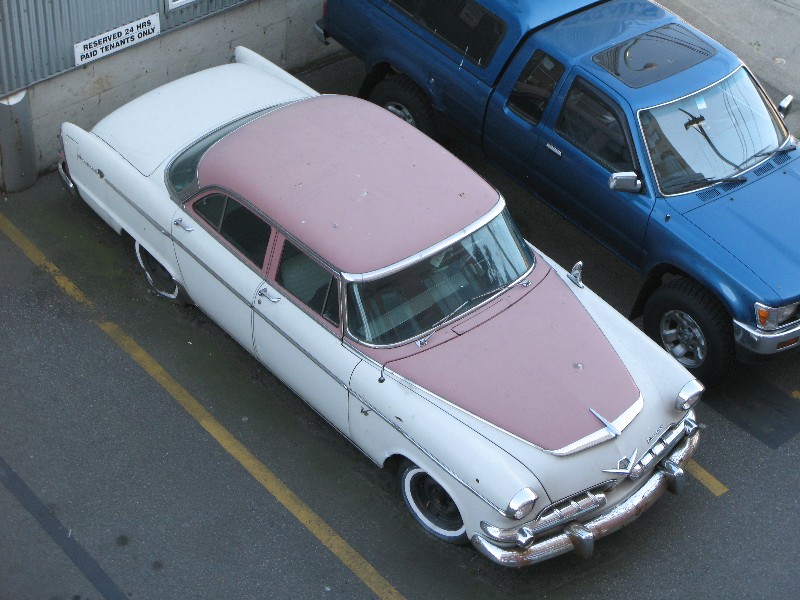 Yes here it is... one big pink pig polution pump parked and praying for peace in the middle east... I bought this old pink pig on impulse down in Seattle. I was down there looking at a few old cars all in mint shape. Not being sure about getting them back to Canada I figured I would buy this one as test. Not only that I liked the pig. I used to have an old 56 Desoto years ago so it took me back to those... uh good ole days. At the time I made the deal with the guy I had no idea it ran. For some reason I just assumed it didn't. I made him an offer and he agreed. Then afterwards I said something about it not running and he piped up it runs fine! It was kind of like a bonus in one way but not really in another. Knowing that meant I would have to spend money on it since if it was running why not.
After getting it back here with... not that much hassle I decided to try and get the old pig going. First thing it needed was an inspection. Of course there was a lot of small stuff not working so I hit eBay for parts. After a few months I got everything I needed. A horn ring in good shape, a salvageable steering wheel, a NOS carburator in the original display box, a good working original ignition switch and chrome dash plate, etc etc. After I got all the parts here it started to rain so I forgot about the pig. Well finally I am now back at it.
Just to note that I am still looking for some parts in case you know or hear of anything.
Here is a list of junk I could use:
- Trunk lid in good shape.
- Shroud for rad and possibly a radiator.
- Set of 5 spoke mag wheels, chrome or grey spokes.
- Front fender chrome strip passengers side.
- Rocker panel chrome strip.
- Front bumper with hopefully good but dull chrome.
- Back bumper with hopefully good but dull chrome.
- Rear licence plate mounting bracket
- Exhaust system, though have found a place to order it...
- Plastic insert emblem for trunk and hood chrome.
- Gas tank in mint condition and or tank straps... now have line on some repos.
- Interior light plastic cover.
- Drivers side door interior light switch.
- Supplier for original molded nylon loop carpet.
- ? not sure what else right now. But hey am willing to do trades for metal work, art etc.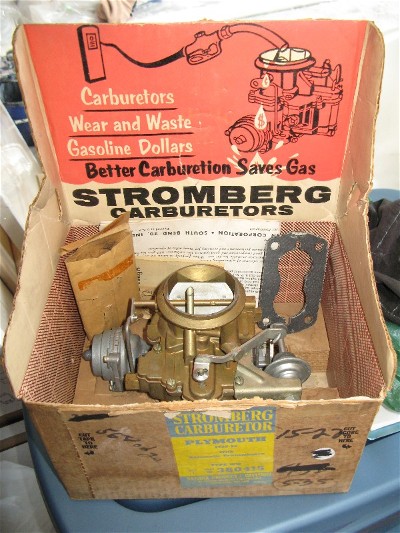 Here is the NOS carburator I got for it on eBay! Check out the old display box it came in. Even has one of those genuine carcinogenic asbestos base plate gaskets. The envelope had a bunch of extra brass fittings one might need for the installation.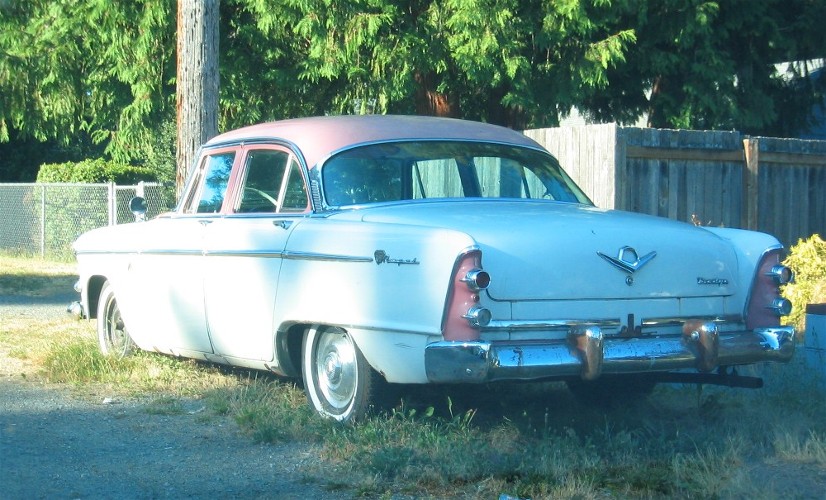 Here is the pig the day I bought it. It only weights around 3500 lbs so will make it a great commuter. Not only that but the big old hemi engine in it should get at least 10 to the gallon. I am sure old George Bush was sad to see it leave America.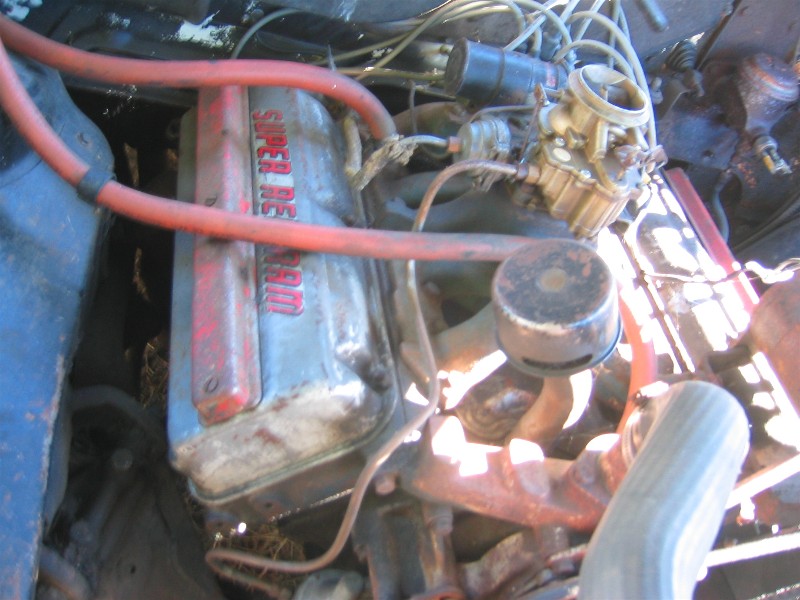 The Super Red Ram was the second version of the hemi. The old Desoto I had was running a similar engine. I drove that Desoto on a two hour road trip one day and barely had it under 90MPH!!! Not KMH!! It was barely working at that speed. Oh sure it was a little slow off the line but would sure cruise on the open highway.
Here is some pics of the steering wheel I rebuilt...
This steering wheel I scored on eBay. I bought it mostly for the horn ring since mine is broken. Hard to find these things when you want them. Anyway after looking over the steering wheel itself I figured I could fix it. Ok not the best job but it does look hugely better.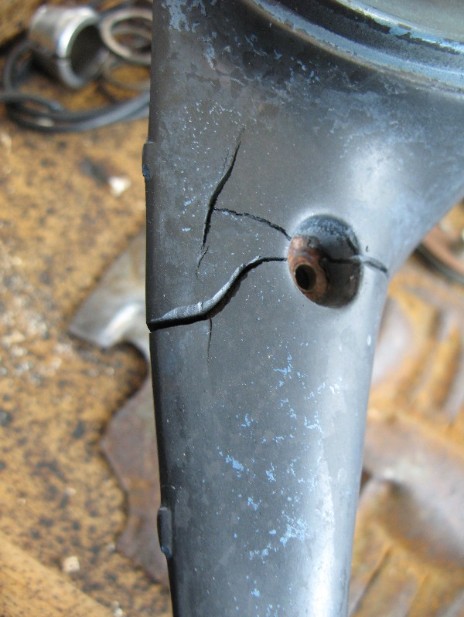 Lots of cracking all over...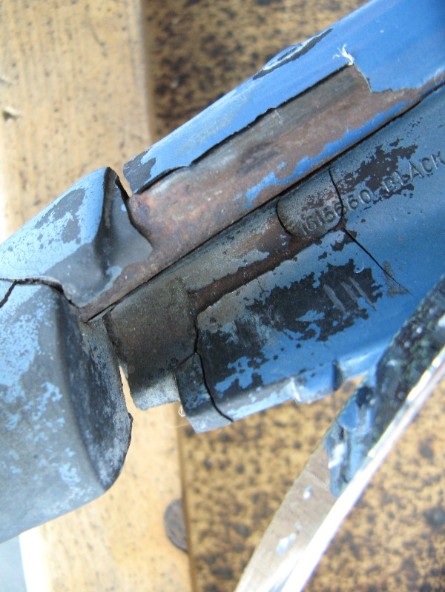 Actually would have been better to look for another one but I am often not that smart...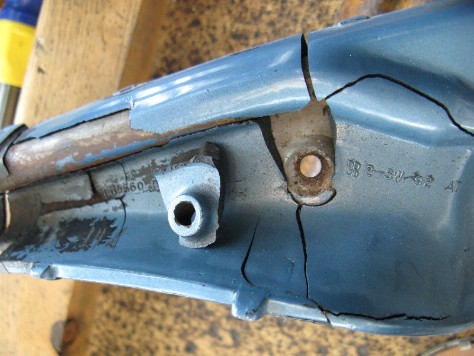 Pretty plain to see she was in rough shape...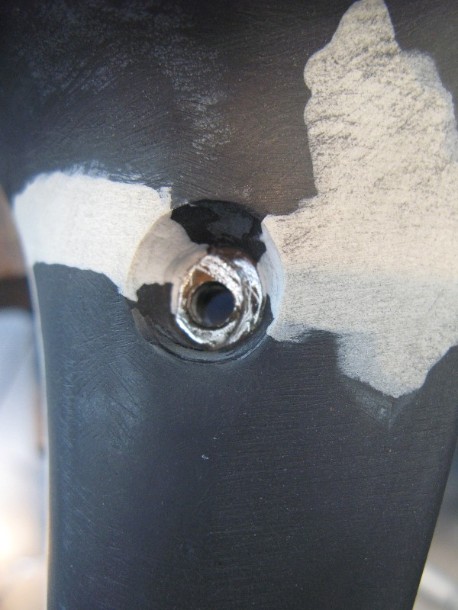 I used my dremel to grind out all the cracks right down to the bare metal...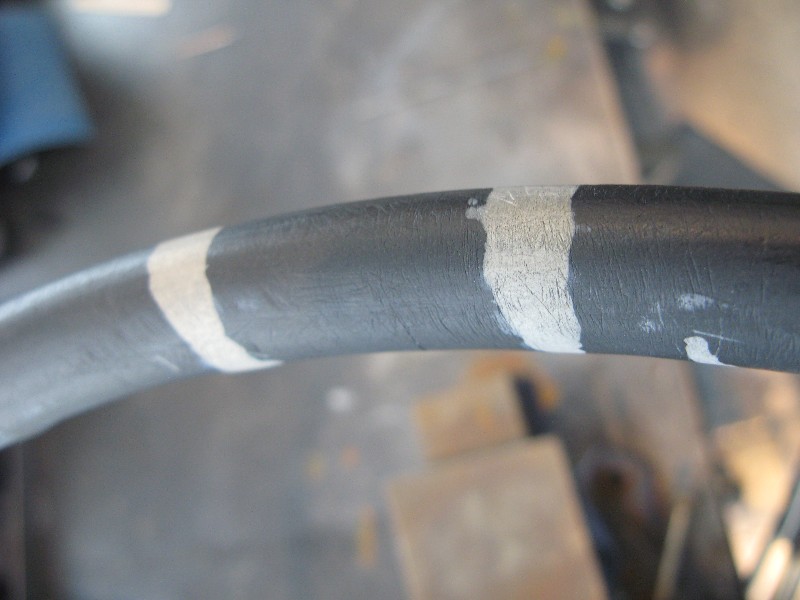 After grinding out the bad areas I filled with Por 15 epoxy for steering wheels....
After the Por 15 expoxy I applied a coat of evercoats feather fill. Sweet stuff for filling all those little scratches. After sanding I then I sprayed bombed on some tremclad industrial primer followed right away with their industrial black. Not sure how long it will last but read good reports about using this paint.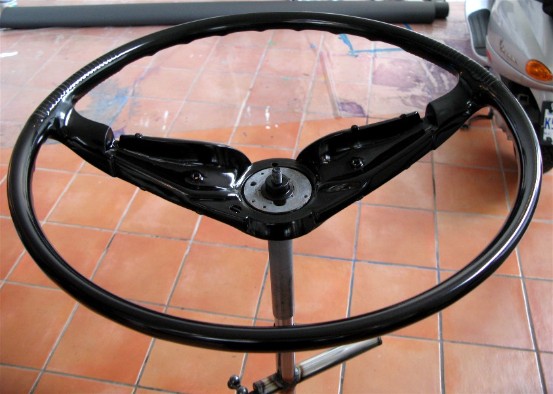 The end result looks good enough... course I am not showing you the detail shots!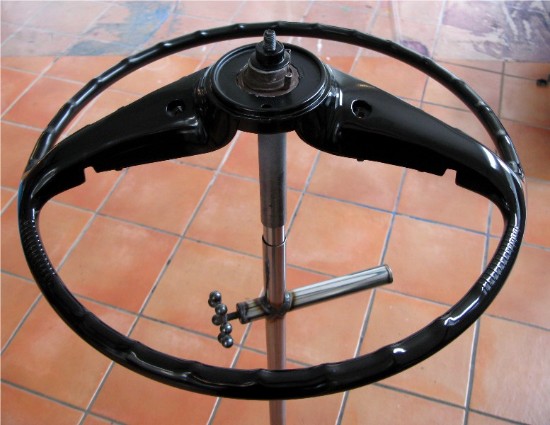 I actually wanted to use a good two part paint but then cheaped out. After all look at the beast it is going on!! This is a low budget ugly beast... as you can obviously tell!! : )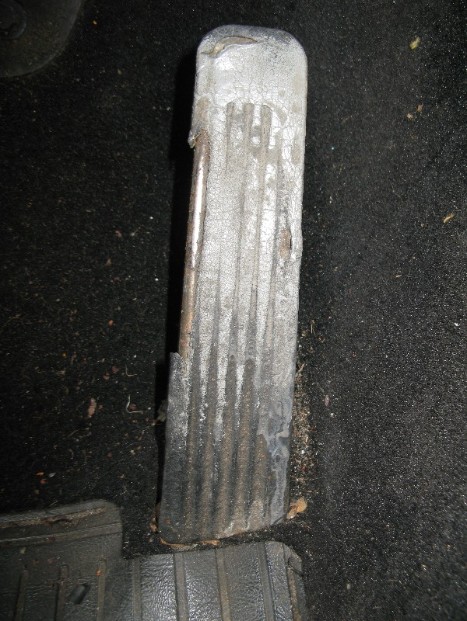 Here is the old gas pedal for the car... the old grey rubber was half rotten and falling off the metal. The brake pedal was in the same shape.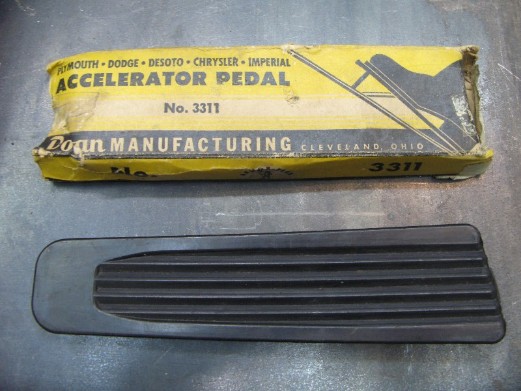 To solve pedal problem I went to:
I actually got both the brake pedal and gas pedal from them. Originally I guess these Dodges had a grey type rubber but I never was much of a fan of the grey as it always seems to look like hell after a bit of wear. These ones are old reproductions but in black. Only $59. each!! The gas pedal even came with the old original box. These guys were great to deal with. One quick phone call and the parts were ordered. They arrived well packed and way before I expected them also! I hope to deal with them again soon.
Anyway I have been thinking lately I might just let this pig go if you had something good to trade... We keep hoping to move to a bigger place where I can work on this but so far it has been impossible to beat the joint we are at here for all sorts of reasons like zoning laws and reasonable rents. In the meantime it just sits there....

If You get on my contact list you can get updates every so often on new work and shows etc that I have coming up. These are titled LIVE ART NEWS IN AMERICA and go out every month or so. Keep up to date on new work, latest books and other funny stuff. Just to note I never sell or give out emails to anyone for any reason.
ph. 604-269-3500